September Module – 5
NISHTHASEC_ Understanding Secondary Stage Learners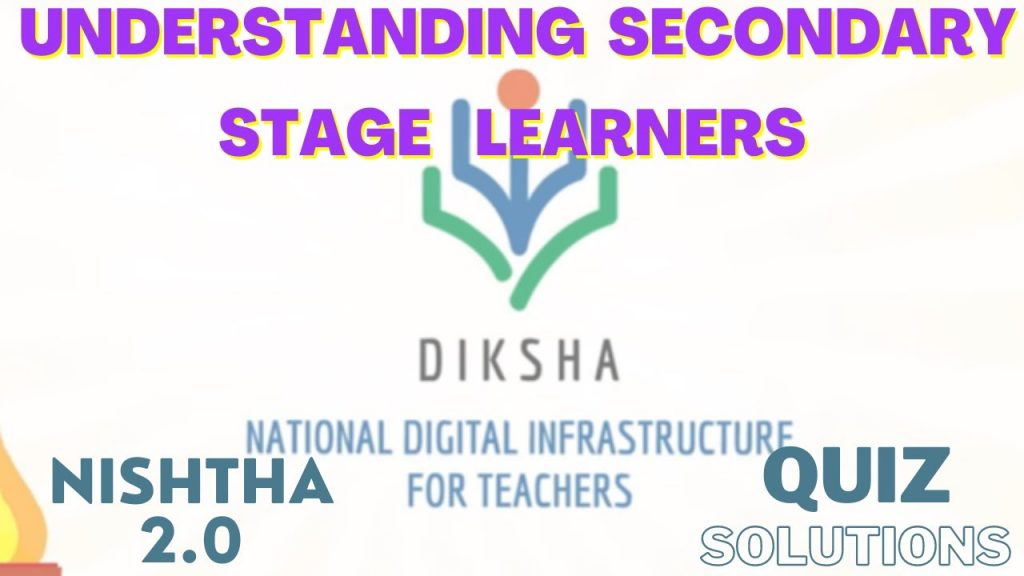 Here is the Providing Information Regarding the Latest Answer Key Module – 5 NISHTHASEC_ Understanding Secondary Stage Learners.
Nishtha 2.0 Diksha Portal Module 5 Quiz 2021 Answer Key
1. Which is one of the important needs of Adolescents?
Answer : shaping personal identity and developing relationships.
2. Genuineness ability to listen and having a positive regard when dealing with others are some of the important qualities a guidance – minded teacher must
Answer : Relate with others
3. Counselling is the process of empowering the clients
Answer : To resolve personal, social or psychological problem
4. Body-Image is an important issue that adolescents face. along with the feeling of being uncomfortable or embarrassed about their bodies, it results in
Answer – Low-self confidence and poor self-esteem
5. What is essential for effective functioning of the guidance and counselling approach in classrooms?
Answer : Establishing a trusting and caring teacher – student relationship
6. Karen, a 17-year-old boy, occasionally argues with his parents as he wants to go to the movies with his friends. He also comes Home late his parents are
Answer : An Adolescent wish to seek autonomy
7. Which is required to help the students deal with the problems of Emotional and Social adjustment that students face.
Answer : Personal – Social Guidance
8. There are development changes that a secondary student undergoes. These developmental changes do not include :
Answer : Economic
9. Which of these is the roadblock in effective communication?
Answer : Lack of attending Skills.
10. Which is true of peer-influence among adolescents?
Answer : It can be positive or negative
11.'Attending' is an important stage of guidance in schools. It is an important skill where teachers;
Answer : Listen to verbal as well as non-verbal cues.
12. Izaan is a student of class XI. his mother noticed some changes in this behavior recently. He spends the majority of his day in gyms, eats only once a day, and
Answer : Body Image
13. Which is true for peer influence?
Answer : It can be Positive or Negative
14. Educational Guidance is the process of
Answer: Assisting students to reach optimum educational development
15. Positive regard is one important Quality that a teacher must exhibit in order to
Answer : Genuinely relate with students
16. The Function of Guidance and Counselling is to help the Adolescent.
Answer : Understand their developmental change
17. Vocational Guidance in school aims at
Answer : Making wise decisions in choosing a career.
18. A girl who is facing difficulty with her studies such as poor time management, procrastination may go for
Answer : Educational Guidance
19. Which of these is true for Counselling ?
Answer : It requires trained professionals
20. Which of these is not a characteristics, specific to Adolescent Learners ?
Answer : Health Issues
See all Courses Link in One Article
Also Check it Out
I Hope you like the article of the Nishtha 2.0 Diksha Portal Module 5 Quiz 2021 Answer Key, If you like then share to Others,
If any doubt regarding the Answer then Leave comments. we will revert back to you.
Happy Reading, Stay Connected