We live for our society and not ourselves – We always do things by considering "logg kya kahenge (what society would think of us)" rather than "hamara kya hoga (how it will affect our future)"
After school they ask, Are you not writing Entrance? After getting a degree they ask, haven't you got a job yet? If we get a job, what is the salary? Then comes, Why are you not married yet? After getting married, Why no kids yet? Do u want any doctor's number? India is a beautiful country. But it sure is a land of hypocrisy and the most common hypocrisies are :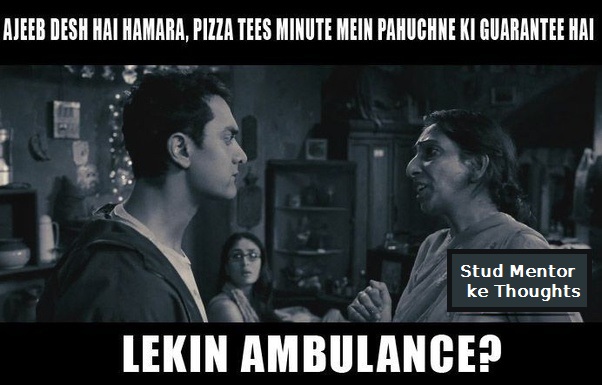 In case of a hunger emergency, pizza delivery is guaranteed at your door in less than 30 minutes but in case of a medical emergency, there is no assurance at all of when the ambulance will reach. It can take 5 minutes to 5 hours.
Not all but most Indians study aimlessly. We take non-med, med, commerce because one of our siblings or neighbor took that and made great out of it. As it is said nowadays that first, we do engineering then we sought out what to do in life.
Your results and marks are compared with your siblings and neighbors(Sharma Ji a ka beta in most of the cases). Your future is also decided by comparison only.
Parents not wanting to talk or educate their kids about sex, but somehow magically wants their kids to know everything from the day of marriage itself and also a grand-kid as soon as possible.
English vs mother tongue. We speak in our regional language in our friend group and at Mc D's counter, we speak like we were born in an English speaking country. English is quite overrated in our society. Man, it is just a medium of conversation and understanding.
Quite often a man hears this from his mother that " Beta, ab main kapde aur bartan dhote huye thak jaati huun, ab shaadi karle" (Son, Now I am not able to wash utensils or clothes, so please marry and get me a daughter in law) in a way telling that get me a daughter in law-cum-maid who can do all the chores.
Comment your views below, they are precious.
Happy Reading!!