Are you searching for – Vote of Thanks Speech Script in English on Republic Day
Then you are at Right Place.
The Complete and Official Information of Vote of Thanks Speech Script in English on Republic Day
Vote of Thanks Speech Script in English on Republic Day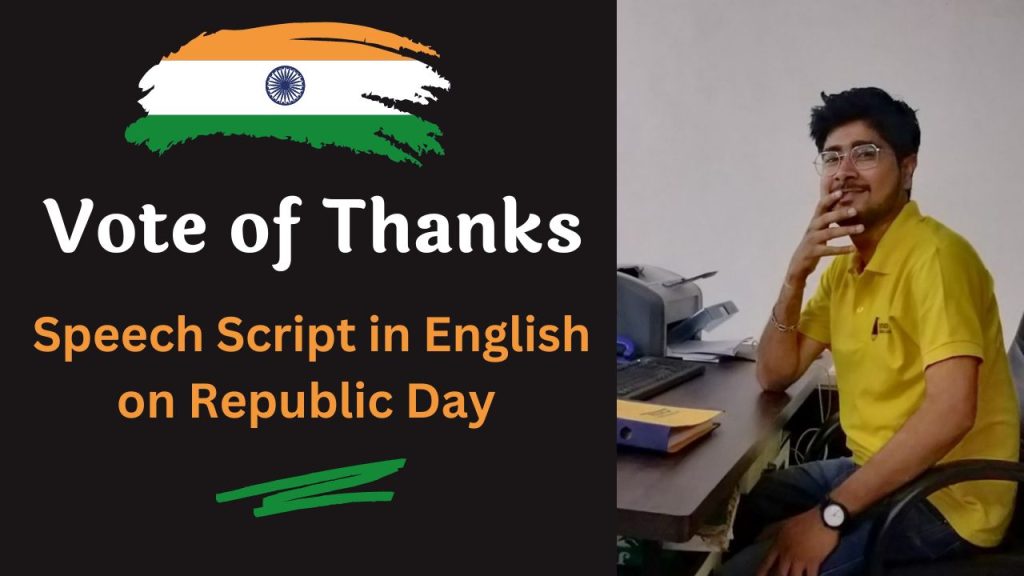 It is my privilege to propose 'Vote of Thanks; on this prestigious Republic Day Celebration.
I am Chetan – Computer Teacher presenting you today's Vote of Thanks – First and Foremost My head bowing thanks to the great Almighty for making this event a very obstacle free success. Thank to that God.
Our heartfelt thanks to our special Chief Guest (Name) for coming to our celebrations and giving his valuable advices for the betterment of or Institutions and our students. A big thanks to you sir. We would never forget your charming presence of this day.
On behalf of our Institution, our hearty thanks to all the guests of honor (Name1,2,..) for sparing your valuable time to attend our event. your presence and speeches meant a lot for us. Thank you very much for coming.
Our gracious thanks to our respected Principal Sir, who is very wonderful managing personality for planning and leading this gracious occasion without any kind of delay and made this event a memorable one.
Thank you So much sir.
Thanks to all the lovely teachers other staff members for standing as the strongest pillars and being the main reason for this occasion success.
Lovely thanks to the parents, without your support this event, may not be this much beautiul you are truly the great inspiration for us.
Thank you so much parents.
Special Thanks to the volunteers your controlling, managing skills have stood as a great asset to event's success.
Thanks to all the Volunteers.
Last but not least at all..
A very loving thanks to all the buddy students.
This is all for you. This Republic Day celebrations is only dedicated to motivate your zeal and performance in future academics.
Thanks to one and all again.