Are you searching for – Daily School Assembly News Headlines for 18 January 2023
Then you are at Right Place.
The Complete and Official Information of Daily School Assembly News Headlines for 18 January 2023
Daily School Assembly News Headlines for 18 January 2023
To inform all pupils of what will be happening in the nation and the world today, the top headlines of the day are read during the school assembly after the call to prayer. Now let's read the most recent news of the day. Read the most recent news from India and outside while keeping up with Indian political movements.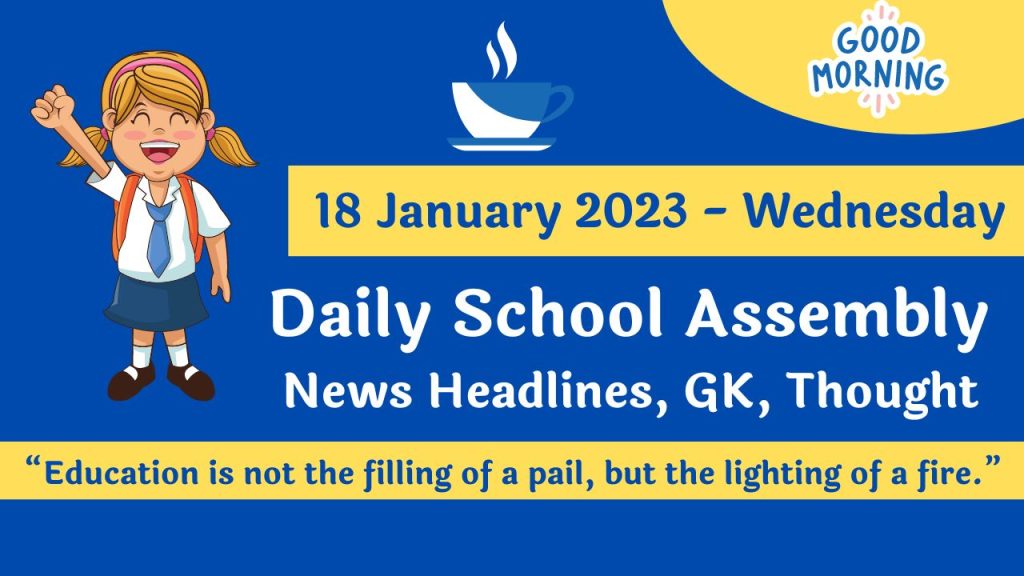 We are giving information News of National News, International News, Sports News, Business News and science & Technology News.
National News Headlines – 18 January 2023 (Wednesday)
PM Modi asks BJP leaders to increase outreach to voters before 2024 Lok Sabha polls
J.P Nadda gets extension till june 2024 as BJP chief, to helm party affairs for next General Elections
Indo-Russian Joint Venture begins manufacturing AK-203 assault rifles in U.P
Centre seeks more time from Supreme Court on State-wise identification of linguistic and religions minorities
Digitization giving big boost to healthcare, medical education : Union Health Minister Mansukh Madaviya
Hailstorm, Winds up to 50 Km per Hour Likely in Delhi Next Week
No Input of Threat to Rahul-Gandhi Led Yatra : Jammu and Kashmir Top Cop
2 Lashkar Terreorists killed in Encounter in Jammu and Kashmir's Budgam
400 Days to Polls, Reach out to All Voters, Says PM Modi at BJP Meet
Welcome UN Security Council's Action against Pak-based Terrorist : India
PM Modi to Inaugurate 2nd Phase of 'Saansad Khel Mahakumbh' on January 18
International World News Headlines – 18 January 2023
Rohingya Refugees fleeing Myanmar, Bangaladesh Surged Fuiefold in 2022 : UN
Ukraine received 3 Billion Euro in First Tranche of EU Financial Support
8 Injured in Mass Shotting at Martin Luther King Day Event in Florida
Moscow in Control of eastern Ukraine's Soledar : Russian Authorities
Drones Search for Last 2 Passengers at Nepal Plane Crash Site
Pak's Abdul Makki Named Global Terrorist, Year after China Blocked Attempt
Ukraine urged for Faster Deliveries of Arms from West As Russia Intensifies attack
Putin Slammed Growing Western Arms Deliveries to Ukrain
Sports News Headlines – 18 January 2023
Women's Hockey : Rani Rampal Scores on Comback as India Thrash South Africa S – 1
Hockey WC : Indian Midfielder Hardik Singh to Undergo MRI Scan
PV Sindhu loses to Thailand's Supanida Katethong, knocked out of India open Rd 1
India Open : Lakshya Sen Eases past HS Prannoy, Gayatri Gopichand – Treesa Jolly Register win
Russia and Belarus flags banned at Australian open after Ukraine Protest
Australian open : Heat and Rain Cause Havoc at season opening Grand slam
Cristiano Ronaldo to Captain All Star KI against Lionel Messi's PSG
Shreyas Iyer Ruled out of ODI Series Against New Zealand, Rajat Patidar named Replacement
Business News Headlines – 18 January 2023
Sensex registered gain of 562 Points; Reliance, HDFC Twins Shine
Rupee declained 19 paise to close at 81.77 against US Dollar
Major Risk on Fiscal Horizon : RBI Cautions States against reverting to old pension scheme
Budget 2023 : Commerce Body Recommends Increasing private invsetments to Boost Economy
Centre Cuts Windfall Tax on Aviation Fuel, Diesel Exports, New Rates effective from January 17
World Economic Forum : Maharastra signs Agreements worth Rs 45,900 crore in Davos
Premature to Think India will replace China in Influencing Global Economic Growth : Raghuram Rajan
China's GDP Growth Falls to 32 in 2022, Second Lowest Growth in 50 Years
Significant progress in Issuance of Business Visas in India, Says US
Science Technology News Headlines – 18 January 2023
'Super – Laser' Diverts Lightening Bolt in Major Breakthrough for Scientists
Chemists have developed a new way to produce an important molecular entity
Scientists have developed a living "Bio – solar Cell" that runs on Photosynthesis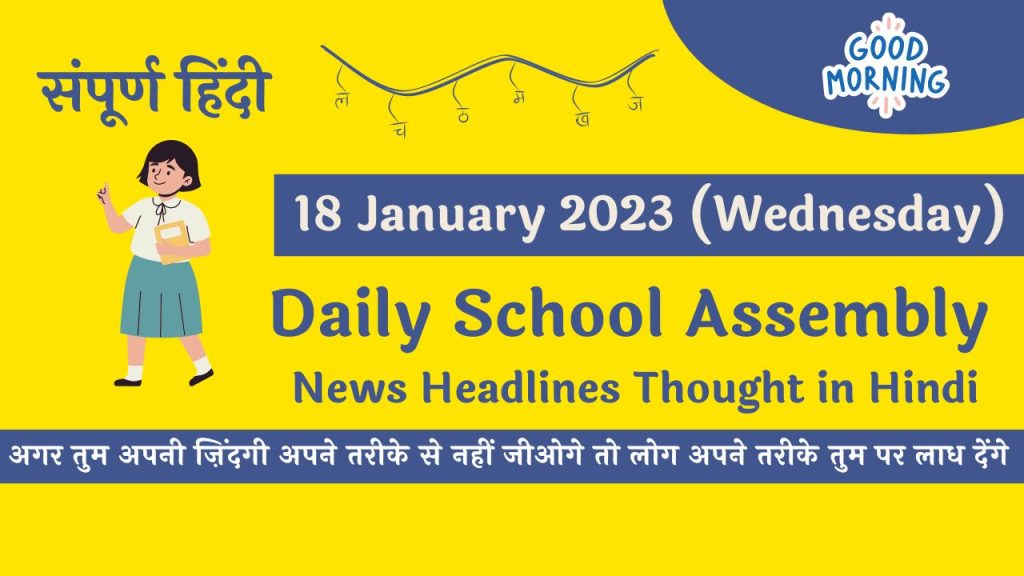 Thought of the Day – 18 January 2023
"Education is not the filling of a pail, but the lighting of a fire."
Positive Word of the Day For Daily School Assembly – 18 January 2023
Beaming – This positive word means extremely happy.
I Hope you like the article of the Daily School Assembly News Headlines, Speech, Thought for