NSDC and CBSE's JuniorSkill 2021 is an incredible opportunity for CBSE school students from standard VI to XII to explore skills and technical and vocational education training (TVET). The championship will give them practical insight and experience in ten established and emergent skills – giving them a window into the professional world. Seize this opportunity to demonstrate your skills and talents, and learn from the best of the best!

What is Junior Skills ?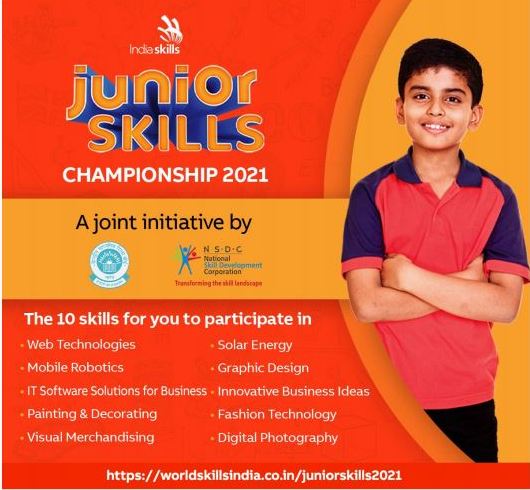 Junior Skills, a first of its kind skill championship by the National Skill Development Corporation (NSDC), in partnership with the Central Board of Secondary Education (CBSE), is an incredible opportunity for students from standard VI to XII to explore and exhibit their passion for a particular skill and receive the appropriate technical and vocational education training (TVET) to harness this passion.
The championship aims at giving students practical insight into established and emergent skill categories, and access to industry experts who will guide them throughout JuniorSkills. The process and interactions with experts are also designed to help students make informed career choices.
JuniorSkills 2021 is a platform that emphasises practical learning and encourages students to showcase their talent and gives them the opportunity to be groomed by industry experts in order to be recognised and rewarded for their abilities on a national scale.
Who Can Participate ?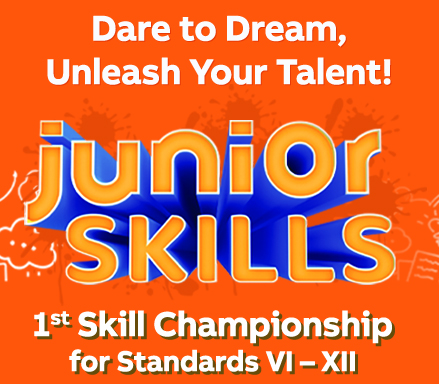 Students from CBSE schools studying in standard VI to XII will be eligible to participate in JuniorSkills.
The championship is divided into three groups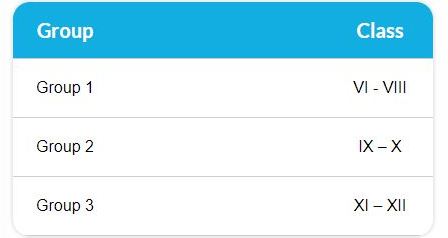 Note: – The participants should be in the selected class as on 14th Jan, 2021 and will not be allowed to change their class for the purpose and duration of the JuniorSkills championship.
One student can only participate in one skill

Why Participate in the JuniorSkills ?
Learn skills in a completely new way
Benchmark your skills to international standards
Learn from leading experts and professionals across India
Take a step towards creating a future-ready skilled workforce
Make informed career choices for a brighter future
Get an opportunity to compete in the prestigious IndiaSkills competition!
Top 21 students get an opportunity to travel to the WorldSkills International competition – the Olympic equivalent for skills competitions!
Get certificates and cash prizes and much more!
How to Become a JuniorSkills Champion ?
JuniorSkills 2021 has been envisioned in accordance with the National Education Policy 2020, wherein the emphasis has been laid on the integration of vocational courses into the school curricula. Keeping in mind the spread of the novel Coronavirus, the successive rounds of the championship will be organized online, while the final round will be conducted on ground.

Registration Date : 15th Jan – 31st May, 2021
Important Dates and Events