What is Fit India School Week 2021-22

Department of Sports, MYAS in collaboration with Department of School Education and Literacy, M/o Education started Fit India School Week soon after the inception of Fit India Movement in 2019 with an aim to integrate fitness as an essential part of school education where physical fitness is taught and practiced, apart from homes. Fit India School Week is being considered as a flagship program of Fit India Mission.
Schools have welcomed this concept of celebrating 4 to 6 days of a week dedicated to fitness with the objective to instill the importance of fitness not only in students but also amongst their families, teachers and entire school staff. In 2nd edition from December'2020 to January 2021, a surge was seen in the celebrations of Fit India School Week where more than 4.3 lakh schools have reported the celebrations which was 15,000 in the 1st edition.
Guidelines for Fit India School Week 2021-22
Schools to ensure that all Students, Parents, Staff and Management shall actively participate in the Fit India School Week 2021 programme
Schools may create a new page on their website titled "Fit India School Week 2021" and a brief about the activities undertaken and related pictures/videos can be uploaded on it.
Schools should register themselves on https://fitindia.gov.in/fit-india-school-week and upload photos and video link related to the event
All registered schools may download a Digital Certificate. which can be downloaded from Fit India Portal after successful conduct of the Fit India School Week.
Schools are also encouraged to share/post activities conducted on their social media channels with #NewIndiaFitIndia and tag @FitIndiaOff

Activities under Fit India School Week 2021
| DAY | PROPOSED ACTIVITIES |
| --- | --- |
| 01 | Opening day- Indian Dances celebrating AKAM with integrated fitness |
| 02 | Importance of fitness- Debates, Symposium, Lectures etc.Quiz on fitness and sports highlighting Freedom, AKAM, Nutrition etc.Essay/Poem Writing Competition on theme "My fitness mantra on AKAM".Poster making competition on themed on Freedom from sedentary lifestyle. |
| 03 | Events of Indigenous games of India- AKAM with traditional games of India. Session on importance of "Eat Right/ Santulit Aahar". |
| 04 | Schools' Social Responsibility (SSR)- Celebrating AKAM with nearby communities by inviting them for one fitness session.Fitness assessment by teachers and parents on Fit India Mobile AppLink for download:a) Android-https://play.google.com/store/apps/details?id=com.sai.fitIndiab) iOS- https://apps.apple.com/us/app/fit-india-mobile-app/id1581063890 |
| 05 | Yoga and Meditation Day.Brain Games to improve concentration/problem solving capacity.Graffiti events on topics like What is Azadi for you? How important is fitness? etc.Session on mental health awareness. |
| 06 | Pledge of fitness on the occasion of AKAM to culminate School Week with self- assertion for leading a new fit and healthy life ahead. |
How to Register for Fit India School Week 2021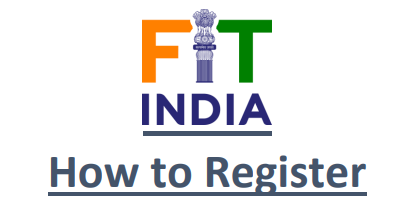 For Schools to register for Fit India School Week-2021
Step-1:
On your desktop/Laptop/Mobile please open the internet browser (chrome/Google) and in the address bar please type https://fitindia.gov.in/
Step-2: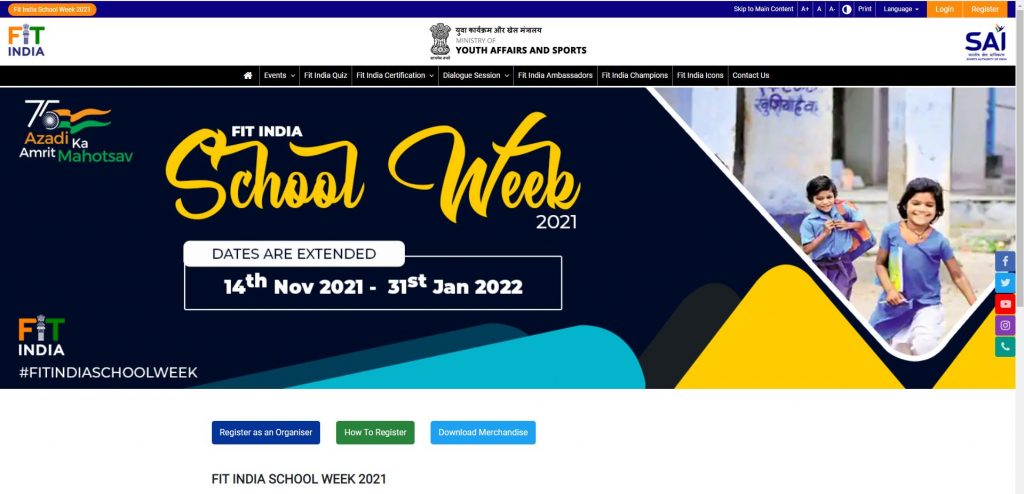 Please click on Fit India School Week Orange Tab at the left top of the website for registration of Fit India School Week.
Step-3:
Once you click on the Tab, the below page will appear, click on register as an organizer.
Step-4: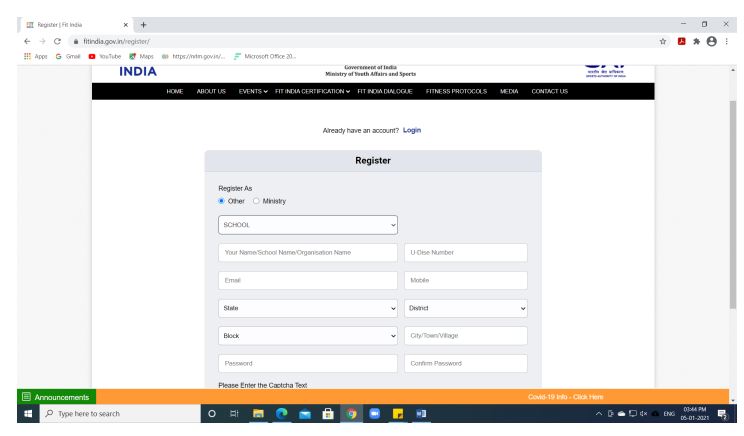 If you are already a registered user with Fit India you can click on login or if you are new user please register yourself as School.
Step-5:
Once you have logged in, please submit the details of the School Week event organized by your school and click on Submit button.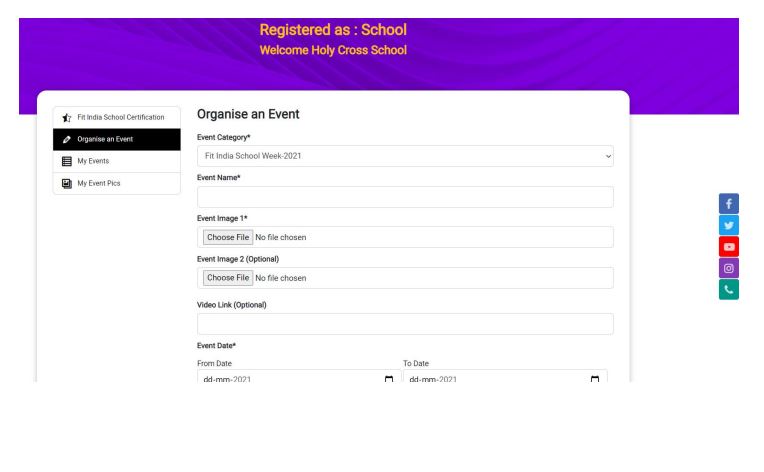 Photos and Video link are optional (not mandatory) for downloading of the certificate.
Step-6:
You will automatically be directed on the Event page for downloading of the certificate with a pink tab.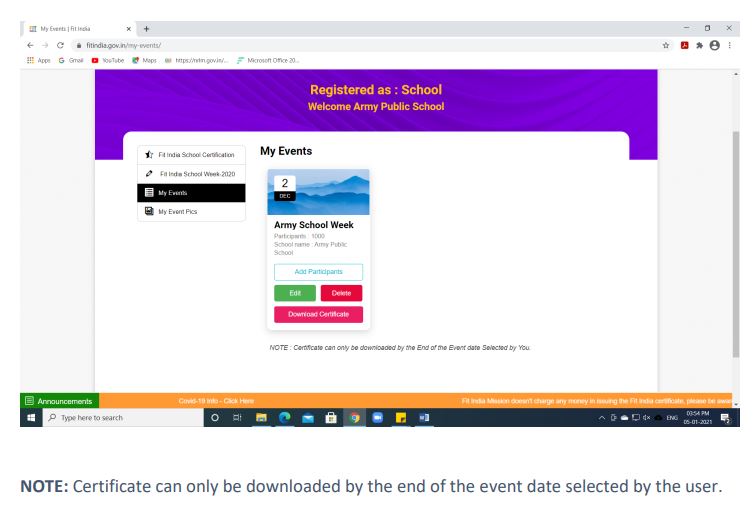 NOTE: Certificate can only be downloaded by the end of the event date selected by the user.
Official Website: