What is Fit India Champion ?

With the aim of making fitness a priority for all citizens, Fit India Mission office has decided to join hands with well-known names from all walks of life and encourage people to bring about a behavioral change in their lives.
With this, we aim to connect with well-known faces from different parts of the country, who will not only make fitness as a priority in their lives but also motivate others to do so.
To honor their dedication and commitment towards our mission, we recognize them as Fit India Champion.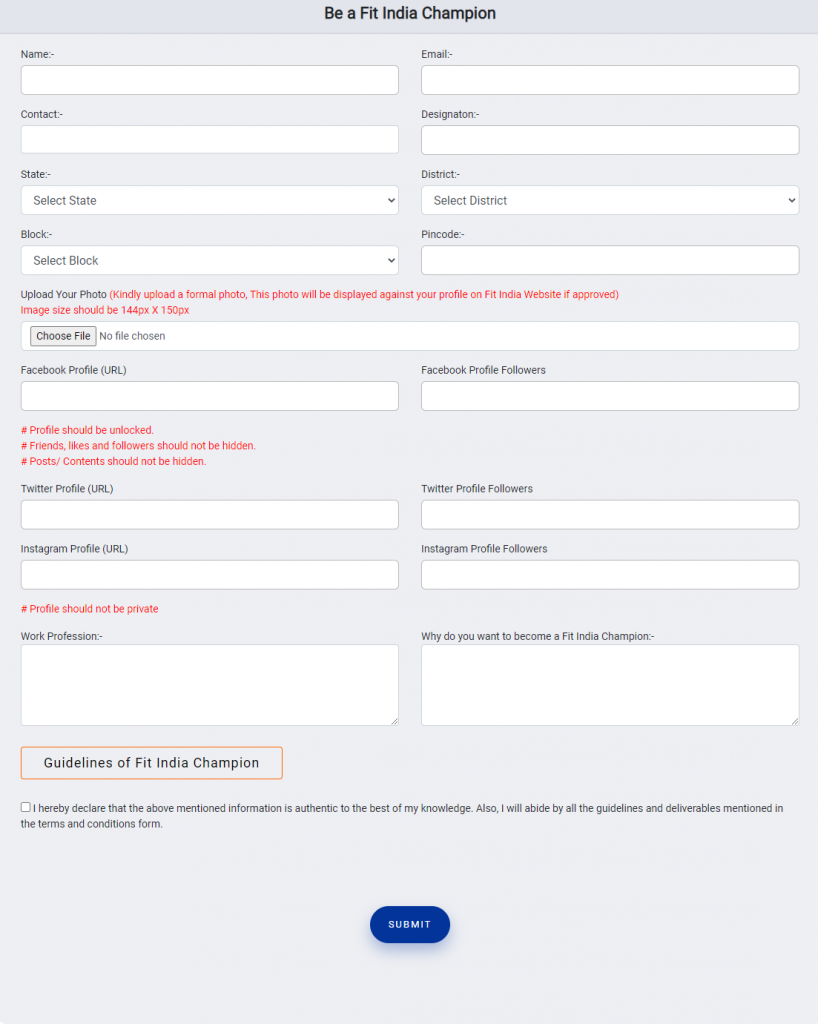 Guidelines for Registration as Fit India Champion
1. Criteria for being a Fit India Champion
The applicant individual needs to be present on at least one social media platform (Facebook, Twitter, or Instagram)
The individual must have cumulative followers in the range of 100K – 1 Million on their social media platforms (Facebook, Twitter, & Instagram)
The individual should be a fitness enthusiast and he/she should be willing and ready to post fitness related content on his/her social media handles by using FitIndiaMovement, #NewIndiaFitIndia or any other hashtag promoted by Fit India mission.
The individual tags Fit India's official social media handles in fitness related content created by the Champion
The individual organizes/participates in Fit India's on-ground/virtual events wherever possible
The individual must be following Fit India Movement's Social media handles (@FitIndiaOff)
If selected, the individual's association with Fit India Movement will be purely noncommercial and he/she cannot use the name or logo of Fit India Movement for any commercial promotion or benefits.
2. Legal Guidelines for being a Fit India Champion
The individual has not been punished for any criminal offence.
Any Criminal legal proceedings shall not be pending against the individual
The appointed individual shall always act in compliance with the rules/regulations/guidelines mentioned in the website of Fit India/Fit India App.
The decision of selection process will be done by Fit India/MYAS and it shall be final
The appointed individual, in his/her posts associated with Fit India Mission, shall not include content/text/pictures which may be offensive and hurt sentiments of any religion, caste, gender and sexuality
The initial period of association will be for a period of one year, subjected to renewal based on discretion of Fit India Mission.
Fit India Mission reserves the right to terminate the association at their discretion at any point of time during the association.
3. Deliverables of Fit India Mission Directorate
Recognition as Fit India Champion on official website of Fit India Movement
Recognition as Fit India Champion on official social media handles of Fit India Movement & Sports Authority of India
Exclusive use of Fit India logo by Fit India Champion for fitness-related content posts only.
Promotion of fitness-related content created by Fit India Champions on Fit India and SAI Official social media handles.
An official certificate announcing the association from Fit India Mission Director to Fit India Champions.