Innovation Phase
The ATL Marathon (https://youtu.be/45-lqTjE_A0) is Atal Innovation Mission's (https://aim.gov.in/) flagship innovation challenge, where schools identify community problems of their choice and develop innovative solutions in the form of working prototypes. The last edition of Marathon witnessed 7000+ innovations, the top 300 of them got internship opportunities with top companies of India, prizes and certificates from AIM, NITI Aayog.
ATL Marathon 2021 will adopt 4 strategy areas mentioned in the document – Healthcare & Nutrition, Education, Energy & Transportation, Social Inclusion.
The Problem Statements under each of these themes were selected on the basis of popularity from the 3700+ votes received from students across India.
Themes

Education
Innovate to create solutions to make education and learning inclusive and resilient for all children – Those with no access to devices or internet (Mobiles,Laptops,TVs) those that are in regions with extreme weather conditions, those with no access to a school (physical or virtual)
Innovate to integrate soft skills (personality building, confidence etc.), technical skills (digital and 21st century skills) and a mindset of innovation in the curriculum for schools/colleges to ensure students have the skillsets to become successful entrepreneurs or professionals.
Energy & Transportation
Innovate a system that could improve rider/driver (motorcycles, cars, trucks, and/or any other vehicle)/citizen (people and animals on the road) safety and prevent road accidents
Innovate solutions that reduce the carbon footprint as well as adopt climate-resilient and low-carbon strategies to enable the transition to truly sustainable India
Health & Nutrition
Innovate solutions specifically solving problems faced by patients suffering from the most common diseases of India. You can choose a disease from this list or pick another disease to create a solution – Diabetes, Anemia, Tuberculosis, Malaria, Typhoid or others
Innovate to build solutions to find novel ways to address health and nutrition challenges such as malnutrition, obesity etc.
Social Inclusion
Innovate to create a sustainable model for financial inclusion which will help India get closer to the goal of no poverty by providing accessible and affordable financial services to all.
Innovate to create solutions to build inclusivity in the society in terms of languages and cultures so that localized access can be made possible for information related to education, financial literacy and government policies/schemes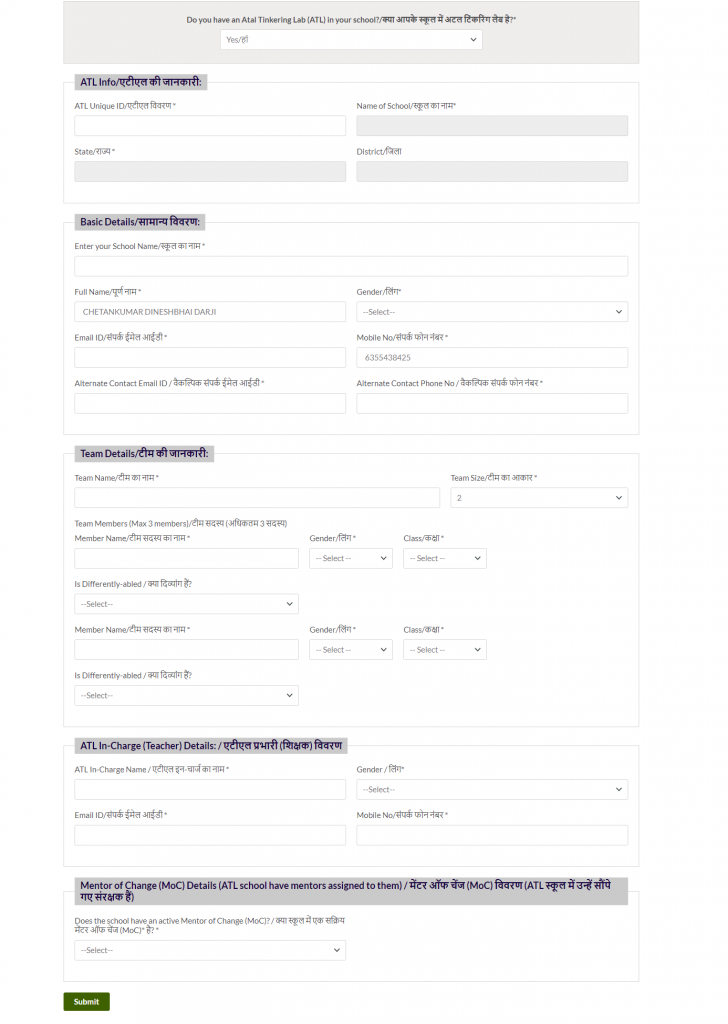 Participation Guidelines
A team comprising of students (from ATL and Non-ATL schools) can submit their entries in the Marathon.
Keep your ATL UID handy while applying. Kindly enter the correct ATL UID to move forward.
The innovations by the student teams can be aligned to any one of the problem statements of the ATL Marathon 2021 or 'Any Other' problem that they see around them relevant to the broad themes of the ATL Marathon 2021.
The final entry of the innovation will be in form of a Research document and Video file (both mandatory)
ATL In-Charge, School Teachers, Mentors of Change, Alumni and external mentors from the local ATL ecosystem may support the student teams.
Each Team shall consist of maximum 3 students (class 6th to 12th) and one ATL in-charge/ School Teacher (must be employee of the ATL School). We encourage ATL schools to also include other school and/or community students within the Team Composition.
Kindly note, individual member entry is not allowed. Also if the team size exceeds 3-member limit, the entry/ submission will be immediately disqualified.
Each team must select one Problem Statement, where schools identify community problems of their choice and develop innovative solutions in the form of working prototypes. Submitting the same solution in multiple problem statements will result in immediate disqualification.The Marathon will be based on the 'Strategy for New India @ 75' document by NITI Aayog. This national strategy document for New India is a detailed exposition of forty-one crucial areas of national importance for achieving the objectives for a New India by 2022-23. It will adopt 4 strategy areas:

Healthcare & Nutrition
Education
Energy & Transportation
Social Inclusion

Last date to submit entries for the ATL Marathon 2021 is 6th March 2022
Please note, you should fill the form carefully and correctly, in case of incomplete or incorrect information entered in the form, your entry may be disqualified
Identifying student creations which are intellectual property and taking steps to suitably protect these is the responsibility of the school. The ATL team at Atal Innovation Mission, NITI Aayog has provided a number of resources for ATL schools and students on Intellectual Property and related matters at the AIM website (http://aim.gov.in/intellectual-property.php). In almost all cases, the student innovator(s) will own their original innovative work done in the ATL.
The ATL Marathon 2021 is for Indian students currently enrolled in school (Class VI to Class XII) both from ATL and non-ATL schools, in case your entry is selected as a finalist, the team members may be asked to provide proof in the form of a photo of your school i-card or any other form as deemed appropriate by AIM, NITI Aayog. Failure to do so may result in your entry being disqualified.
Participants submitting their entries for the marathon acknowledge that the decision of AIM, NITI Aayog regarding the winners will be final and binding. Participants are responsible for making sure that they have the necessary rights, licenses, and/or permission for any content used in making the entry for the marathon. AIM, NITI Aayog and its affiliates/partners are not responsible for the content made and shared by the participant. AIM, NITI Aayog reserves the right to display, distribute and reproduce participant's work on social media or elsewhere as deemed fit by AIM, NITI Aayog. AIM, NITI Aayog or its affiliates will not be responsible for any breach of Intellectual Property of any party associated with the marathon. In case of any dispute, the decision of MD, AIM shall be final and binding.
A Team may submit entries to more than one problem statement, please keep in mind that to do so you will need to fill the application form separately for each problem statement.
The online application form includes: Document Submission (description of the innovation/ solution)
The document (300 words only) should cover aspects of research (primary and secondary research) on the problem statement such as : Why have you selected the problem statement, the idea behind the innovation/ solution, which technique/ technology you have used, the various technical components of the application/ solution (e.g. cloud connect, database, etc.)Video Submission (link to the video) The content flow is expected to be as follows:

Introduction to the current working prototype/ solution (360-degree view)
Functionalities and salient features
On-ground testing/ implementation – The journey
Role of each team member
Involvement of community/ local mentors/ institutions/ industry sharing their feedback of the solution (if any)

Please note, if the submitted video link is not fit to play/ link is inaccessible, the entry/ submission will be immediately disqualified.
By applying in the ATL Marathon 2021, you agree to all the above Terms and Conditions