About Kotak Shiksha Nidhi

Under the CSR Project of Education & Livelihood of Kotak Group Companies, their partner organization Kotak Education Foundation is implementing 'Kotak Shiksha Nidhi' – financial assistance to students, who have lost primary earning member of the family due to COVID-19, for the continuation of education.
About Kotak Mahindra Group
Established in 1985, Kotak Mahindra Group is one of India's leading financial services conglomerates. In February 2003, Kotak Mahindra Finance Ltd. (KMFL), the Group's flagship company, received banking license from the Reserve Bank of India (RBI), becoming the first non-banking finance company in India to convert into a bank – Kotak Mahindra Bank Ltd (KMBL).
About Kotak Education Foundation
Kotak Education Foundation (KEF) was established on 14th January, 2007 with a mission to address urban poverty through education & livelihood initiatives. KEF works in the impoverished areas of Mumbai – slums of Deonar, Govandi Chembur, Kurla, Dharavi, etc to empower children and youth from the underprivileged families through various education and vocational skills training initiatives to make them employable and lead a life with dignity.
Scholarship Details:
Eligibility for Kotak Shiksha Nidhi
Students studying in schools and colleges across India falling under any of the below categories:
Loss of both parents due to COVID-19
Loss of parent due to COVID-19
Loss of the primary earning member of the family (other than parent) due to COVID-19
Applicants must be school or college going students from 1st Standard up to Diploma or Graduation (ages 6 years to 22 years)
Selection for Kotak Shiksha Nidhi:
The selection of eligible students for Kotak Shiksha Nidhi and the extent of assistance under Kotak Shiksha Nidhi (financial assistance for school and college fees payment) will be at the discretion of Kotak Education Foundation
Kotak Education Foundation will review the Kotak Shiksha Nidhi applications based on proofs of continuation of education, related expenses from school/junior college/ college as may be the case, and valid proof of the loss of parent/ parents / primary earning member of the family (other than parent) due to COVID-19
Kotak Shiksha Nidhi Coverage Benefits
Includes Indian national students studying in schools and colleges in India
Includes school & college fees, library deposit, stationary & other continuation of education relevant expenses payable to school/college, hostel lodging & boarding expenses
Excludes International boards such as IGCSE, IB, etc.
How to Applying Steps for Kotak Shiksha Nidhi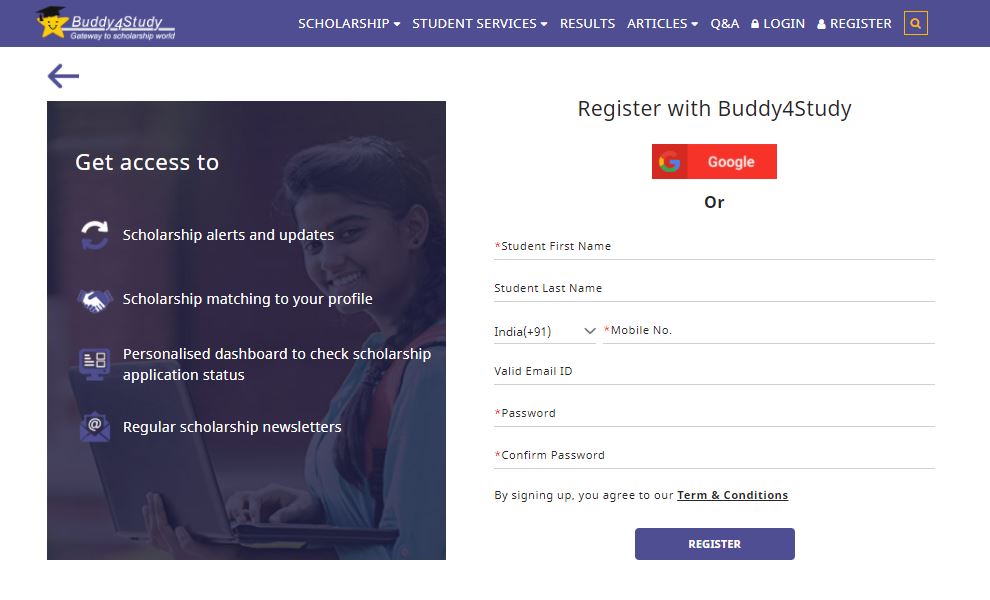 Click on the 'Apply Now' button below
You will be directed to the Buddy4Study webpage. On reaching Buddy4Study page, login with your registered ID and you will be redirected to the 'Kotak Shiksha Nidhi Application Form Page'. If not already registered on Buddy4Study – Register with your Email/Mobile/Facebook/Gmail account
Click on the 'Start Application' button to begin the application process
Fill in the required details in the online application form
Upload relevant documents
Accept the 'Terms and Conditions and click on 'Preview'
You need to review your details seen on screen for correctness, thereafter, click on the 'Submit' button to complete the application process
Documents Required
For minor applicant (under 18 years): Minor applicant's Aadhaar Card along with identity proof of the parent/guardian of the minor applicant: Aadhaar Card Voter Identity Card, driving license, PAN Card
For applicants over 18 years: Aadhaar Card, Voter Identity Card, driving license, PAN Card
Current academic year admission proof such as fee receipt/ bonafide letter/ institution ID card / admission letter) and mark sheet of previous class grade (optional)
Death certificate of primary earning member(s), parent, parents
Proof of death due to COVID-19 such as hospital receipt, doctor prescription, COVID-19 test report, medical bills for COVID-19 medication, hospital discharge summary, etc.
Reference from two (2) persons who are aware of the family's crisis (can be a school teacher, doctor, head of school, college, or a government officer, etc.), if required
Bank account details of the applicant, if the beneficiary student (applicant) is above 18 years
Bank account details of the applicant's parent or guardian, if the beneficiary student (applicant) is a minor
Passport size photograph of the applicant and the guardian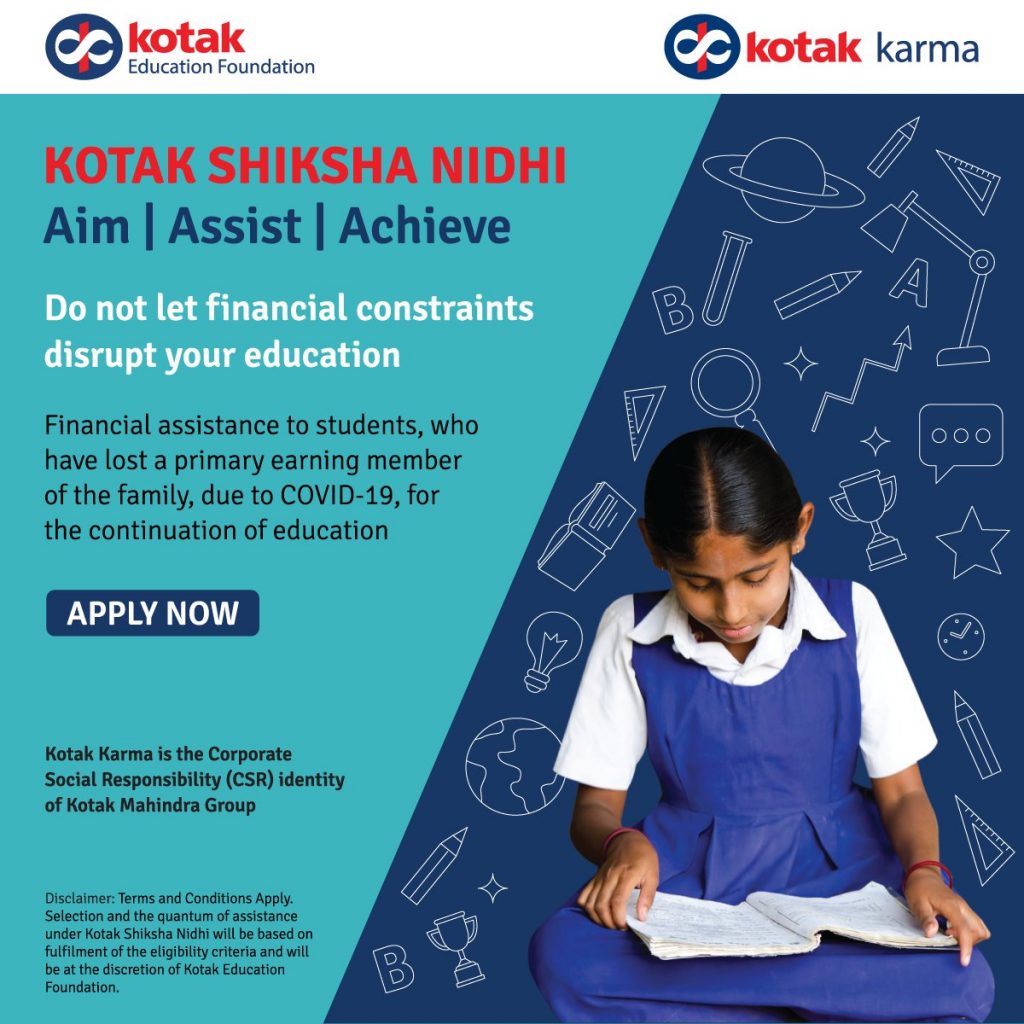 Frequently Asked Questions
Q. What is the selection process for the Kotak Shiksha Nidhi?
Eligible students for applying under Kotak Shiksha Nidhi are those who have lost both parents or parent or a primary earning member of the family (other than parents) due to COVID-19 and will be selected based on the financial situation of the applicant's family and the assistance requirement for continuing school and college education
The selection process involves a multi-stage process as detailed below:
Selection of applications will be based on the proof of crisis documents submitted by the applicant, in priority order given below –Loss of both parent(s) due to COVID-19
Loss of one of the parent due to COVID-19
Loss of primary earning member of the family due to COVID-19
Shortlisted applicants will have to appear for a telephonic interaction and document verification check after which the final selection will be made
Selection and Shiksha Nidhi (financial assistance) amount will be at the discretion of Kotak Education Foundation