Dakshana is conducting the NCST (Navodaya COE Selection Test) 2022 which is common for the selection of students for all Navodaya Centre of Excellence (COE) associated with three knowledge partners i.e., Dakshana Foundation, Ex-Navodaya Foundation, and Avanti Foundation.
Instructions to Upload Students' Data
Students' Data Upload Process MUST be done by JNV schools only
Welcome!
Kindly log in with your login email at http://school.scholarship.dakshana.org/. While logging in for the first time, please enter your school email ID and click on "Login with OTP" and enter the OTP received on the email/Mobile number and set your password. Remember and store your password. Subsequently, you can login using your password only. In case you have forgot your password, enter, your school email ID and click on 'Forgot Password' button, An OTP will be received in your school email ID, enter the OTP and new password.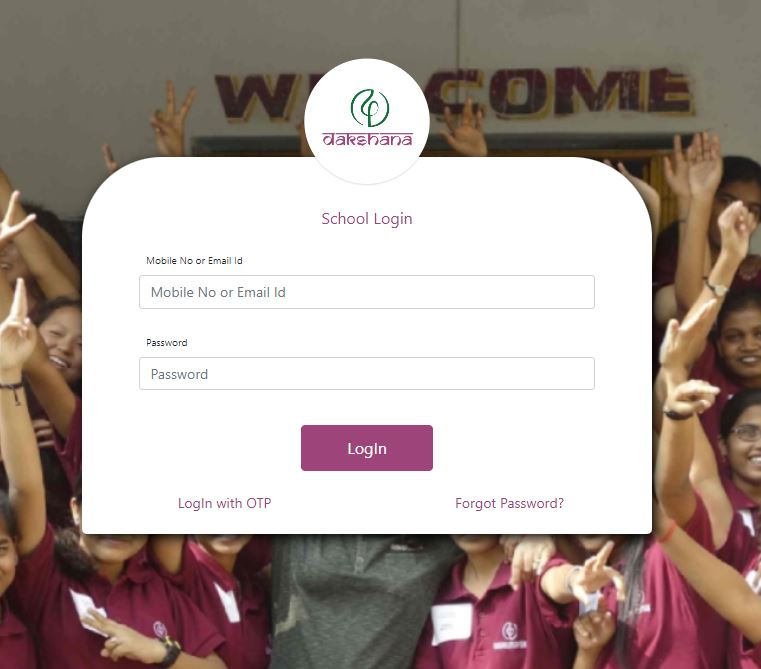 After login follow these steps:
Step 1:

Click on My Profile in the left navigation pane and verify the details of your school. You can edit information in the non-shaded fields. To update your mobile number/email ID please fill this form: https://forms.gle/zMuKge2VRXJqNupDA.
Dakshana will update the information and after that you can login. Click on "Update Info" to save changes.
Step 2:
Click on X or XII under "Upload Students' Data".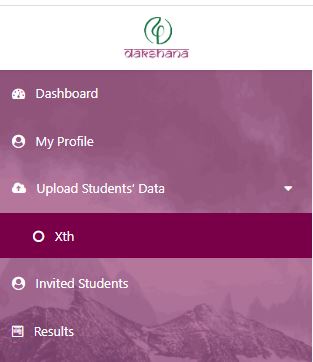 Recently showing Only for Class X
Step 3:
Click on Download Template.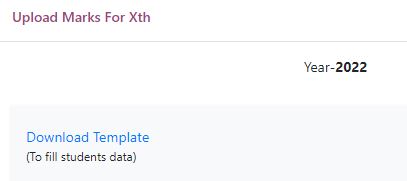 The template is in .csv format and can be edited in MS Excel. ONLY use the file downloaded as template to fill data and upload. Do not make any changes in the headers or columns in the template.
Do not create a separate file in Excel. Please use the template file.
Step 4: For JNV Schools
Please follow the below instructions carefully to fill data in the template exactly as per the format required.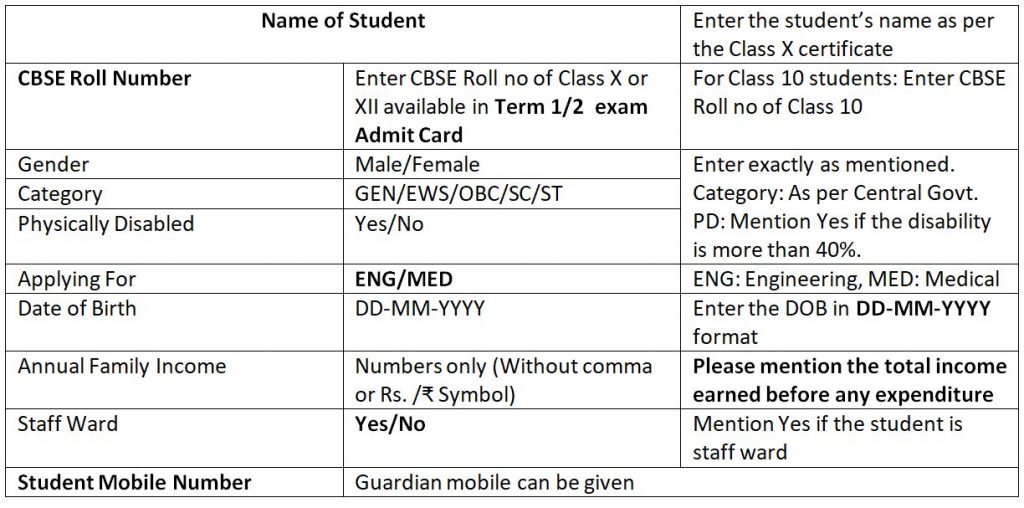 For NCST: (Current Class 10 Students Data)
Science and Mathematics Marks
| | |
| --- | --- |
| Class 10 Term 1 Maths_Total | Enter the total theory marks of Term 1 exam of Class 10 Maths |
| Class 10 Term 1 Maths_Obtained | Enter the obtained marks of Maths |
| Class 10 Term 1 Science_Total | Enter the total theory marks of Term 1 exam of Class 10 Science |
| Class 10 Term 1 Science_Obtained | Enter the obtained marks of Science |
Step 5:
Click on X under "Upload Students' Data". Click on Upload Xth Marks. (Available in top right corner) Choose the template file saved in Step 4 and click on Upload at the bottom of the box.
Records for students whose data is correctly filled will be uploaded.
If there is a mismatch between the format in which data is expected and the way it is filled, the record will not be uploaded for that particular student and will be listed on the screen as a Fail Report. The fields where there are errors will be highlighted in red.
Step 6:
You have completed the Upload process if you have reached this step. Dakshana will screen the uploaded data and shortlist the students invited for the NCST 2022.
An email will be sent to the school's registered email address after upload deadline is over with a list of the invited students. The list will also be available in the portal under Invited Students Tab.
The invited students shall be required to fill the Scholar Application form on the portal subsequently.
Helpline of Dakshana
If you have any queries, please email to [email protected]
OR chat with us at https://go.wa.link/dakshana
I hope you like the Article of the Apply Online NCST 2022 For Class 10 Navodaya JNV Schools Students. If you like then share to others.
Happy Reading Stay Connected