What is NISHTHA
The system of Education in India is very vast with 15 lakhs schools, 85 lakhs teachers and 26 crores students. Providing equitable and quality education to all is our mandate. But the outbreak of COVID-19 pandemic has forced us to close educational institutions since 20 March 2020.
This has caused an unprecedented disruption of education and affected more than 90% of the school population including teacher training. The Ministry of Education, Govt. of India and State Education Departments have made concerted efforts to ensure continuity of learning through various digital platforms.
As per the recommendation of NEP 2020, each teacher will be expected to participate in at least 50 hours of CPD opportunities every year for their own professional development, driven by their own interests.
CPD opportunities will, in particular, systematically cover the latest pedagogies regarding foundational literacy and numeracy, formative and adaptive assessment of learning outcomes, competency-based learning, and related pedagogies, such as experiential learning, arts-integrated, sports-integrated, and storytelling-based approaches, etc.
NISHTHA: A Holistic Development Program for Teachers and School Heads
NISHTHA is a National Initiative for School Heads' and Teachers' Holistic Advancement at the elementary stage under Samagra Shiksha – a flagship programme of MHRD. The modules developed under NISHTHA focus on  holistic development of children and hence include curriculum and inclusive education health and well-being, personal social qualities, art integrated learning, initiatives in school education, subject-specific pedagogies, ICT in teaching-learning, leadership, pre-school education, pre-vocational education, etc.  All the modules are centred around learning outcomes and, learner-centred pedagogy etc. NISHTHA integrated training covers all the recommended areas of NEP 2020 and aims at holistic development of teachers.
These modules are made interactive with reflective and engaging activities for teachers providing space to educational games, quizzes, etc. for joyful learning by the teachers and school heads, which in turn will motivate teachers to implement this in their classroom for enhancing students' learning outcomes. The main expected outcomes from NISHTHA are:
Improvement in learning outcomes of the students.
Creation of an enabling and enriching inclusive classroom environment
Teachers become alert and responsive to the social, emotional and psychological needs of students as first level counselors.
Teachers are trained to use Art as pedagogy leading to increased creativity and innovation among students.
Teachers are trained to develop and strengthen personal-social qualities of students for their holistic development.
Creation of a healthy and safe school environment.
Integration of ICT in teaching learning and assessment.
Developing stress free School Based Assessment focused on development of learning competencies.
Teachers adopt Activity Based Learning and move away from rote learning to competency based learning.
Teachers and School heads become aware of new initiatives in school education.
Transformation of the Heads of Schools into providing academic and administrative leadership for the schools for fostering new initiatives.
NISHTHA Online
NISHTHA in face-to-face mode was launched on 21st August, 2019 by Hon'ble HRM Shri Ramesh Pokhriyal Nishank. Thereafter, 34 states/UTs have launched this programme in their Stats/UTs under Samagra Shiksha, a Centrally Sponsored Scheme. In 29 States/UTs, the NISHTHA training programme has been completed by the NCERT at the state level. In 5 States/UT (Madhya Pradesh, Chhattisgarh, J&K, Bihar and Andhra Pradesh), the training at the state level for teachers is still in progress. In two states, it is yet to be launched.  District level teacher training programme has been initiated in 23 States/UTs. 
In NISHTHA-face-to-face, first level training had been provided by the National Resource Group(NRG) to the Key Resource Persons(KRPs) and State Resource Persons-Leadership(SRPs) identified by the states/UTs. The NRG had been constituted and oriented by the NCERT drawing members from the NCERT, NIEPA and KVS. KRPs and SRPs-L had provided training directly to teachers at block level reducing the cascading effect of training.
Under NISHTHA face-to- face training, 23,137 SRGs and 17,74,728 Teachers and head teachers working in state governed schools were covered from 33 States/UTs in a span of eight months. 
Time bound scaling and reach of such training is still a challenge in a plural country like India, where there is huge diversity due to language, geographical locations, culture, socio economic conditions etc.
However, the learning continuum of teachers and students can not be restricted due to the lack of readiness to face the lock down or due to the diversity and huge population. Every teacher urges to improve their pedagogical competencies as there is a need to address a diverse group of students.  In order to continue this learning and to reach every single teacher, pupil teachers and students irrespective of the board, affiliation etc., the Ministry of Education, Govt. of India has planned to organise a series of online courses for these stakeholders.
The on-line NISHTHA programme has been launched by Hon'ble HRM Shri Ramesh Pokhriyal Nishank on 6th October, 2020.
For providing training to the remaining 24 lakh teachers and school heads and also to reach teachers working under various school boards like CBSe, ICSE, Matriculation etc, NISHTHA has been customized for online mode to be conducted through DIKSHA portal which is conceptualised as One Nation One Portal. 
DIKSHA portal is even accessible to the individuals with a small mobile phone and minimum internet connectivity or no connectivity.
DIKSHA – One Nation one Platform
DIKSHA is an initiative of the National Council of Educational Research and Training (Ministry of Education, Govt of India). The online platform of DIKSHA offers engaging learning material for both teachers and students, and is available in form of Portal and Mobile App.
Continuous Professional Development of teachers is an extremely important element of the school education ecosystem and DIKSHA serves as one of the best platforms to disseminate teacher training. The ease of developing courses and 'anytime anywhere' access makes DIKSHA one of the most used platforms by Teachers for self-development, across India.
The platform has technical capabilities to create, host and share a variety of content. The portal serves as a central repository of all digital resources designed and pooled by creators across the nation, which is accessed by everyone. Digital resources include text, image, audio, video and interactive content. The types of format can be MP4, PDF, ePub, WebM and H5P.
Creation of a course has been made very easy by developing an online framework for uploading digital content, designing assessments, structuring the table to contents, stitching all resources into a course and receiving data on course consumption. 
At the moment there are more than 200 Teacher courses hosted on DIKSHA which have been consumed by more than 12 Lac teachers with 60 Lac enrollments and generating more than 800 million  content plays in the current year.  
Roles and Responsibilities of Academic Coordinators and Technical Coordinator
NCERT has developed the NISHTHA online course modules and created the courses in DIKSHA platform. NCERT will be conducting NISHTHA online courses for teachers working under the Autonomous organisations working under the aegies of Ministry of Education and Ministry of Defence (CBSE, KVS, NVS, Sainik Schools, AESS, CTSA, CICSE) through DIKSHA platform. NCERT will be running the English and Hindi version of the 18 course to all elementary teachers and all the teachers under these organisations will be enrolled in the same course and will be doing the course together.
Courses for teachers will be launched sequentially and conducted in batches in DIKSHA. Each course requires a minimum 3- 4 hours of engagement by the learners where there will be flexibility for teachers to complete the course in a self paced manner. A teacher needs to do self enrolment and do self learning and will be certified on course completion. Steps to be followed for implementing NISHTHA on DIKSHA are as follows:
NCERT will communicate the calendar of the courses (including name of the course, links of the course, start and end date of the course) and the user guide to the authorities of the central organisation. Three courses will be launched every fortnight. Teachers are expected to complete all the 18 courses in a duration of 3 months.
The same communication needs to be disseminated to all Principals/ Vice-Principals/ TGTs including Creative Teachers working under NVS through official communication, mail, instant message etc.
Each RO will create email ids at RO level & Cluster level and announce it to the teachers as a support mail in all the communications as per Annexure-E.
Each RO has already identified Technical Coordinators at the Regional/ Cluster/ JNV level. These Technical Coordinators at Regional/ Cluster/ JNV level are to ensure that:

Course information has reached every single teachers

Teacher has done self enrolment in the courses as per the calendar and following the instructions given in the user manual completes the course

Sharing reminders and short posts on the courses frequently in the instant messenger groups/ email groups or any other communication existing/ created in these organisations for the NISHTHA programme.

If there is any technical issue reported by participants try to solve it or escalate to national technical coordinator through support mail ID

The Technical Coordinators nominated at national level will be registered as a mentor in the course to access the progress card. Role of the national technical coordinator is as follows:

Technical coordinators need to analyse the progress card and prepare the report on the number of teachers enrolled and completed from that particular organisation.
Report the analysed data to the NISHTHA coordinator nominated in the organisation and with all technical coordinators are regional, cluster level for follow up.
Ensure that all technical coordinators at regional, cluster level shares reminders and short posts on the courses  frequently in the instant messenger groups/ email groups or any other communication existing/ created in these organisations for the NISHTHA programme.
If there is any technical issue reported by participants/ technical coordinators try to solve it. If not, escalate to DIKSHA technical team

NISHTHA Academic Coordinator takes the responsibility of the following:

Ensure the completion of all courses (18 courses) by all PPL/ VP/ TGTs including Creative Teachers.
At the end of every month, prepare a report covering the following data;

Total teacher enrolled course wise and also in each course JNV wise
Number of teachers received certificate  course wise
Progress of teachers  (upto 30%, 30% – 50%, 50% – 80 %, above 80%)  course wise
Scores of teachers in the quiz (upto 30%, 30% – 50%, 50% – 80 %, above 80%) course wise

Enter the following data in the NISHTHA portal at the end of all 18 courses

Total no of teachers enrolled and completed all the 18 courses
Submit the final report to NCERT through the proper channel
Course Schedule
Courses will be launched by the NCERT for teachers and school heads under Central Organisation i.e., CBSE, KVS, NVS, CTSA, AEES Sainik School and ICSE schools starting from 16th October, 2020. Three (03) courses in English and Three (03) courses Hindi version will be launched each fortnight. This will ensure that all the 18 courses can be covered within six fortnights (three months) and all the Heads & teachers teaching Class VI, VII & VIII of NVS in the country will be able to take all the NISHTHA courses by January 2020.
Courses will be opened on day 1 of the fortnight and will be closed during the day 15th of the fortnight. Explicit communication will be sent to teachers by concerned states/UTs/Organisations regarding the schedule of all 18 courses and days when the courses will get opened and closed. NCERT will launch the courses in the following schedule: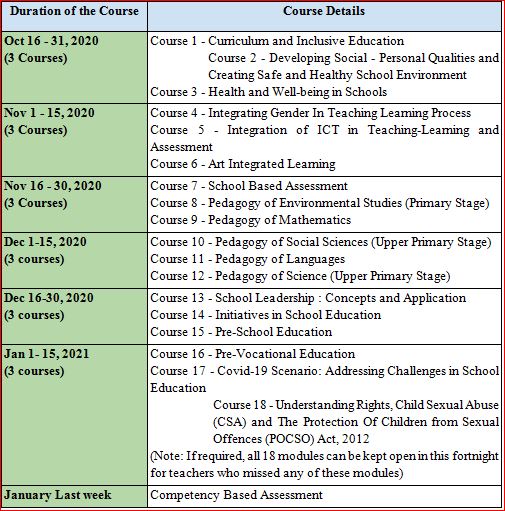 Official Website
I Hope you like the Article of the What is Nishtha and How its works and What are the Schedule of that.