Vedantu Live online learning platform Vedantu today announced its collaboration with India's popular game show, Kaun Banega Crorepati (KBC), as the "co-powered by" sponsor for its on-going 12th season. Vedantu will provide a platform for students to get closer to the hot seat. 
Student special week will be aired in the month of December 2020, where Vedantu will provide a once-in-a-lifetime opportunity to students across India to participate through V Quiz- a live Host quiz show on Vedantu.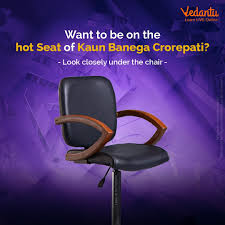 The live quiz will be hosted for children between the age of 10-16 years to participate in KBC as well as test their knowledge in a fun and engaging manner. Students can participate in this quiz between 5th – 18th October at 11 AM & 7 PM every day.

Students who play consistently and maintain top scores, will qualify to be featured in the Student Special Week on KBC, play Fastest Finger First, and compete for a chance to be on the most coveted Hot Seat.
There are 4 simple steps to play:
Speaking on the partnership Shivani Suri, Chief Marketing Officer & Category Head, Vedantu said, "KBC is part and parcel of most Indian families' viewing and entertainment. It is a nationally loved and watched game show just as Vedantu is India's most popular LIVE online learning platform. Both are naturally aligned, and it will be exciting to see what we can do together. As we become the brand that will sustain India's learning needs, such relevant partnerships will resonate with our audiences more than ever."

Adding further, Sandeep Mehrotra, Head – Ad Sales, Hindi & Regional Entertainment, Sony Pictures Networks India said, "KBC is known to be a great leveller through knowledge and as a show has invoked a sense of accomplishment in people. With a show of such stature, it's our endeavour to offer innovative business solutions to clients, thereby forging an impactful relationship.
Edu-tech as a category is evolving and Vedantu is one of our valued co-powered by sponsors on the show, this year. Through this association, we are extending a unique opportunity to students to be featured on KBC.
We hope to see great participation in the Student Special Week on KBC this season."