We giving Information about the Talati cum Mantri Old and Previous Year question Papers and Complete Syllabus of the Talati So that can very useful in upcoming Talati cum Mantri Exam.
GPSSB Talati cum Mantri Exam Paper and Syllabus 2020-21 | Old paper PDF download (OJAS)
Talati Exam paper 2020 – 21
Every year the recruitment of Talati cum Mantri Class 3 is done by the GPSSB Department by Gujarat Government Board. There are many millions of candidates who are searching for the Talati Exam paper.
We have given you this article with Talati Exam paper with solution. There are many candidates who want to do Talati Jobs in Gujarat. The best Class 3 job in Gujarat is considered to be Talati Jobs.
If any candidate is preparing Talati Examination preparation, then on this article you have been given the Talati Exam paper with answer and solution. We have created this page so that you have made a list of Talati cum Mantri All Exam Paper, from there you can download the Talati Exam paper PDF and make complete preparation for the Talati competitive exam.
Talati Exam paper PDF download
Talati cum Mantri Old paper with answer PDF has been given by our team. If a candidate wants to do a government job with the Gujarat government, then you will get all the information on this Article.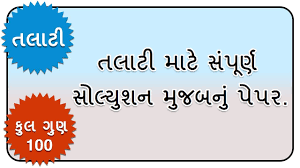 Click on the Below link for the Download Previous year of Talati Paper
Model Question Paper for the preparation with Answer key
Talati Cum Mantri Syllabus
On this Article of ours, you have been given information about all Syllabus from Talati Bharti. You will find here all the PDFs of Gujarati Grammar and sahiyat, English Book, Constitution, History and Geography.
There are many millions of candidates who are looking for the PDF of Talati Exam related Syllabus after applying in GPSSB Panchayat Talati Mantri. So all of you can download the free Talati Exam Matrial PDF on this page.
Syllabus of the Talati Exam
(1) Gujarati Grammar and Sahitya:- 35 Marks
(2) General Knowledge :- 35 Marks
(3) Mathematics :- 15 marks
(4) English Grammar :- 15 Marks
What is difference between Talati and revenue Talati
There are two types of Talati in Gujarat and its function is also different. A Talati Mantri and Revenue Talati
Talati Cum Mantri:– Talati cum Mantri works at the Gram Panchayat Level. Here, a new plan has to be brought and latest plan in Talati Mantri Rustic. The work of Talati cum Mantri is limited in Gram Panchayat.
Revenue Talati :- Revenue Talati's job is to collect revenue. And Mahesul works under the officer.
In any taluka, there is a maltadar. Below is the work of the Forest Officer. And any officer who works under him is Revenue Talati.
What is the Salary of Talati
Any candidate who wants to do jobs in Talati and what is salary in Talati is given below.
Monthly salary :- 19,500 ( 5 years Fix )
Yearly salary :- 2,34,000
Topic wise Talati Syllabus 2020
GPSSB Revenue Talati Syllabus For English Grammar
Antonyms
Synonyms
Direct and indirect speech
Active and passive voice
Preposition
Passage completion
Sentence Arrangement
Sentence improvement
Joining sentence
Fill in the blanks
Data interpretation
Substitution
Idioms and phrases
Word formation
Transformation
Talati Syllabus For General Knowledge
History – Gujarati & India
Current affairs – National & international
Sports
Indian Constitution
Geography
Social science
Basic computer
Indian politics
Important Days
Indian Culture
General science
Talati Cum Mantri syllabus for Indian Constitution
Article – 1 to 50
Fundamental Rights
Union Government
State government
Local self Govermenat
National symbols
Citizenship
President
Vice president
Prime minister
Parliament
Speaker
Deputy speaker
State Executive
State governor
Chief minister
Union territory
Judiciary
Finance commission
The official language
And Other
So that are the Syllabus of the Talati Cum Mantri for Upcoming Exam.
We hope so you like the Article of the talati cum Mantri Old Question Paper and Syllabus.