In this Article we giving awareness about the New trending Fraud Of the New Mobile Phone Purchase in Special Discount (giving 85 % off) Luckily winner and Selected Customers from Sim Network Company.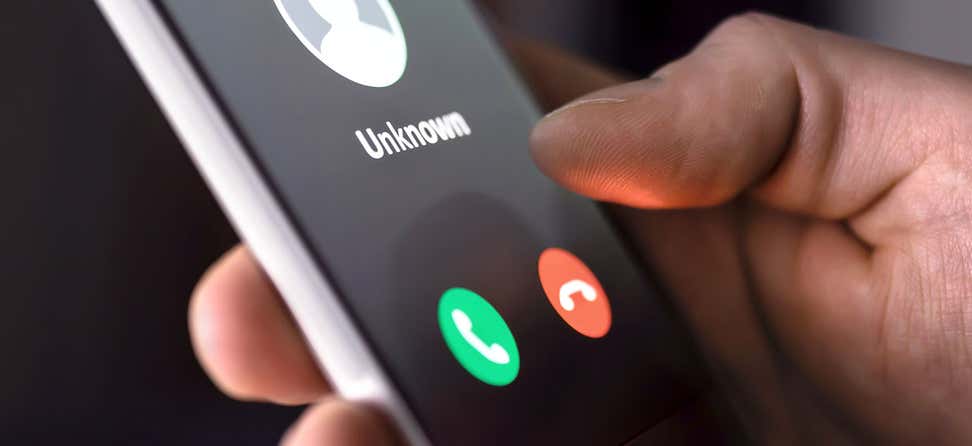 From the Customer Views :
I received a call from this no. [protected], [protected], [protected] on 23 of January 2022. She told me that you are one of the lucky customers using Sim Network Company and you got a offer to get Vivo V23 or Higher Mobile mobile in just 3750/- rupees. (Actual price-27000/-).
We will parcel this mobile in your nearest post office in 10-15 days. Then she asked my address and said we will inform you when we dispatch it. On 25th of oct, she made a call again, that your parcel has been arrived at the post office. She sent the parcel code also through mobile SMS. I went there in post office and asked for that parcel, but they said you can not take that parcel right now as the data has not come. Then again that fraud girl talked to me and said data has come you can take your parcel.
Then I went there in post office and took that parcel after paying 3750/- rupees of amount. But when I opened that parcel, instead of Vivo V23 mobile, I found there was no mobile phone. I felt disappoint. I went back to the post office to tell about this fraud and asked for the further action I have to take. Then they suggest me about the consumer forum. I hope you help me to get my amount back. Thank you.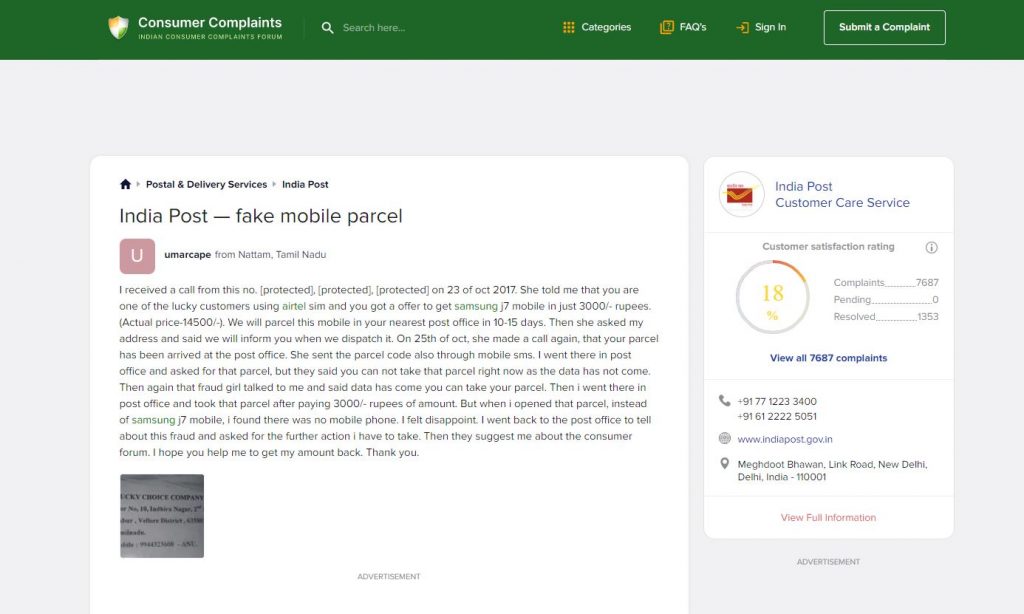 In Hindi ( Cyber Awareness )
मुझे इस नंबर से कॉल आया था। [संरक्षित], [संरक्षित], [संरक्षित] 23 अक्टूबर 2022 को। उसने मुझे बताया कि आप सिम नेटवर्क कंपनी का उपयोग करने वाले भाग्यशाली ग्राहकों में से एक हैं और आपको केवल 3750/- में वीवो वी23 या उच्चतर मोबाइल मोबाइल प्राप्त करने का प्रस्ताव मिला है। रुपये। (वास्तविक कीमत-27000/-)।

हम इस मोबाइल को 10-15 दिनों में आपके नजदीकी डाकघर में पार्सल कर देंगे। फिर उसने मेरा पता पूछा और कहा कि जब हम भेजेंगे तो हम आपको सूचित करेंगे। 25 अक्टूबर को उसने फिर फोन किया कि आपका पार्सल पोस्ट ऑफिस पर आ गया है। उसने मोबाइल एसएमएस के जरिए भी पार्सल कोड भेजा। मैं वहां पोस्ट ऑफिस गया और वह पार्सल मांगा, लेकिन उन्होंने कहा कि आप अभी वह पार्सल नहीं ले सकते क्योंकि डेटा नहीं आया है। फिर उस धोखेबाज लड़की ने मुझसे बात की और कहा कि डेटा आ गया है आप अपना पार्सल ले सकते हैं।

फिर मैं वहां पोस्ट ऑफिस गया और 3750/- रुपए देकर वह पार्सल ले गया। लेकिन जब मैंने उस पार्सल को खोला, तो वीवो वी23 मोबाइल के बजाय, मैंने पाया कि वहां कोई मोबाइल फोन नहीं था। मुझे निराशा महसूस हुई। मैं इस धोखाधड़ी के बारे में बताने के लिए वापस डाकघर गया और मुझे आगे की कार्रवाई के लिए कहा। फिर वे मुझे उपभोक्ता फोरम के बारे में सुझाव देते हैं। मुझे आशा है कि आप मेरी राशि वापस पाने में मेरी मदद करेंगे। धन्यवाद।


From My Point of View What to Do that Time
First Listen what they Fraud say then give wrong Information Like name and address and Trust them to you don't know about the Froud.
Secondly you contact Cyber Crime Helpline Number 1930 to inform about the happen.
Then Share that Mobile numbers and Details to Cyber Crime
Cyber Crime Experts will catch him.