Class 10 and 12 Boards are Career making bridge for all students. The Result of these years decide which field should students choose.
All students try their best to achieve their goal. Generally students concentrate on main academic subjects like Mathematics, Physics , Science etc. and Lack preparation for English Exams. Consequently, they nd up getting lower grades for English Exams.
To avoid this, students are advised to plan their preparation meticulously which would help them ace every exam.
Knowing your syllabus is the thumb rule for any exam preparation. Before starting preparation, keep your English Syllabus and ready and go through it. This will help you to have a hand on the subject. Create a time table for exam preparation, and mention how much time would be required to cover each topic and divide it accordingly.
Section – A Reading Skills includes 2 Reading passage to test your reading skills and vocabulary. So read as much as you can. To score well, students should read at least four passage daily. Section – B is of writing and Grammar. To get good score for this part, you should practice writing notices, essays, articles, advertisements etc. Referring to sample letters and news articles would help you to cover this section.
Section – C of the syllabus is Literature Textbook. To Crack this section, Students are advised to the prescribed Books. Practice on the previous years English Question papers will also be back support for the preparation try to give sample tests in your Home; for the better results.
Do not study new things at the last minutes because you need to revision at the last minute so that you will be able to recall everything you study during your preparation time.
10 Tips for Last Minute Preparation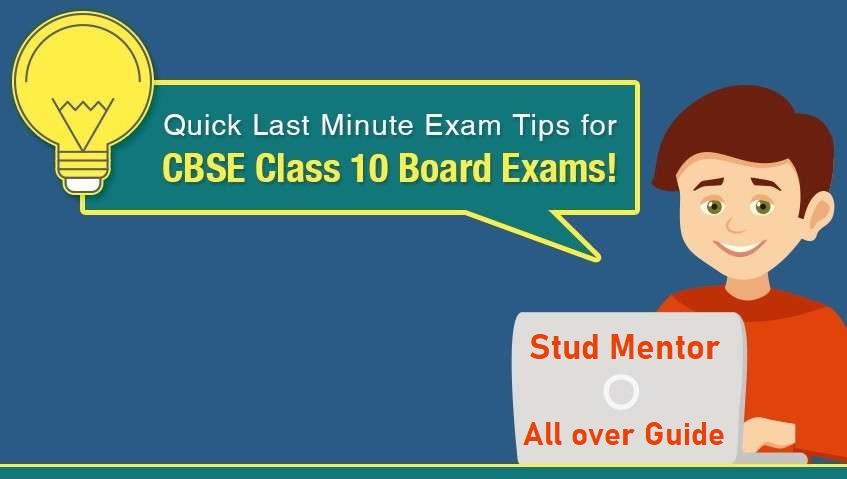 Be Sure about the Letter Writing and Summary writing formats.
Read your comprehension passage thoroughly.
Focus on improving your writing skills.
Solve sample question papers
Prepare notes on character sketches and central themes.
Underline important points in your answers.
Time management is crucial.
Neat and legible handwriting is a must.
Pay attention while reading questions.
Revise before you submit your answer script
I Hope you like the Article and Perform well in your upcoming Board Class 10 and 12.