Date Extended up to 31.12.2020
Invites Online Applications for Admission Against Vacant Seats in Class-IX (2021-22)
Navodaya Vidyalaya Samiti invites applications for admission in Class-IX against vacant
seats in Jawahar Navodaya Vidyalayas for the session 2021-22. Online submission of
applications starts from 4th November, 2020. Application may be submitted free of cost by
accessing
Opening of Online Window
04-11-2020
Last Date to Apply
15-12-2020
Date of Selection Test (Exam)
13-02-2021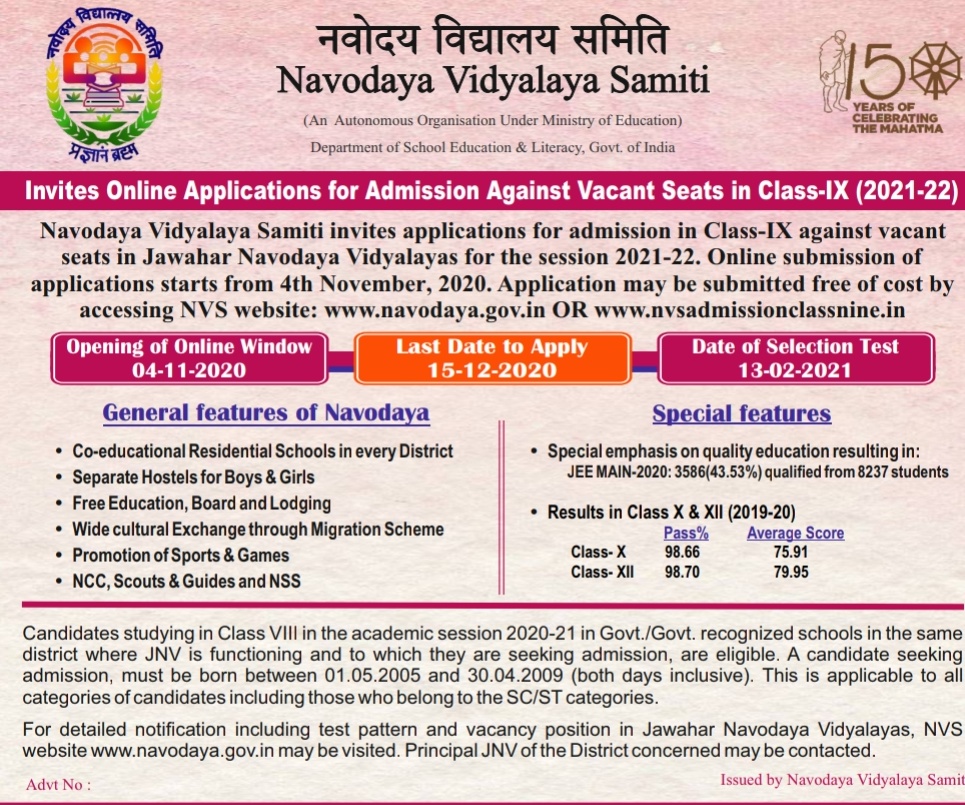 1. Co-educational Residential Schools in every District
2. Separate Hostels for Boys & Girls
3. Free Education, Board and Lodging
4. Wide cultural Exchange through Migration Scheme
5. Promotion of Sports & Games
6. NCC, Scouts & Guides and NSS
Special features
Special emphasis on quality education resulting in:
JEE MAIN-2020: 3586(43.53%) qualified from 8237 students
– Results in Class X & XII (2019-20)
Pass%
Average Score
Class- X 98.66 75.91
Class- XII 98.70 79.95
Terms and Conditions
Candidates studying in Class VIII in the academic session 2020-21 in Govt./Govt. recognized schools in the same
district where JNV is functioning and to which they are seeking admission, are eligible. A candidate seeking
admission, must be born between 01.05.2005 and 30.04.2009 (both days inclusive). This is applicable to all
categories of candidates including those who belong to the SC/ST categories.
For detailed notification including test pattern and vacancy position in Jawahar Navodaya Vidyalayas, NVS
website www.navodaya.gov.in may be visited. Principal JNV of the District concerned may be contacted.