This year IDY-2022 on 21st June 2022 is being celebrated across world in a grand manner as a whole Government approach completely embedding it with the ongoing Azadi Ka Amrit Mahotsav (AKAM) celebrations. On this year's IDY, along with the main event which will be celebrated at Mysuru Palace, Karnataka, led by the Hon'ble Prime Minister, country wide celebrations are organized at 75 iconic places (The list attached in Google Sheet url: https://tinyurl.com/4zzjs3mb ). The list includes details about the locations identified, the Hon'ble Minister leading the event, nodal Central Government Ministry/ Department, Coordinating Private/ Other Yoga Institution, Central Government Ministry Nodal Officer, Nearby Ministry of Ayush Institution, Ayush Media Centre Coordinator, Hon'ble Minister's PS and State/ UT Government Nodal Officer.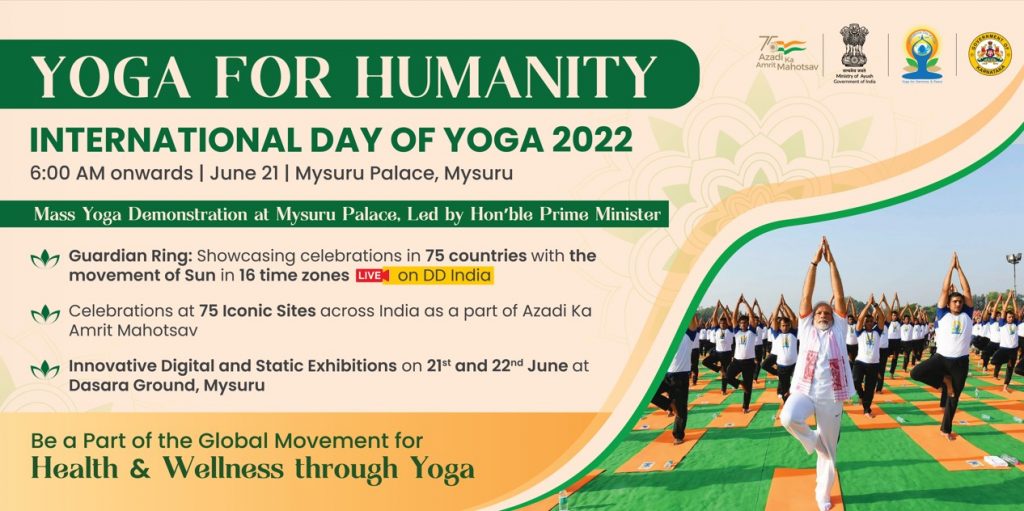 Suggested SOP/ arrangements can be seen in the 75 Locations Google Drive.
Necessary blanket permission for all venues under ASI's jurisdiction has been obtained. It may be noted that these arrangements are suggestive in nature and changes may be made as according to the locations. However, these 75 events have to organized at standard timings and minute to minute program in this regard is available in the 75 Location Google Drive. It is to ensure that the arrangements for live streaming of Honorable Prime Minister's address from Mysuru to be made from 6:40 AM to 7:00 AM.
This event will be telecast live on DD National and other DD Channels. The necessary LED and other display arrangements shall be made at the allotted venue. The event may be digitally recorded in a high quality and professional way
The necessary coordination may be done by the nodal Central Government Ministry/ Department with Ministry of Home Affairs to station paramilitary forces at 75 national-level iconic locations, for IDY celebrations as per protocol.
Concerned State/UT Governments and District Administration to support Ministries/Departments in charge of different national-level iconic locations, for security/ logistic arrangements at their respective locations, for IDY celebration.
The Directorate General of Civil Aviation and Archaeological Survey of India will permit operation of drones at different national-level iconic locations, during IDY celebration. Ministry of Ayush has requested both the Departments for the same. Necessary coordination may be done by the nodal Central Government Ministry/ Department.
An event management agency may be hired at specific event locations, for efficient management, if required.
The IDY celebration at all the event locations to end with the National Anthem.
A rehearsal/ trial may be organized at all the event locations, on 19th or 20th June 2022, to avoid unnecessary glitches (technical and coordination) during the main event.
A report about the event may be send to [email protected] by all the nodal departments on top priority. The reports may specifically mention the number of people participated in the event.
What is Common Yoga Protocol 2022 – YouTube Link in Hindi
The International Day of Yoga is celebrated by a harmonious demonstration of a custom made 45-minute protocol namely, Common Yoga Protocol (CYP). It is to be practiced at all the event locations, during the IDY celebration.
CYP is freely available in YouTube and Yoga portal in various Indian languages
A set of approved creatives which can be used as hoardings and backdrops is provided in the 75
Locations Google Drive (changes may be made as per requirements).
#YogaforHumanity,IDY2022, #75IconicIDYLocations may be projected in all possible means. Social Media Teams of the nodal Central Government Departments shall update minute to minute details of the event in all of their social media handles.
Suggestive Program Schedule of IDY 2022