Primary Teachers Online Administrative Work Started at Official Website of government is sasgujarat.in.The government of Gujarat started a new Managing Website for teachers' work like Pagar bill order, Masik Petrak, Setup-1 Setup-2 Pagar bill, Teacher Information, Student information. It is a very useful and Time saver web for all teachers and Principals. also check ssagujarat portal. this portal is about online attendance for teachers and students.
SAS Gujarat Online Portal For School And Teachers
Teachers can Start the ease and speed of administrative work after all the information on this portal is updated. Teachers' salaries will also be made online at SAS Gujarat. Thereby completing all operations concurrently throughout the state.Masik Patrak and pay bills will also go online so that paperwork will be reduced. for And Kind Of carry please visit the official website and for any kind of update of SAS Gujarat, please keep visiting our site Primary Teacher can Do All Work at sasgujarat.in as we mentioned below
Masik patrak Online at sasgujarat.in.
Online pPagarbill
A teacher can Create I Card
Monghvari Tafavat Patrakat sasgujarat.in.
Puravani Bill
Raja report
Teacher Attendance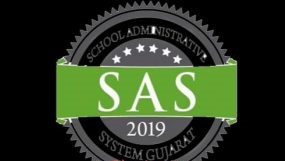 SAS Gujarat Login
First, visit the official website i.e. sasgujarat.in
Select your district
Fill School Profile School Detail and Account No
add the detail of Village population Lock school profile
Enter your user id and password
Enter captcha code
Select your login area
Press sign me in.
Username – School district code
Password – School district code (Change Your Password), log in as SchoolOrganization Name: Samagra Shiksha Abhiyan GujaratNOTE: Do not type username or password on any third party website or mobile app except sasgujarat.in website. Such an application or website saves your username password through which your data may be stolen. School on sasgujarat to work as per state, district as well as taluka instruction
Full Form Of SAS Gujarat
SCHOOL ADMINISTRATIVE SYSTEM GUJARAT
How To Get Sas Gujarat User ID & Password
To get a User ID and Password in SasGujarat you first have to Need the mobile number, date of birth, Date Of entering In job, and Aadhaar number.
Step For getting ID & Password
Visit the Offical Website click here
DPE (Directorate of Primary Education)
Select Your District And Put Information
SAS Gujarat
Our page contains important circulars, resolutions, and laws related to SAS Gujarat Education Department. For all these announcements as well as other literature teacher friends had to visit several blogs as well as government websites. All Announcement related to SAS Gujarat has been put on this page for all teachers. we hope this information proves very important to the teachers who involved in the education sector.
Significants Link :SAS Gujarat Website
District wise list of SAS Gujarat Login
Here is District wise list to login in sasgujarat online website for the primary teacher. Teachers can do all data work from this portal Like pagarbil, uchatar, Raja report, Masikpatrak, Creat I Card And etc…
Sas Gujarat Masik Patrak And Online Pagar Bill
Open sasgujarat.in website
Select Your District from Above List.
Enter your User id and password
Use Your school dise code ad User id and Password is Also School dise.
Login as a School option
Masik Patrak Online
Online Pagar bill