Are you searching for – MyGov Frontiers of India Quiz
Then you are at Right Place.
The Complete and Official Information of How to Register / Participate in MyGov Frontiers of India Quiz.
What is MyGov Frontiers of India Quiz ?
With the vision of the Prime Minister under Azadi ka Amrit Mahotsav, we aim to underline the importance of connecting youngsters to Borders of India and exposing them to its history, traditions, art forms, culture and food.  
We open a fully sponsored trip for group of people aged between 18-40 years to answer a few questions of the Frontiers of India Quiz.
The winners will qualify for a lucky draw to be declared by the Ministry of Culture with 15 participants to go on a sponsored trip to Turtuk (Leh) this month. The cost includes travel from Delhi onwards along with stay, food and a lifetime experience to live the culture and vibe of that belt.
Download Certificate of MyGov Frontiers of India Quiz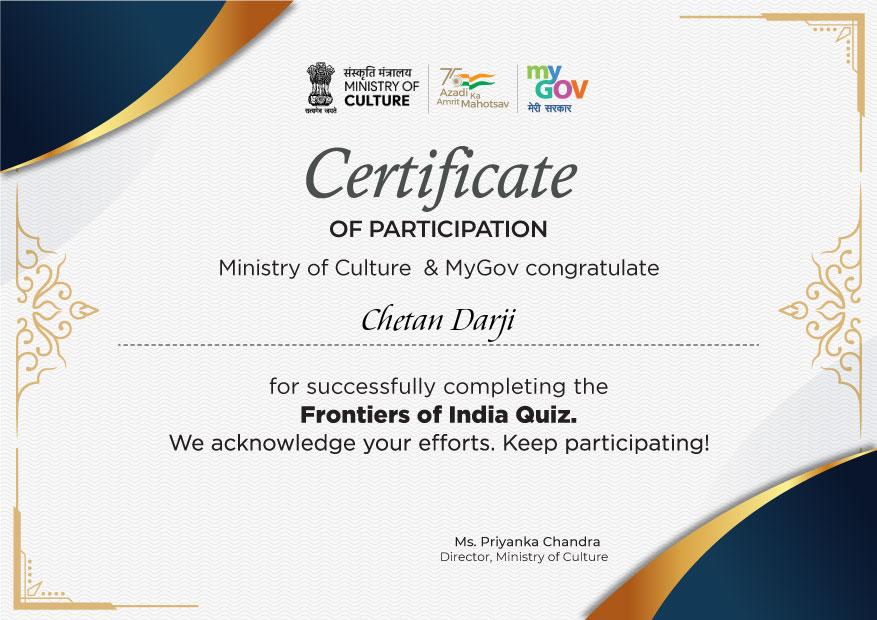 Terms and Conditions of MyGov Frontiers of India Quiz
●The Jury would be the apex decision-making body for the final selection on the lucky draw.
●The Jury has the right to nominate any applicant.
●The jury members shall maintain strict confidentiality regarding the deliberations of the meetings.
●All Jury meetings will be held at New Delhi.
●The decision of the jury shall be final and binding and no appeal or correspondence regarding their decision shall be entertained.
●The last date for participation shall be 8th October 2022 and the Ministry reserves the right to reject any particpiation received after the last date.
●An Applicant can also be disqualified for a period of three years, if any information provided by the Applicant is found to be incorrect, wrong or false in any manner.
●Information provided by the Applicant will be deemed confidential and only used for the purposes of determining their eligibility.
●The Ministry of Culture may seek clarifications on the documents submitted.
●Grievances, if any, shall be addressed by the Secretary, Ministry of Culture, Government of India, whose decision in the matter shall be final and binding.
●All Indian citizens may participate.