Are you searching for – MyGov CBSE Veer Gatha Project 2.0
Then you are at Right Place.
The Complete and Official Information of How to Register / Participate in MyGov Veer Gatha Project 2.0.
What is MyGov Veer Gatha Project 2.0
Introduction

To honour the acts of bravery and sacrifice of the officers / personnel of the Armed Forces, other lawfully constituted forces and civilians, gallantry awards are announced twice in a year – first on the occasion of the Republic Day and then on the Occasion of the Independence Day. In order to disseminate the details of bravery acts and the life stories of these brave-hearts among the students, it has been proposed by the Ministry of Defence that school students may be motivated to do projects/activities based on gallantry award winners.
After the overwhelming response and success of Veer Gatha Edition-1, the Ministry of Defence in coordination with Ministry of Education has now decided to launch Project Veer Gatha 2.0 which is proposed to be culminated with the prize distribution ceremony in January 2023. As per last edition, the project will be open for all the schools in all States and Union Territories.
As part of this project, the students can again frame different projects on gallantry award winners. Interdisciplinary and art-integrated activities like poem, essay, story, painting/drawing, videos would be considered as project activities. The best project will be rewarded nationally by MoD on the forthcoming Republic Day. The submission by the students can be made in any of the 22 Scheduled languages and English.
The Project Veer Gatha 2.0 shall be organized between 13 September 2022 to 31 December 2022.
Topic & Categories
Categories
Activity/ Entry in the form of the following:
Suggestive Topic
Classes 3rd to 5th
Poem/Paragraph (150 words)/Painting
If I had been_________
(Name of the Gallantry Award Winner), what would I have done for my nation?
Or
______________
(Name of the Gallantry Award Winner)
motivates me to_______
Classes 6th to 8th
Poem/Paragraph (300 words)/Painting/ Multi Media Presentation (Enactment Video)
Classes 9th to 10th
Poem/Essay (750 words)/Painting/ Multi Media Presentation (Enactment Video)
Classes 11th to 12th
Poem/Essay (1000 words)/Painting/ Multi Media Presentation (Enactment Video)
Project Timeline of Conducting Activities for Schools affiliated to CBSE and States
Dates
States & UTs
7th October to 10th November 2022.
Conduct of Activities at the School Level: Schools shall themselves conduct the activities on the above topics.
1st November to 22nd November 2022*
As soon as the conduct of activity is complete at the school level,
NON-CBSE Schools shall select 01 entry per category, a total of 04 from each school, and upload on MyGov portal
25th November to 10th December 2022
Evaluation of entries submitted by Schools to be done by SCERTs. Rubrics are given at Annexure I.
SCERTs will give the best entries for the National Level Evaluation as per the list at Annexure II.
SCERTS will need to confirm the genuineness and originality of the entry being given for the national level selection through telephonic/video call interview or any other mode as appropriate.
12th December to 30th December 2022
National level Evaluation will be done by a National Level Committee appointed by MoE
Portals for Submission
CBSE Schools: CBSE-Veer Gatha Project Portal at www.cbse.gov.in
Schools other than those affiliated to CBSE States and Union Territories: MyGov Portal.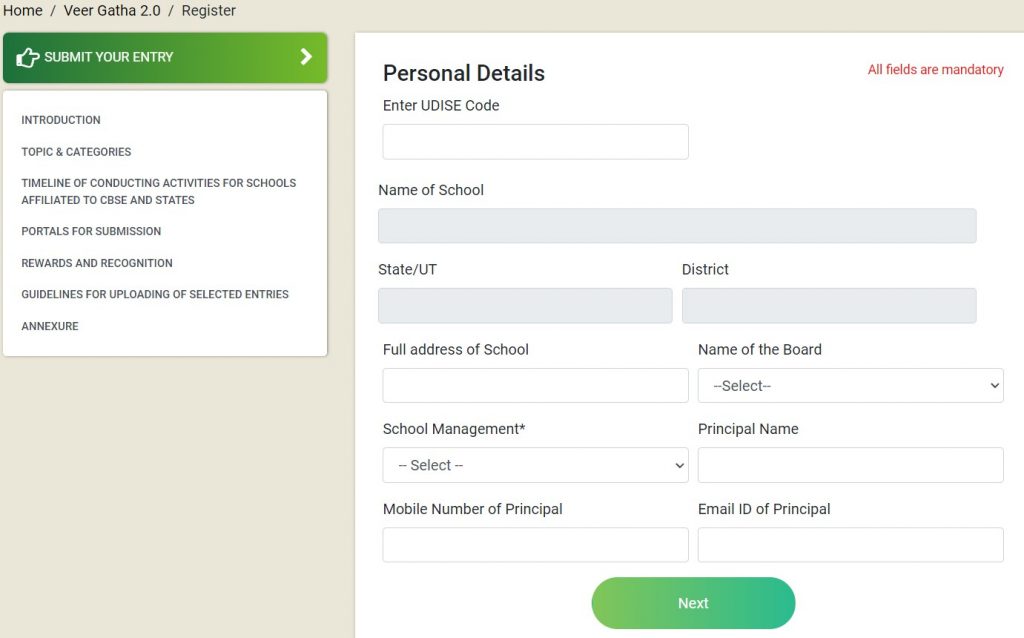 Rewards and Recognition
Students whose entry is uploaded at the Portal (CBSE/MyGov) will get an E-Certificate of Participation.
25 selected entries will be awarded a cash prize of Rs. 10,000/- by the Ministry of Defence.
Each of the 25 winners will be invited for Republic Day Celebration at Delhi.
Guidelines for Uploading of Selected entries
This is applicable for Nodal Officers of Non-CBSE Schools only. Please keep the UDISE code of the school along with all the other details of the school ready before applying.
Multiple entries in same category from a school are not allowed.
Click on 'Submit Now' link, this will open new page for entering Personal Details of the School.
After filling Personal Details of the School, click on submit / Next button. This will open the page for making the class-wise submissions of Poem / Paragraph / Essay / painting / Multi-Media Presentation (whichever applicable).
Entries can be uploaded in JPEG / PDF Formats only. Nodal officers of schools are advised to convert all selected entry files in JPEG / JPEG format prior to uploading on MyGov portal
In case, no submission is to be made in any of the entries, it is supposed to be left blank.
At last, click on "Submit" Button to finally submit application.
Please ensure the student details are accurate prior to making the final submission. Once final Submission is made, it cannot be edited.
Annexure I
Rubrics for Assessment of Essays/Paragraph
S.No.
Area of Assessment
4
3
2
1
1
Originality of expression
Fresh, distinctive
approach. It is highly
imaginative or creative
Conveys some
creative, imaginative, or
insightful ideas beyond
the commonplace
Reflects few
creative, substantive, or
imaginative ideas out of
the ordinary
Communicates
no substantive or
imaginative ideas and is
unremarkable
2
Presentation
Expression is highly impressive and the content is very well organized
Fluent
Expression and the
content is well organized
Message is sometimes difficult to follow
and content is fairly well organized
Message cannot be understood and the content
is poorly organized
3
Support
Arguments are very well supported (with insightful examples, arguments, and details). The essay includes quotes/ passages from the text and a strong analysis of their significance.
Arguments are well supported. The author uses specific examples, arguments, and details to support key ideas.
Some key issues are unsupported. The main idea is clear but the supporting information is too general.
Several key issues are unsupported. Main idea is somewhat clear but there is need for more supporting information
4
Relevance to the topic
Information is very much relevant to the topic and cites recent examples.
Information is relevant to the topic
Some information is irrelevant to the topic
Very little relevance
Maximum Score: 16
Note:
1) If the essay is not relevant to the topic, no marks to be awarded
2) If the number of words exceeds the word limit by 50 or more, then 2 marks may be deducted from the final score.
Rubrics for Assessment of Poem
S.No.
Area of Assessment
4
3
2
1
1
Originality of expression
Fresh, distinctive
Approach. It is highly
imaginative or creative
Conveys some
creative, imaginative, or
insightful ideas beyond
the commonplace
Reflects few
creative, substantive, or
imaginative ideas out of
the ordinary
Communicates
no substantive or
imaginative ideas and is
unremarkable
2
Presentation
Expression is highly impressive and the content is very well organized
Fluent
Expression and the
content is well organized
Message is sometimes difficult to follow
and content is fairly well organized
Message cannot be understood and the content
is poorly organized
3
Poetic Devices
6 or more poetic devices (same or different) are used
4-5 poetic devices (same or different) are used
2-3 poetic devices (same or different) are used
1poetic device is used
4
Relevance to the topic
Information is very much relevant to the topic and cites recent examples
Information is relevant to the topic
Some information is irrelevant to the topic
Very little relevance
Maximum Score: 16
Note: If the poem is not relevant to the topic, no marks to be awarded
Rubrics for Assessment of Enactment Video
S.No.
Area of Assessment
4
3
2
1
1
Originality of expression
Fresh, distinctive
approach. It is highly
imaginative or creative,
Conveys some
creative, imaginative, or
insightful ideas beyond
the commonplace
Reflects few
creative, substantive, or
imaginative ideas out of
the ordinary
Communicates
no substantive or
imaginative ideas and is
unremarkable
2
Presentation
Expression is highly impressive and the content is very well organized
Fluent
Expression and the
content is well organized
Message is sometimes difficult to follow
and content is fairly well organized
Message cannot be understood and the content
is poorly organized
3
Dialogue
There is an appropriate amount of dialogue for all members to have a balanced role and to bring characters/ situation to life and it is realistic.
There is an appropriate amount of dialogue for all members to have a balanced role and to bring the story to life, but it is somewhat unrealistic.
There is not quite enough dialogue for all members to have a balanced role in this play OR it is often unrealistic.
There is not enough dialogue for all members to have a balanced role OR it is completely unrealistic
4
Relevance to the topic
Information is very much relevant to the topic and cites recent examples
Information is relevant to the topic
Some information is irrelevant to the topic
Very little relevance
Maximum Score: 16
Note: If the 'Video is not relevant to the topic, no marks to be awarded
Rubrics for Assessment of Sketches/Drawings/Paintings
S. No.
Area of Assessment
4
3
2
1
1
Originality of expression
Fresh, distinctive
approach. It is highly
imaginative or creative
Conveys some
creative, imaginative, or
insightful ideas beyond
the commonplace
Reflects few
creative, substantive, or
imaginative ideas out of
the ordinary
Communicates
no substantive or
imaginative ideas and is
unremarkable
2
Presentation
Expression is highly impressive and the content is very well organized
Fluent
Expression and the
content is well organized
Message is sometimes difficult to follow
and content is fairly well organized
Message cannot be understood and the content
is poorly organized
3
Technique
Art work shows a mastery of advanced techniques in composition. All objects are placed in correct space.
Art work shows good technique. All objects are placed in correct space.
Art work shows some technique and understanding of art concepts
Art work lacks technique and/or understanding of art concepts.
4
Relevance to the topic
Information is very much relevant to the topic and cites recent examples
Information is relevant to the topic
Some information is irrelevant to the topic
Very little relevance
Maximum Score: 16
Note: If the Sketches/Drawing/Painting is not relevant to the topic, no marks to be awarded