Are you searching for – MyGov Har Din Har Ghar Ayurveda Quiz 2022
Then you are at Right Place.
The Complete and Official Information of How to Register or Participate in Har Din Har Ghar Ayurveda Quiz 2022.
What is Har Din Har Ghar Ayurveda Quiz
All India Institute of Ayurveda, under Ministry of AYUSH, Govt. of India, is celebrating National Ayurveda Day 2022 with Theme of  'Har Din Har Ghar Ayurveda'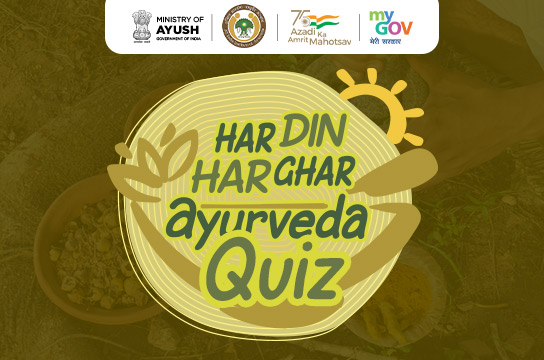 All India Institute of Ayurveda is organizing "Har Din Har Ghar Ayurveda Quiz" on MyGov platform  with an aim to generate awareness about ayurveda at household level. 
Download Certificate of Har Din Har Ghar Ayurveda Quiz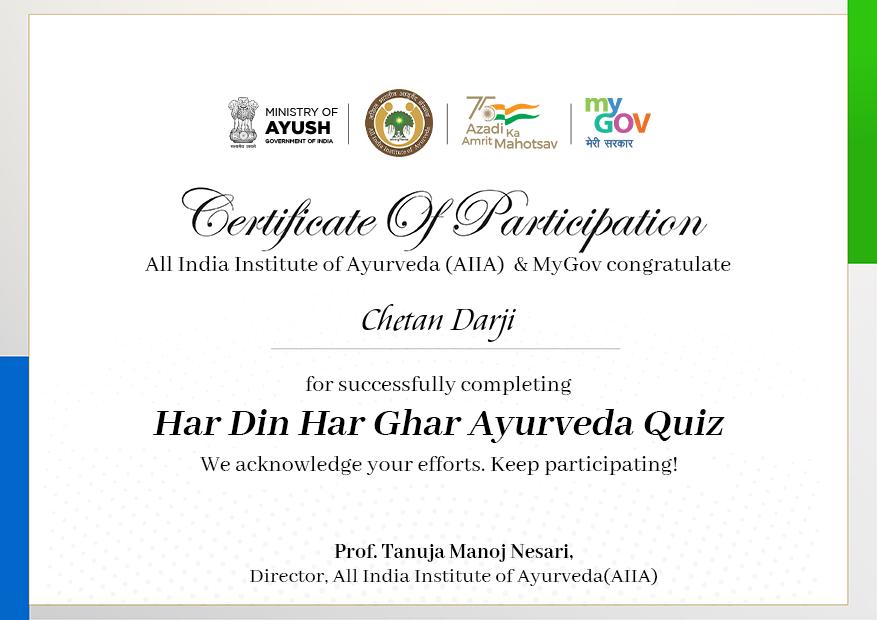 Terms and Conditions of Har Din Har Ghar Ayurveda Quiz 2022
1.The Quiz is being organized by All India Institute of Ayurveda (AIIA), an autonomous institute under Ministry of Ayush the occasion of Ayurveda day 2022.
2.Once submitted an entry cannot be withdrawn.
3.Entry into the Quiz is open to all Indian citizens.
4.Entries received outside of these time/dates will not be valid.
5.Participants can view their score when the quiz concludes.
6.Participants from all age groups will be allowed to contest in the quiz. If the winner is not contactable within five (5) working days from the result announcement, he or she will be disqualified for the prize and other winner will be selected from the remaining eligible entries in accordance with the above process until a winner is selected and can be contacted. Selection, reaching out to winners and dispatch of mentioned prize will be done by AIIA and MyGov will NOT be having any role in the aforesaid process.
7.Organizers' decision on the Quiz shall be final and binding and no correspondence will be entered into regarding the same.
8.One Participant can participate only once. Multiple entries from the same Participant will not be considered and will be discarded.
9.Organizers will not accept any responsibility for entries that are lost, are late or incomplete or have not been transmitted due to computer error or any other error beyond the organizer's reasonable control. Please note proof of submission of the entry is not proof of receipt of the same.
10.In the event of unforeseen circumstances, organizers reserve the right to amend or withdraw the Quiz at any time. For the avoidance of doubt, this includes the right to amend these terms and conditions.
11.By Participating the Quiz, the Participant accepts and agrees to be bound by these Terms and Conditions, mentioned above.
12.Participants are required to update their details like name, email address, telephone number and postal address. By submitting your contact details, you will give consent to these details being used for the purpose of the Quiz and promotions by AIIA.
13.AIIA at its discretion can review/ change the Terms and conditions of the quiz upon analysis of quiz participation data.
14.All participants will be given a digital Certificate of Participation.