Setting up of 'Skill Hubs' in CBSE affiliated schools under the Skill Hub Initiative under PMKVY 3.0 scheme
As you are aware that the National Education Policy (NEP)-2020 entails towards a more holistic and multidisciplinary education to develop all capacities of human beings – intellectual, aesthetic, social, physical, emotional and moral in an integrated manner. The Skill Hub initiative is one such innovative approach implemented as per the guidelines under Pradhan Mantri Kaushal Vikas Yojana 3.0

The scheme envisages to give leverage to existing infrastructure of the school after school hours as 'Skill Hub' focusing on the introduction of skill training program in the education ecosystem to actualize the intent of NEP 2020 which mentions at least 50% of learners shall have the exposure to Skill Education by 2025. The Skill Hubs shall primarily be nodal skill centers identified to provide skill development and vocational training opportunities to target population segments from in-school students of class 9th to 12th, school dropouts and out-of-education candidates.
Under this scheme, the school infrastructure, in general and Skill Education infrastructure, in particular can be used optimally after the school hours, on weekends, holidays, summer vacations, etc. This initiative will give school recognition in the neighborhood.
Independent schools affiliated to CBSE can start Skill Centre / Skill Hub in the school premises on a fee based model. Detailed guidelines for operationalizing the 'Skill Hub Initiative' under PMKVY 3.0 are enclosed.
CBSE will support in terms of providing curriculum and soft copies of resource material, organizing training, conducting assessments and certifying the successful trainees.
All the independent schools affiliated with CBSE, especially the schools, which are offering Skill subjects in their schools are encouraged to start Skill Hub in their premises and register themselves on the
The schools desirous of participating in this novel initiative may provide the details using the link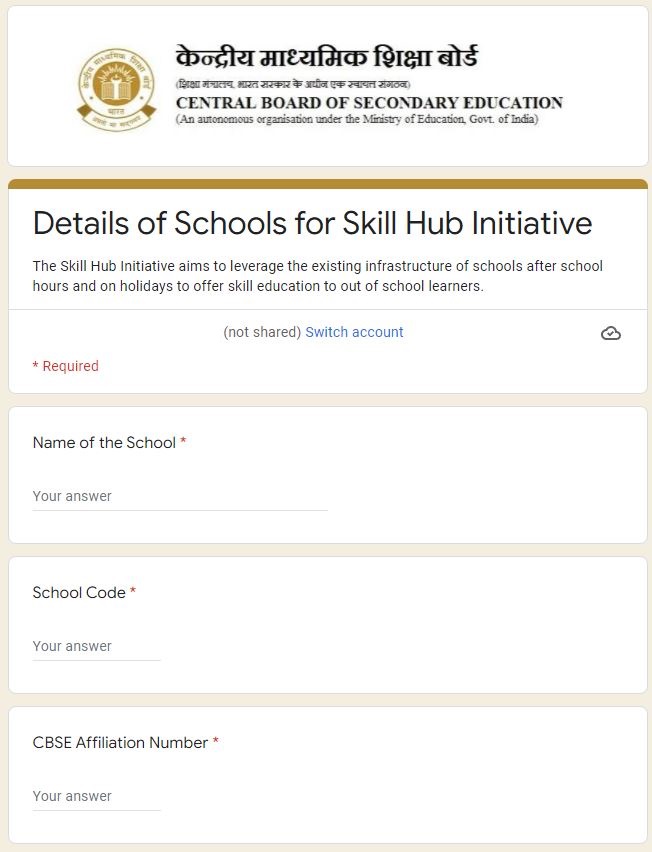 https://bit.ly/CBSE-SHI (Please note that this Google form can only be filled using the cbseshiksha.in email id). The schools that are already participating in the pilot phase of this initiative need not apply again
For further details, schools can write to [email protected]