What is Agnipath Scheme in English 2022
Agnipath Scheme (also spelled Agneepath Scheme) : Agnīpath Yojanā, transl: Fire-Path Scheme) is a new scheme introduced by the Government of India on 14 June 2022, for recruitment of soldiers below the rank of commissioned officers into the three services of the armed forces. The Agnipath Scheme will be the only route for recruitment into the military. All recruits will be hired only for a four year period. Personnel recruited under this system are to be called Agniveers (Fire-Warriors), which will be a new military rank. The introduction of the scheme has been criticized for lack of consultation and public debate.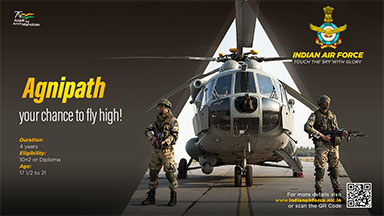 The scheme is scheduled to be implemented from September 2022.
Recruitment in the Indian Army under Modi Govt
| Year | Soldiers |
| --- | --- |
| 2015-16 | 71,804 |
| 2016-17 | 52,447 |
| 2017-18 | 50,026 |
| 2018-19 | 53,431 |
| 2019-20 | 80,572 |
| 2020-21 | 0 |
| 2021-22 | 0 |
| 2022-23 | 0 |
Download All Information about Agnipath Agniveer Scheme Booklet
| | |
| --- | --- |
| Agnipath Agniveer Scheme Booklet | Download |