Are you searching for – How to Prepare Syllabus for Navodaya Class 11 Exam 22 July 2023
Then you are at Right Place.
The Complete and Official Information of How to Prepare Syllabus for Navodaya Class 11 Exam 22 July 2023
Online applications are invited from eligible students for admission to Class XI, only against the vacant seats, likely to be available in JNVs during the academic year 2023-24. Admission will be made on the basis of selection test, which will be conducted by an external agency as per the policy of NVS.
The vacant seats in Rural/Girl/SC/ST/Divyang category will be filled by the respective category candidates. If qualified candidates are not available, vacant seats will be filled as per NVS norms.
After the conduct of selection test, provisional selection of students will be done as per following steps:
District wise merit list will be prepared and students will be provisionally selected against the vacancies. The twin conditions of residence and study of Class-X from the district concerned only, will be considered under district wise merit list for filling up of vacant seats.
After selecting students against the vacancies in the JNV of the district, a common merit list will be prepared at State level. After step a), the vacancies existing in any of the JNVs of the same State will be filled from the State level merit list by considering the merit and as per option exercised by the candidate.
Candidates from one state are not eligible for admission in another state.
The selected students will be informed by the Principal of the concerned JNV
by SMS/Speed post.
Date of conduct of Class-XI Lateral Entry Selection Test – 2023
Lateral Entry Selection Test for admission to Class-XI in JNVs against the vacant seats, likely to be available in JNVs for the academic session 2023-24 will be held On Saturday, 22nd July 2023 at 11.00 A.M.
Bilingual (English and Hindi) question paper will be provided to the candidates.
The selection test will be of two- and half-hour duration from 11:00 am to 01:30 pm and will have 5 sections with, only objective type questions. There are 100 questions in all for 100 marks
Syllabus for the selection test is placed as Annexure-A. Scholastic aptitude type questions (Multiple Choice Questions) would be asked in respect of English, Science, Mathematics and Social Science
Candidate has to score minimum qualifying marks i.e. 06 marks out of 20 as per NVS criteria in all the 05 subjects. However, the merit list will be prepared on the basis of marks obtained in different subjects as per the following criteria (Out of 60):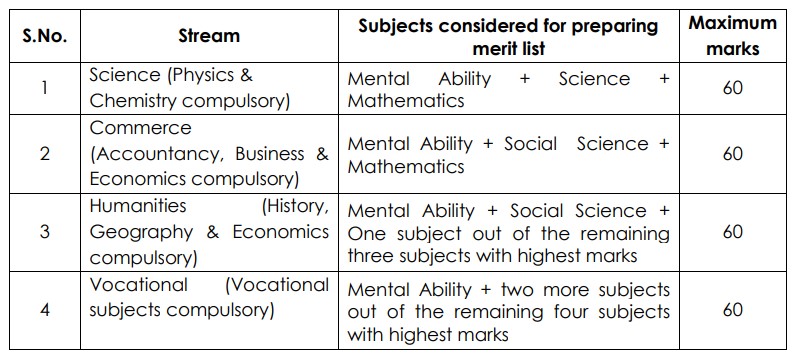 When the merit list is prepared for selecting the candidates provisionally, in addition to sectional cut off, overall cut off out of 60 will also be considered as per the following details.
For Gen/ OBC Boys : 21
For Gen/ OBC Girls : 20
For SC/ST/Divyang candidates : 18
If there is a tie with the same marks out of 60, the following criteria will be followed in the same order of sequence
a) Candidate who has scored more marks out of 40 (two subjects) excluding the Mental Ability Score will be preferred
b) If tie still exists, candidate who has scored higher marks out of all the five subjects, i.e. out of 100, will be preferred.
c) Even then if tie exists, female candidate will be preferred.
d) If tie is not yet resolved, candidate whose age is less will be preferred.
Lets talks about Syllabus –
We are giving PDF for the Navodaya Class 11 Exam 2023