What is Yoga Se Ayu Quiz 2022
The online 'Yoga Se Ayu' quiz competition is being organized by the All-India Institute of Ayurveda to celebrate the International Day of Yoga and encourage participants to take part in the quiz and also create an overall positive environment.
Quiz questions are designed to make participants aware of the importance of Yoga in Ayurveda in maintaining health, and harmony. By participating they will learn to appreciate that Yoga is an integral part of our cultural heritage and along with Ayurveda, is practiced for maintaining physical fitness, mental alertness, and emotional balance.
The 'Yoga Se Ayu' Quiz competition is designed to instill awareness and understanding of Yoga in Ayurveda, and its importance in maintaining a Healthy Lifestyle.
How to Participate / Register in Yoga Se Ayu Quiz 2022
Step – 1
Go to the Official Website of Government Quiz & Competition – https://quiz.mygov.in/ then Select the Quiz of Yoga Se Ayu Quiz
Step – 2
click on Play Quiz and then you Should login, after login you get some questions regarding the Importance of Yoga, Ayurveda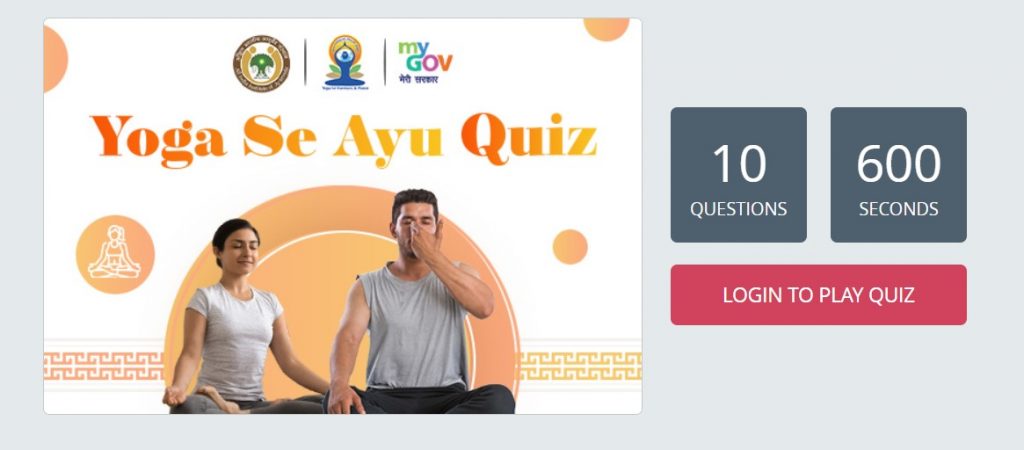 After completing Quiz then you get government Recognized Certificate.
Download Certificate of Yoga Se Ayu Quiz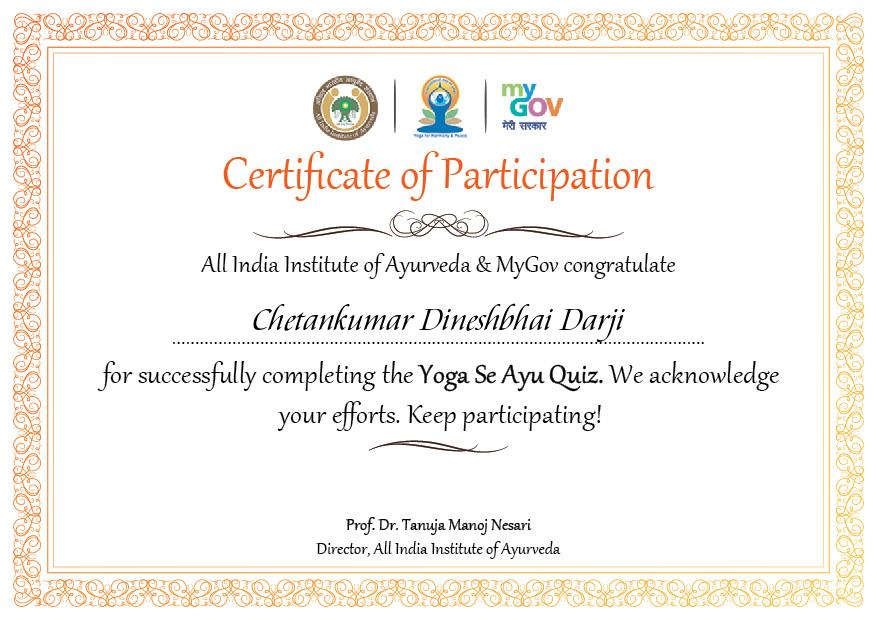 Terms and Conditions of Yoga Se Ayu Quiz
1.Each question in the quiz will be in the multiple-choice format with only one correct answer.
2.Students are required to attempt 10 questions in 10 minutes.
3.The quiz questions are prepared in both Hindi and English.
4.You are allowed to attempt the quiz only once and only one option will be accepted for a question.
5.After responding to a question, click on the "Next Question", button to go to the next question
6.No negative mark is there.
7.After attempting questions, the final submission should be clicked. No change can be made after the final submission.
8.The decision of the All India Institute of Ayurveda will be final in all matters related to the Quiz.