Introduction
Jal Shakti Abhiyan – Catch the Rain with the tagline "Catch the Rain- where it falls, when it falls" is a nationwide campaign launched by Sri NARENDRA MODI, Hon'ble Prime Minister of India on 22.03.2021, World Water day to nudge states and stakeholders to create appropriate Rain Water Harvesting structures (RWHS), suitable to the climatic condition and sub soil strata of the area, with people's active participation. The campaign was launched to create large scale awareness on water conservation so that "Jal Andolan" becomes a "Jan Andolan". This campaign covers all rural and urban areas of all districts in the country, making it one of the largest Rain Water Harvesting campaign sever in the world. Apart from maintenance of old and traditional RWHS, creation of new RWHS; preparation of a geo-tagged, GIS based data- base of all water bodies in the country and  using it for  scientific planning of new RWHS;  setting up of  Jal Shakti Kendras, a single-window water resource knowledge centre in all district headquarters; afforestation etc are part of this campaign. National Water Mission (nwm.gov.in), Ministry of Jal Shakti Govt of India is the nodal agency for implementing and monitoring the campaign. "JSA: CTR" is not just a government programme but a duty of every citizens of India to take up responsibility for water conservation and work towards building up of better future for the country.

National Water Mission, MoJS under "Jal Shakti Abhiyan: Catch the Rain" campaign invites entries for "Share your Picture with Water body" from participants from age groups of 14 to 70 years from all over India with an objective of creating awareness as well as encouraging the initiatives being taken up in the field of water conservation and importance of water resources for the future.
The participants will have to post their own picture along with geo tagged the water body in their background and share the present condition of the water body.
Timeline
| | |
| --- | --- |
| Start Date: | 30th March 2022 |
| End Date: | 31st Dec 2022  |
Step 1 :
Click on Link – https://innovateindia.mygov.in/share-your-picture-with-water-body/
Step 2 :
click on Participate then fill the Details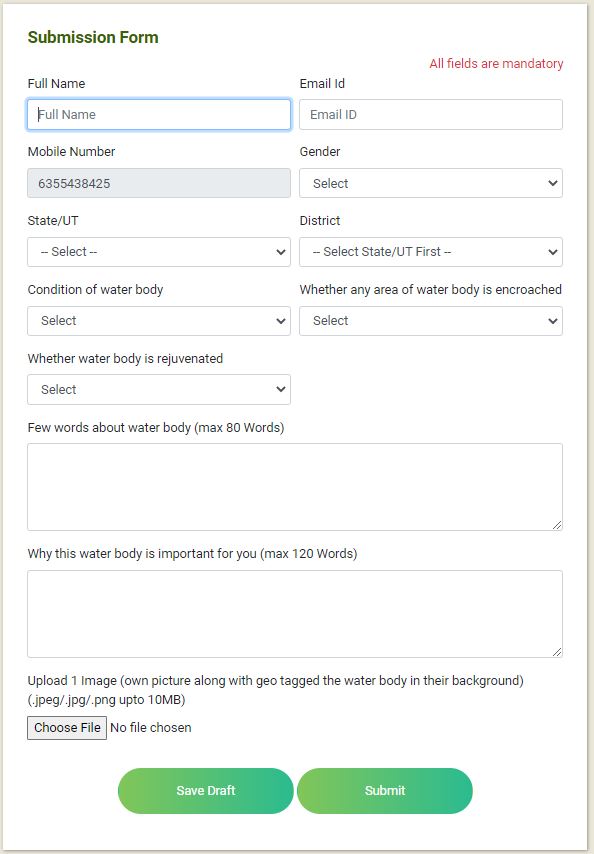 Terms & Conditions:
The "Picture with Water body" competition is being organized by National Water Mission, Department of Water Resources, River Development & Ganga Rejuvenation, Ministry of Jal Shakti, Government of India.
Participants from all over the India and of age group of 14 to 70 years are eligible give to entries.
The participants shall share their own picture along with geo tagged the water body in their background and share the present condition of the water body on MyGoV (www.mygov.in) Portal contest page.
The participants shall share their picture along with geo tagged the water body in their background and condition of the water body on MyGoV Portal. Entries submitted through any other medium/mode would not be considered for evaluation.
The selected winners will be awarded e-certificates by National Water Mission, Ministry of Jal Shakti Govt of India.
The entry must not contain any provocative, objectionable or inappropriate content.
One entrant can participate only once. Multiple entries from the same entrant shall not be considered and will be discarded.
Once submitted an entry cannot be withdrawn.
The entry must be original and should not violate any provision of the Indian Copyright Act, 1957 or the Intellectual Property Rights of any third party. All entries received by the stipulated date and found in order, shall be evaluated by a Committee constituted for the purpose. The decision of the Committee will be final.
The winning entries would become the intellectual property of National Water Mission, Ministry of Jal Shakti and the winner shall not exercise any right over it. The Ministry will have unfettered right to modify the prize winning entry and may use them for promotional purposes, Information, Education and Communication materials and also for any other use as may be deemed appropriate.
Each of the winners will be notified through email address that they provide along with their submission. MyGov (www.mygov.in) portal shall display the names of winners.
Organizers will not accept any responsibility for entries that are lost, are late or incomplete or have not been transmitted due to computer error or any other error beyond the organizer's reasonable control. Please note proof of submission of the entry is not proof of receipt of the same.
In the event of unforeseen circumstances, organizers reserve the right to amend or withdraw the competition at any time. For the avoidance of doubt this includes the right to amend these terms and conditions.
The Participant shall abide by all the rules and regulations of participating as mentioned above.
All Government employees participating in this competition should have prior permission from their employer to participate in this competition.
The participant should make sure that his/her MyGov profile is accurate and updated since the Ministry would be using this for further communication. This includes details such as name, photo, complete postal address, email ID and phone number. Entries with incomplete profiles would not be considered.
Organisers reserve all rights to disqualify or refuse participation to any participant if they deem participation or association of any participant which is detrimental to the competition or the Organizers. The registrations shall be void if the information received by the Organizers is illegible, incomplete, damaged, false or erroneous.
Organiser's decision on the competition shall be final and binding and no correspondence will be entered into regarding the same.
These Terms and Conditions shall be governed by the laws of the Indian Judiciary.
By sending the entries, the Entrant accepts and agrees to be bound by these Terms and Conditions, mentioned above.