What is Poshan Pakhwada 2022 ?
The 'Poshan Pakhwada Quiz' is an initiative in response to the pressing concern of malnutrition. Stunting, anaemia, low birth weight and other nutrition-related problems with an aim to raise awareness to improve the nutritional index of women and children across the country.
Poshan Quiz contains multiple-choice questions based on the themes of 'Food & Nutrition. These questions are designed to engage participants to learn more about the holistic development and adequate nutritional knowledge for pregnant women, mothers and children.
The overall objective of the Quiz is to create awareness by bringing forth information that will help every citizen to progressively march towards a vision of Suposhit Bharat.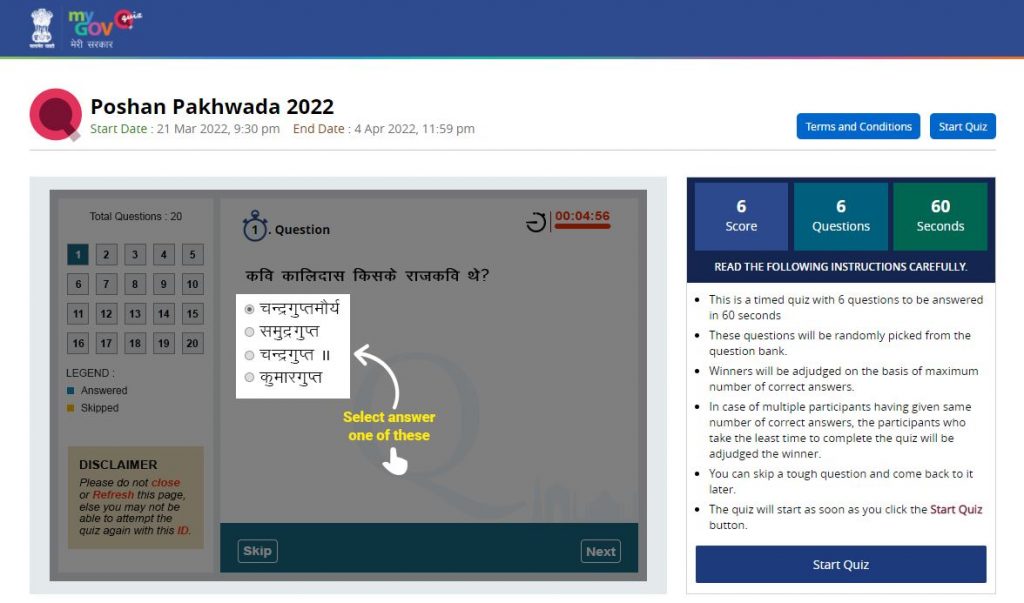 Terms and Conditions
The quiz will be in bilingual format i.e. English and Hindi.
Duration of the quiz will be 1 minute (60 seconds), during which a maximum of 6 questions can be answered.
There will be no negative marking for the incorrect answer
Digital Certificates will be auto generated for all participants
The quiz is open to all citizens of India.
An individual can participate only once in the quiz.
Any individual who desires to participate in the quiz will be required to provide his/her name, date of birth, correspondence address, email address and mobile number.
The same mobile number and same Email ID cannot be used more than once for participation in the quiz.
Participants can view their scores after the last date of the quiz.
Employees, directly or indirectly, connected with organizing the quiz are not eligible to participate in the quiz. This ineligibility also applies to their immediate family members.
Get Free Certificate of the How to Participate / Register in Poshan Pakhwada 2022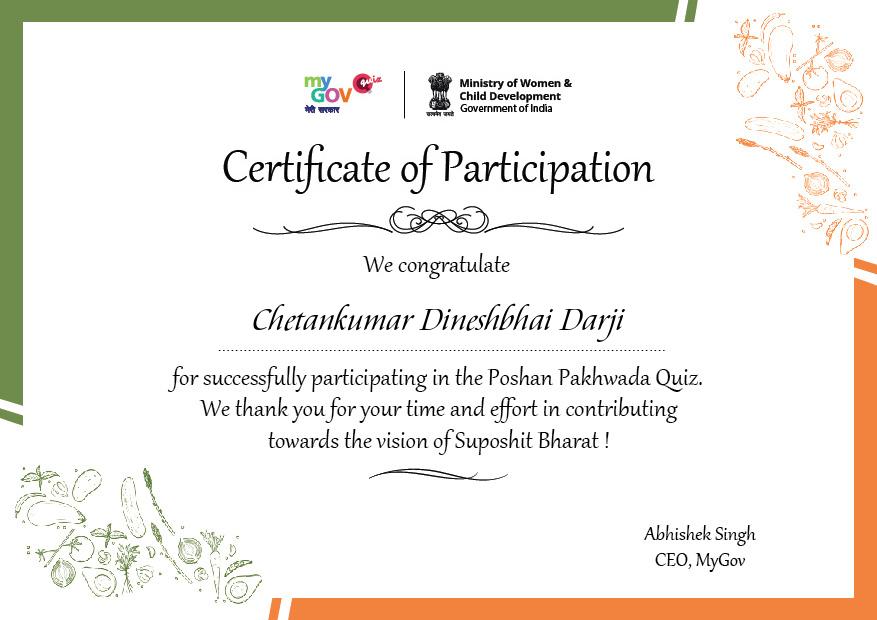 I Hope you like the Article of the How to Participate / Register in Poshan Pakhwada 2022. If you like then share to others.
Happy Reading. Stay Connected.