What is Museums Quiz 2022
The Ministry of Culture, Government of India (MoC), is organizing a first-of-its-kind, two-day Global Summit on 'Reimagining Museums in India', on 15-16 February 2022.The Summit is being organized under the aegis of Azadi ka Amrit Mahotsav, the flagship program to mark the 75th anniversary of India's independence and celebrate the glorious history of its people, culture and achievements.
India is a land with a rich cultural heritage and its 1000+ museums play an important role in preserving and protecting its history while educating those who visit them. As an outreach effort for the upcoming Summit, the MoC has curated a short quiz.
This quiz will test your interest and knowledge about leading Museums in India and around the world, as well as some art and artefacts housed in them.
Terms and Conditions of Museums Quiz
The Quiz is being organized by Ministry of Culture
Participants can only participate in the contest by registering on the MyGov platform.
The Quiz is open from 3rd February to 16th February, 2022.
Participants from all over the world and of all nationalities are eligible to enter the quiz.
The quiz will be available for all contestants for the period of 200 seconds, in which they must answer 5 questions.
The quiz will start as soon as the participant clicks the Start Quiz button.
One entrant can participate only once. Multiple entries from the same entrant will not be considered and will be discarded.
Organizers will not accept any responsibility for entries that are lost, are late or incomplete or have not been transmitted due to computer error or any other error beyond the organizers reasonable control. Please note proof of submission of the entry is not proof of receipt of the same.
In the event of unforeseen circumstances, organizers reserve the right to amend or withdraw the Quiz at any time. For the avoidance of doubt this includes the right to amend these terms and conditions.
The Participant shall abide by all the rules and regulations of participating in the Quiz from time to time.
Organizers reserve all rights to disqualify or refuse participation to any participant if they deem participation or association of any participant which is detrimental to the Quiz or the Organizers or partners of the Quiz. The registrations shall be void if the information received by the Organizers is illegible, incomplete, damaged, false or erroneous.
Organizers decision on the Quiz shall be final and binding and no correspondence will be entered into regarding the same.
These Terms and Conditions shall be governed by the laws of the Indian Judiciary.
By entering the Quiz, the Participant accepts and agrees to be bound by these Terms and Conditions, mentioned above.

Download Certificate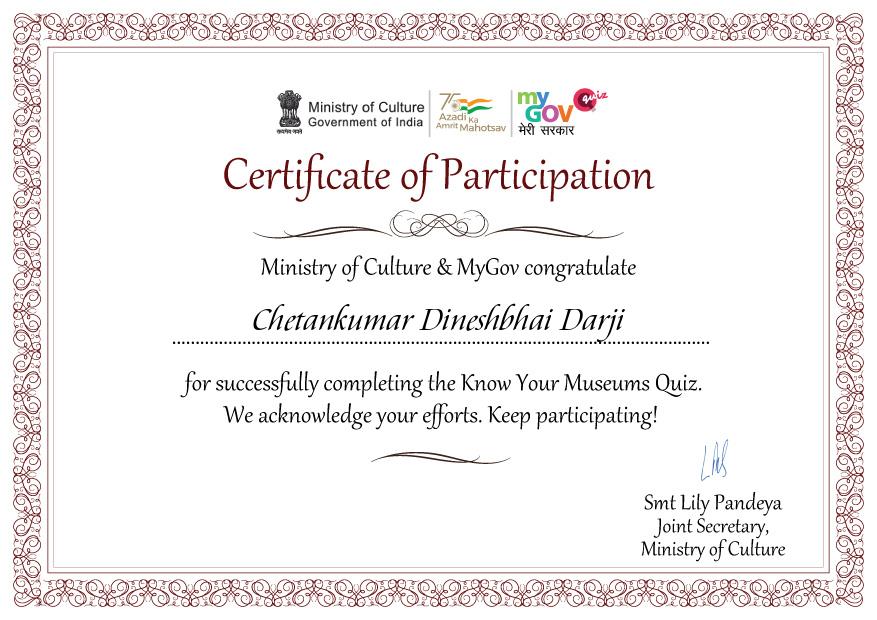 Official Website