What is Vision@2047 : Inviting Innovative Ideas for Futuristic Technologies ?

As India is progressing towards its centenary year 2047, our country's Technology Base needs to evolve far beyond the present. The diverse contours of our Nation's 'Vision for 2047' should reflect a 'New India' when it celebrates the 100th year of its Independence. Aim is to adopt the 'building to scale & building to last' approach, whereby the best of global innovations arise from India and are readily available for all citizens.
Innovative ideas on Futuristic Technologies are invited in the following areas.
Manufacturing
Intelligent and Energy-efficient Materials
Communication
Earth Science & Oceanography
Agricultural Technology
Biotechnology
Biomedical & Medical Devices
Upliftment of Rural Sector/Renewable energy
Quality Urban life
Chemicals, Petrochemicals, and Agrochemicals
Aerospace Technologies
Sustainable Environment and Green Technologies
High-Performance Computing
Precision Medicine
Mobility and Transport
Timeline
3rd March 2022 to 31st March 2022
How to Participate in Vision@2047 : Inviting Innovative Ideas for Futuristic Technologies
Step – 1 – Fill the Participant Details
Participant link is – https://innovateindia.mygov.in/inviting-innovative-ideas-for-futuristic-technologies/submit/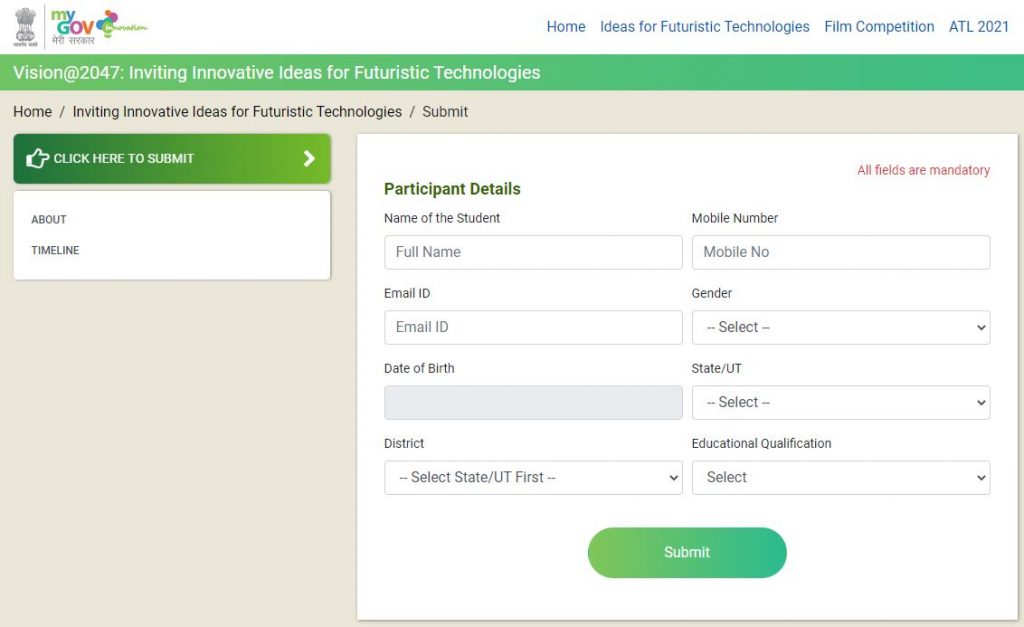 After filling the Participant Basic Details you have to submit form.
After that Click on Submit.