National Level Poster Making Competition
Recently Ministry of Environment, Forest and Climate Change announced one competition of the Poster Making Competition 2022.
Theme of the Competition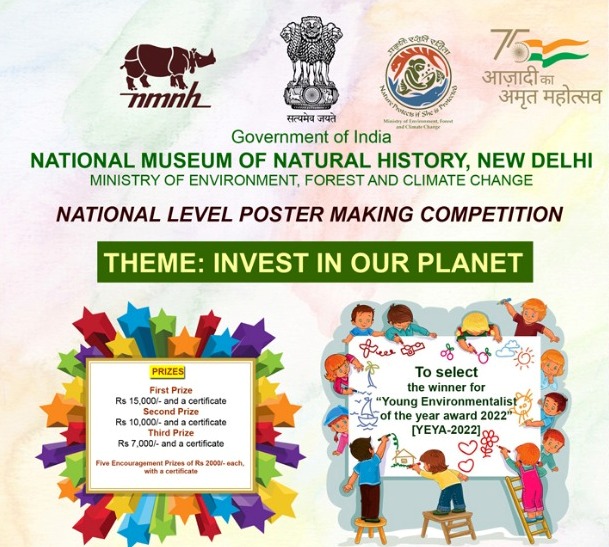 Invest in Our Planet
Who can Participate in Poster Making Competition
Children born between 1st April 2004 and 31st March 2008 may send their entries on or before 11/04/2022, to the National Museum of Natural History, Room No. 414, Block – 3, 4th Floor, CGO complex, New Delhi – 110003 through Speed Post or Courier.
1 अप्रैल 2004 और 31 मार्च 2008 के बीच पैदा हुए बच्चे अपनी Entries 11/04/2022 को या उससे पहले राष्ट्रीय प्राकृतिक इतिहास संग्रहालय, कमरा नंबर 414, ब्लॉक – 3, चौथी मंजिल, सीजीओ कॉम्प्लेक्स, नई दिल्ली – 110003 को भेज सकते हैं। स्पीड पोस्ट या कूरियर के माध्यम से।
The Entry must be made on a drawing sheet sized 22 x 15 inches along with a 100 words write-up about the theme of the poster on the backside.
Entry 22 x 15 इंच आकार की एक ड्राइंग शीट पर होनी चाहिए, साथ ही पीछे की तरफ पोस्टर की थीम के बारे में 100 शब्दों का लेखन भी होना चाहिए।
Prize / Award
First Prize – 15,000/ Rupees and a Certificate
Second Prize – 10,000/ Rupees and a Certificate
Third Prize – 7,000/ Rupees and a Certificate
Also Five Encouragement Prizes of a Rs. 2,000/- each with a certificate
What Information are write in the backside of Poster
Full Name
School Details (Complete Address, also mention school code, affiliation code)
Residential Address of Student
Contact Details (Valid Mobile number)
Email ID
Note:
Write All information in Block Letters (Capitalized)
What Documents should you attach
Birth Certificate
Aadhar Card
Head of School Stamp & Signature
Poster entry must accompany with DOB proof (copy of Birth Certificate), Identity proof (Aadhar card) and a Certificate acknowledging the originally of the work (attested by Head of School/Institution/Gazette officer)
Speed Post / Courier Address
National Museum of Natural History, Room No. 414, Block – 3, 4th Floor, CGO complex, New Delhi – 110003
Helpline
For any queries E-mail : [email protected] , Phone : 011-24368804/ WhatsApp : – 99538923251