Are you searching for – How to Participate in Fit India Swachhata Freedom Run 4.0 with Certificate 2023
Then you are at Right Place.
The Complete and Official Information of How to Participate in Fit India Swachhata Freedom Run 4.0 with Certificate 2023
About Fit India Swachhata Freedom Run 4.0 – 2023

"RUNNING: The human body's rawest form of FREEDOM"
Fit India Mission in its endeavour to promote fitness and creating awareness amongst countrymen keeps coming with innovating fitness campaigns to indulge people in fitness activities. Fit India Mission converges with Swachh Bharat Abhiyan with Fit India Freedom Run (Plog Run) where fitness meets Swachhata in a form of engaging fun-loving exercise is now entailed in Fit India Freedom Run culminating where we discover a litter free clean surroundings while running.
1st October | 2 Kms | Fit India Plog Run
Fit India Freedom Run was conceived in 2020 when the entire nation started following social distancing in a 'new normal' lifestyle, so as to keep the imperative need of fitness active even while following the social distancing norms. The campaign's objective is to encourage fitness and help us all to get freedom from obesity, laziness, stress, anxiety, diseases etc. The Fit India Freedom Run is yet another endeavour to strengthen the Fit Indian Movement and involve citizens to embrace fitness as a way of life. Participants will be allowed to run at their own place and at their own pace at a time convenient to them during campaign period. The concept behind this run is that "It can be run at anytime and anywhere!
Till date three editions of the campaign have been held in 2020, 2021 and 2023 respectively and the campaign has seen tremendous support from various stakeholders such as government, private organizations and individuals from all walks of life and demographics making it a truly people's campaign. This year, Fit India Mission has decided to organize the 4th edition i.e. Fit India Swachhata Freedom Run 4.0 from 1st October to 31st October 2023. Citizens will be urged to inculcate 30 minutes of physical fitness in any form, celebrate achievements of active lifestyle and make a resolve to remain fit "Swachh Bharat Swasth Bharat". The campaign will kick-off with a Swachhata Run (Plog Run) on 1st October 2023 followed by running events for the remainder of the campaign i.e., till 31st October 2023.
Fit India Swachhata Freedom Run is always in Fit India Mission charter as 1st event organized under the aegis of Fit India Mission was Fit India Plog Run on 2nd October 2019 i.e., 150th anniversary of Mahatma Gandhi.
Let's be a part of RUN that matters to us as well as to surroundings!
Promote Fit India Swachhata Freedom Run 4.0 on your social media channels by # SwachhBharatSwasthBharat # Run 4 India
Points to remember:
Run a route of your choice, at a time that suits you.
Break-up your runs.
Run your own race at your pace.
Track your kms manually or by using any tracking app or GPS watch.
Create an event on Fit India Portal either as an individual or as an organiser as per your eligibility for any number of day(s) starting from 1st October till 31st October
Can run any number of KM's (take a selfie or an photo and upload it while creating an event)
Mode of participation:
Registration to be done through Fit India website.
Those who have undertaken their own run can Register as individual, submit their data and download the certificate.
Note:
Organisers will have to register their Event/marathons on Fit India portal. They will use the Fit India Logo for all promotional media and provide the data of participants with their cumulative kms covered to download certificate.
How to Participate in Fit India Swachhata Freedom Run 4.0 with Certificate 2023
We give simple steps to register in Fit India swachhata Freedom Run 4.0 – 2023
Step – 1 : Click on Register as an Organizer

Step – 2 : Fill the Details for your Institution or Organization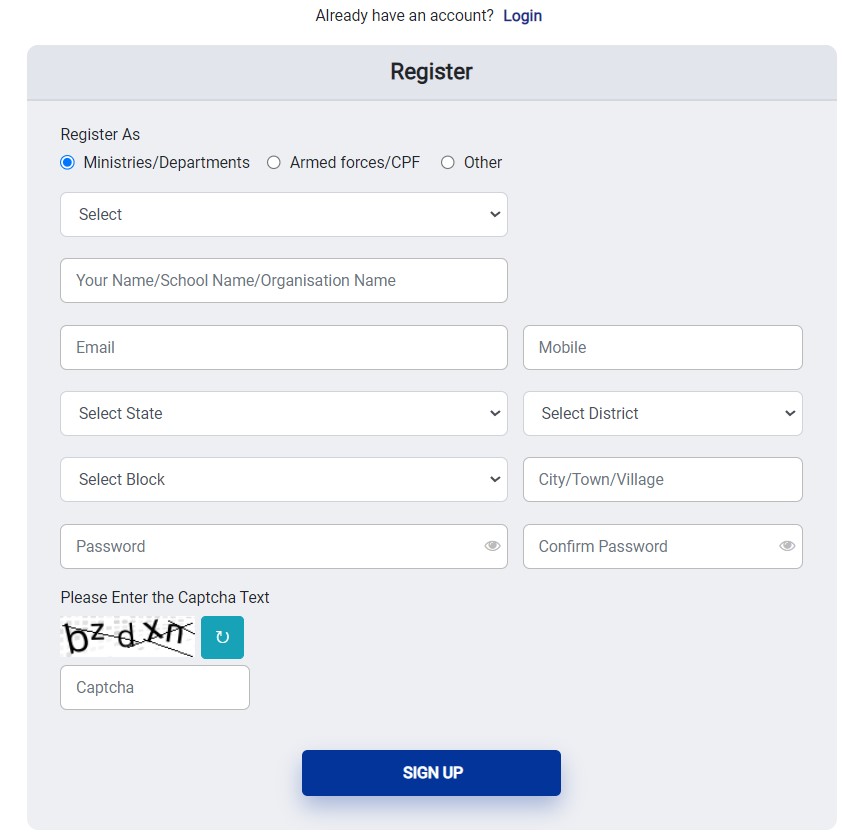 Step – 3 : After Signup/Login, you will be landed on Organise an Event page, where you have to
submit your event details, upload Images, Videos links, and then finally add the number of
participants and KM covered.
E.g., The organization conducted following Fit India Freedom run 4.0 event:
Event/s on 02-10-2023 with 50 participants ran for 3 Kms
Event/s on 03-10-2023 with 100 participants ran for 3 Kms
The data for the event/s would be filled by the organization on Fit India portal in the
following manner for each day:

Note: No. of Participants and KM Covered can be submitted by the end of your event date, but it is mandatory to add the details so that you can download the certificate.
Once the Event is created, you can edit the event, delete the event and for downloading the certificate you have to submit the complete details of No. of Participants and KM covered.
Note: For downloading the certificate for participants, please use the add participants name option to add the names of participants.
For Any Query please write us at Email id: contact.fitind[email protected], [email protected] along with the screenshot.
Thanks to All Beloved readers.