What is Camp Inspire at IIT Gandhinagar 2022
We all love stories and we love it all the more when they are inspiring and relatable. Inspiration can come from anywhere: a story, a person, or a movement. We come across inspiring stories all around us but we rarely hear from the person who has lived through that story.
The people who inspire you today were once inspired by others. They came across stories that they resonated with and found the motivation to grow into a leader, influencer, changemaker to create an impact that inspires the next generation. What are the stories that motivated them to dream big and reach their goals? What keeps them motivated towards their goals?
How do they make a social, political, scientific impact on the world? Are there limits to dreaming big? How can anyone live a life that is worth being told to a million people? 
Through Camp Inspire, we bring together some incredible individuals who took unique paths and chose to follow their passions despite obstacles.
They excelled in arts, humanities, social service, sports, science, and technology fields and made an impact on society that will continue to inspire future generations.
Curiosity Lab invites inquisitive and curious learners, parents, and teachers to a camp that will inspire the next generation to explore, create and become innovators and leaders of tomorrow!
Bird View of IIT Gandhinagar
Who should participate?
Camp CogSci is open to students (8 – 12 grade) with an insatiable curiosity and all interested parents and teachers.
How to Participate / Register in Camp Inspire at IIT Gandhinagar 2022
Camp Inspire will be held online from 3 – 5 June 2022. The deadline for registration is June 2 2022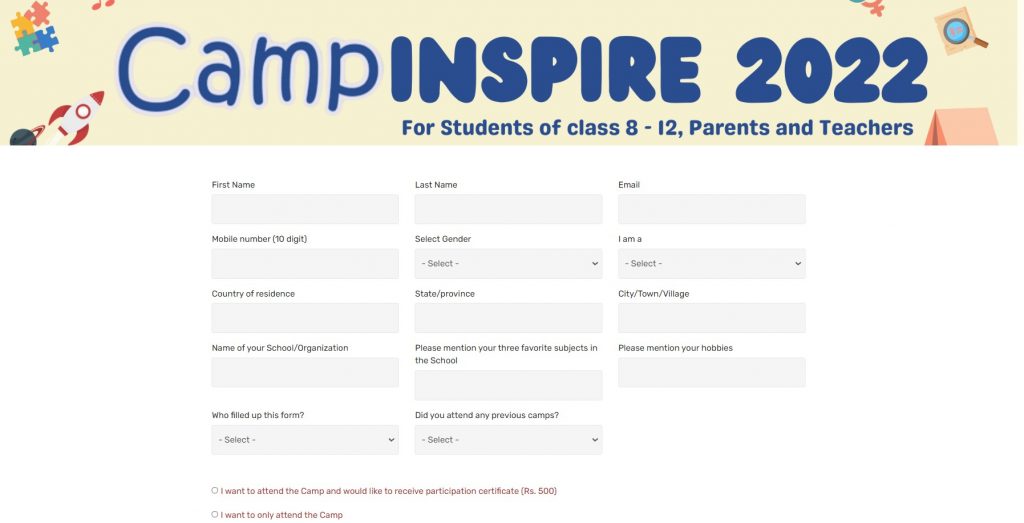 Totally Free of Cost Camp but If you want Certificate then you should pay 500/-
Helpline / Contact
Email: [email protected] Curiosity Lab, IIT Gandhinagar Palaj, Gandhinagar – 382355, Gujarat