Navodaya Vidyalaya Samiti, henceforth mentioned as NVS, under the Ministry of Education has its Hqrs Office at NOIDA (Uttar Pradesh), Hyderabad, Jaipur, Lucknow, Patna, Pune & Shillong NOIDA, Puri, Rangareddy, Udaipur) (JNVs) functional all over India except in the State of Tamil fully residential schools up to Senior Secondary level and are located mainly in rural areas. NVS invites online applications from Indian citizens for recruitment
Assistant Commissioner
Assistant Commissioner (Admn),
Assistant Section Officer,
Audit Assistant,
Junior Translation Officer,
Junior Engineer (Civil),
Stenographers,
Computer Operator,
Junior Secretariat Assistant & Multi Tasking Staff
Female Staff Nurse,
Catering Assistant,
Junior Secretariat Assistant,
Electrician cum
Plumber,
Lab Attendant & Mess Helper
Majority of vacancies being notified vide this advertisement for recruitment are in North East Region and Hard Stations as notified be posted in North East Region and at Hard Stations on initial posting on recruitment and request for change of region will not be entertained under any circumstances whatsoever.
Number of Vacancies in above posts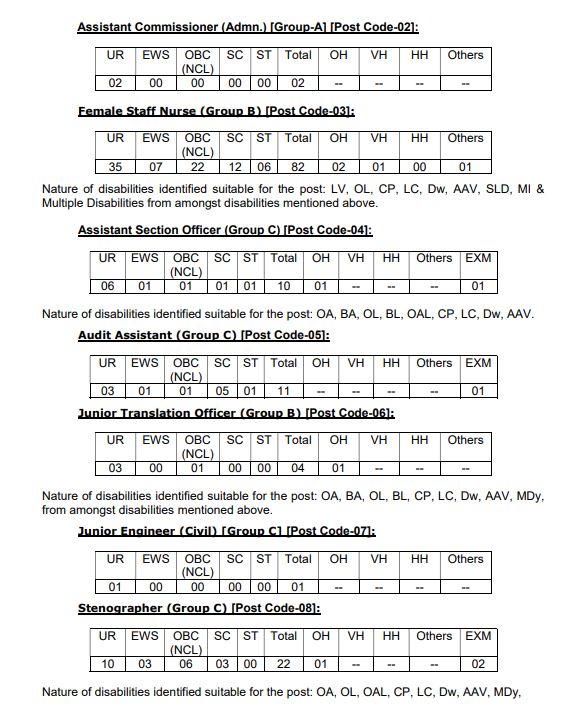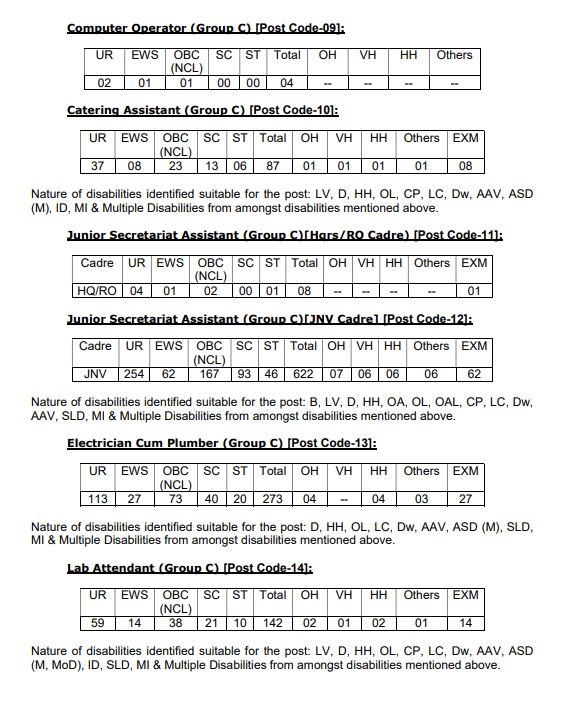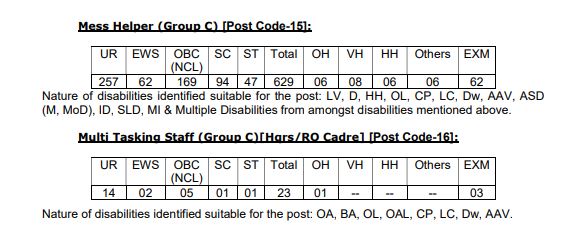 Note : Abbreviation used:
OH=Orthopedically Handicapped, VH=Visually Handicapped, HH=Hard of Hearing, B=Blind, LV=Low Vision, D=Deaf, OA=One Arm, OL=One Leg, BA=Both Arms, BL=Both Leg, OAL=One Arm & One Leg, CP=Cerebral Palsy, LC=Leprosy Cured, Dw=Dwarfism, AAV=Acid Attack Victims, MDy=Muscular Dystrophy, ASD=Autism Spectrum Disorder (M=Mild, MoD=Moderate), ID=Intellectual Disability, SLD=Specific Learning Disability, MI=Mental Illness, MD=Multiple Disabilities EXM=Ex-servicemen
POSTs & ELIGIBILITY CRITERIA Age Salary:
12 Passed
Graduated
Post Graduated
Experienced Person
for detailed Information Kindly Read Full Notification.
Candidates are required to apply Online through NVS website at www.navodaya.gov.in No other means/mode of application will be accepted.
Candidates are required to have a valid and operative personal email ID. It should be kept active during the currency of this recruitment. The NVS through its exam conducting agency may send call letters for CBT and interview / Trade Test / Skill Test / Document Verification etc. on the registered email ID of the candidate or the same may be downloaded from the NVS website. Under no circumstances, candidate should share/ mention email ID to/ or of any other person.
In case, a candidate does not have a valid and operative personal email ID, he/she should create his/ her new email ID before applying Online.
The online applications should be filled carefully as per instructions contained in the online application format and submit the same Online. Login Id and password would be generated on successful submission of application and will be sent on the registered e-mail address of the candidate. Candidates are advised to preserve their login Id and password for future use.
No application fee is required to be paid by candidates belonging to SC/ST/PH categories; hence, the steps for payment of fees will not be applicable to them in online application form. Once the fee is deposited the same shall not be refunded under any circumstances.
The candidates have to pay application fee online through the prescribed link at online application. The post wise application fee payable is as under:


IMPORTANT INSTRUCTIONS TO THE CANDIDATES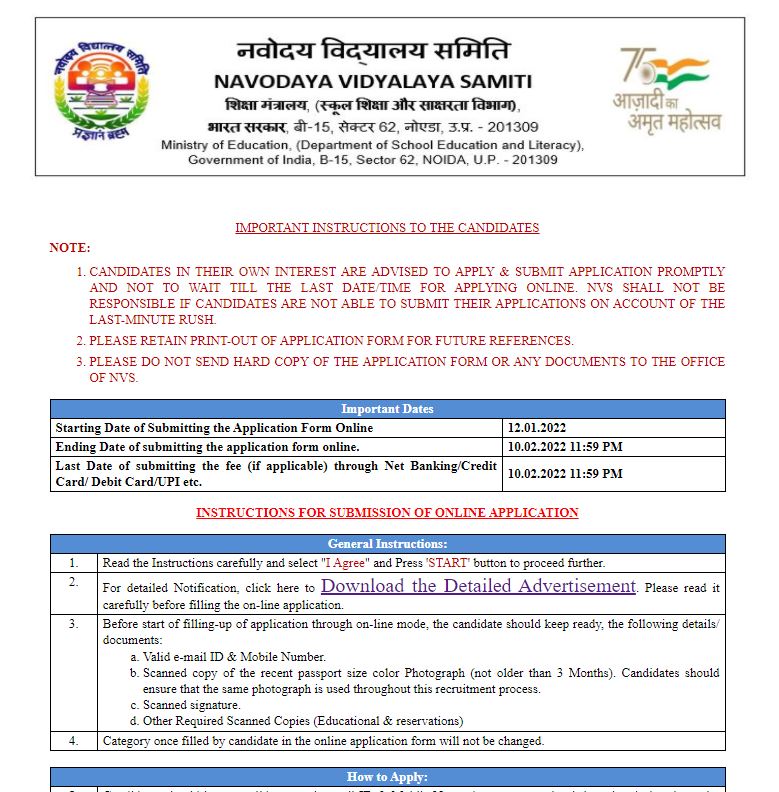 NOTE:
CANDIDATES IN THEIR OWN INTEREST ARE ADVISED TO APPLY & SUBMIT APPLICATION PROMPTLY AND NOT TO WAIT TILL THE LAST DATE/TIME FOR APPLYING ONLINE. NVS SHALL NOT BE RESPONSIBLE IF CANDIDATES ARE NOT ABLE TO SUBMIT THEIR APPLICATIONS ON ACCOUNT OF THE LAST-MINUTE RUSH.
PLEASE RETAIN PRINT-OUT OF APPLICATION FORM FOR FUTURE REFERENCES.
PLEASE DO NOT SEND HARD COPY OF THE APPLICATION FORM OR ANY DOCUMENTS TO THE OFFICE OF NVS.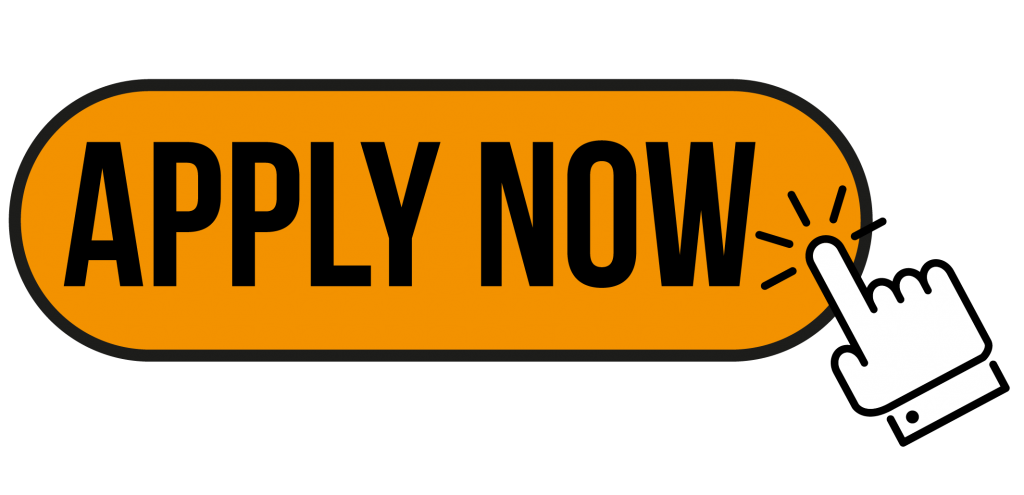 Detailed Notification Advertisement of Navodaya Non Teaching post 2022