Are you searching for – Daily School Assembly Today News Headlines for 25 May 2023
Then you are at Right Place.
The Complete and Official Information of Daily School Assembly Today News Headlines for 25 May 2023
Daily School Assembly Today News Headlines for 25 May 2023
To inform all pupils of what will be happening in the Nation and the world today, the top headlines of the day are read during the school assembly after the call to prayer. Now let's read the most recent news of the day. Read the most recent news from India and outside while keeping up with Indian political movements.
We are giving information News of National News, International News, Educational News, Sports News, Business News and science & Technology News.
Today's Important Day on 25 May 2023
National News Headlines – 25 May 2023 (Thursday)
ED searches AAP MP Sanjay Singh's aides' homes, offices in liquor policy case
Rs 2,000 note withdrawal: Banks see no rush for exchange, deposit
Weather Today (May 24): Thunderstorms to Lash Kerala, Uttar Pradesh, Delhi; Heavy Rains Across Tripura, Mizoram
Fresh tension in Manipur: former Deputy Speaker among three held
Telugu Actor Dimple Hayathi Charged For Hitting Cop's Car In Hyderabad
Searches At AAP's Sanjay Singh's Aides' Premises In Liquor Policy Case
"Count Us Out": AAP, Trinamool Boycott Opening Of New Parliament Building
PM Modi raises concerns over attacks on temples in Australia with Anthony Albanese
Relief for Azam Khan as UP court overturns his conviction in 2019 hate speech case
Delhi court allows Swamy to file reply opposing Rahul Gandhi's plea for passport
BJP Slams Trinamool For Not Giving Sourav Ganguly "Due Respect" In Bengal
WBCHSE HS Result 2023 announced on wbresults.nic.in, 89.3% pass; direct link
Delhi Police head constable clears UPSC exam in 8th attempt, says he wants to improve his marks
"Uddhav Thackeray Promised…": Arvind Kejriwal After Meeting
Maharashtra HSC 12th result 2023 date and time announced by board
Congress MLA Sudhakar's supporters protest outside Siddaramaiah's residence over ministerial post
Efforts On To Assassinate YS Sunitha's Character!
International World News Headlines – 25 May 2023
Imran Khan's party to be banned? What Pakistan's defence minister said
"Unacceptable": Boris Johnson Condemns Fresh 'Partygate' Claims
'Wanted to Kill Biden…': Indian-Origin Teen Held After Crashing Truck Into a White House Barrier
The Forum for India–Pacific Islands Cooperation (FIPIC) was launched during PM Modi's visit to Fiji in November 2014 and includes 14 island countries.
'World Health Assembly' PM Modi addresses 76th Session in Geneva, Switzerland
Prime Minister Modi & special invitees to G7 Leaders' Summit, Hiroshima, Japan, May 21, 2023
Russia Pushes India For Help To Avert Global Financial Isolation: Report
Pakistan's Imran Khan gets bail from anti-terrorism court
Blasts in Sudan's capital dim hopes for latest ceasefire deal
New G7 Sanctions at Hiroshima on Russian Diamonds Threaten One Million Indian Jobs
Subscribe Our YouTube Channel For Education Updates – 25 May 2023 Daily School Assembly News
Sports News Headlines – 25 May 2023
MS Dhoni looks to end career with a bang in IPL final
Chris Gayle Gives A 'Munna Bhai' Twist To Royal Challengers Bangalore's IPL 2023 Exit
Sourav Ganguly lambasts Kohli fans for 'twisting' his tweet on Shubman Gill, says 'Get someone responsible…'
The debutants of MI 2023 – Youngsters take charge and impress
Real Madrid's Vinicius Junior won't be suspended for red card; Valencia hit with stand closure after racist abuse
Ireland announce squad for 2023 Cricket World Cup Qualifier
Ravi Shastri predicts India's XI for World Test Championship final
Adidas to be India's kit sponsor till 2028
Ronaldo mobbed by Al-Nassr teammates after his stunner puts Al-Ittihad title celebration on ice
IPL 2023: JioCinema breaks all records; concurrent viewership touches 2.5 crores during CSK-GT match
Neser looms as World Test Championship reinforcement amid Hazlewood's tight turnaround
Suryakumar Yadav makes a sacrifice for his Mumbai Indians teammate
Warner remains in Australia's Ashes plans, insists Andrew McDonald
Carlsen, Ding, Anand, Hou Yifan: Big Names Added To Global Chess League Lineup
Robin Uthappa reacts to 'receiving hate' for CSK-KKR saga, Irfan Pathan comes up with a solution
Fixtures released for ICC Men's Cricket World Cup Qualifier 2023
'MS Dhoni using his presence to full effect, causing time to run out for Pathirana to bowl': Former cricketers give their verdict
Singles stars look to find form with Olympic qualification cycle underway
'I know where I have come from, this fame is temporary': KKR's Rinku Singh keeps it real
'Under guidance of Gambhir, see how Naveen…': Sunil Gavaskar's rollicking remark on LSG mentor before MI clash in IPL
Business News Headlines – 25 May 2023
Adani Enterprises shares crash 8% as traders book profits
Stock Market Highlights: Sensex, Nifty 50 end volatile session lower, financials drag
India's GDP growth may breach 7%-mark in FY23: RBI Governor Das
Rupee to weaken as US debt ceiling anxiety lifts safe-haven dollar
 Wipro, Infosys, Adani Green, Ashok Leyland, Biocon, Bajaj Electricals, NMDC, IPCA Labs
Hyundai Exter launch on 10th July – Gets electric Sunroof
Mukesh Ambani, Isha Ambani firm sacks 1000 workers after spending Rs 2850 crore, here's what happened
Biocon shares surge 8% on 31% growth in Q4 net profit
Petrol pump worker drains out petrol from scooter after being paid with Rs 2000 note
Stocks to buy today: 8 short term trading ideas by experts for 24 May 2023
ONDC aims to hit 100,000 daily retail orders in next few months
Six charts that influenced SEBI's mutual fund total expense ratio proposals
Deepak Nitrite shares jump nearly 10% on investment plans of ₹5,000 crores in Gujarat
Elon Musk, Scouting For New Tesla Factory Location, Said This About India
Market remains watchful but there is good news on ITC, NMDC and Biocon
Anil Agarwal's debt-cut blitz turns heat on Vedanta units
Gold Price Forecast: XAU/USD grinds near $1,970 amid Fed concerns, debt ceiling woes – Confluence Detector
Simple One electric scooter launched – Price, Range, Specs, Warranty, Battery, Charging
Borosil shares show 5% crack on weak profit growth in March quarter
Dimensions Corporate Finance Services' Ajay Srivastava On Indian Market Outlook & Top Stock Picks
Google Pay announces support for RuPay credit cards
Mahindra XUV100 small SUV spied – Tata Punch rival name trademarked
Closing Bell: Nifty below 18,300, Sensex falls 208 pts; metals drag, pharma gains
Wipro expands Google Cloud partnership to advance enterprise adoption of generative AI
Science Technology News Headlines – 25 May 2023
Apple gears up for WWDC 2023, sends media invites. Expected to launch AR headset, MacBook Air and more
Google launches side panel to customize Chrome
Motorola Edge 30 available at 'lowest ever' price on Flipkart after Motorola Edge 40 launch
Microsoft Improves ChatGPT and Bing as Part of a Larger AI Product Push. The International Securities Regulator Released the First Set of Global Norms for the Crypto Industry
WhatsApp rolls out edit 'sent messages' feature.
Microsoft launches Azure AI Studio for developers to create their own AI 'copilots'
New artificial light-harvesting system using organic nanotubes useful for solar cells, photocatalysis, optical sensors & tunable multi-color light emitting materials
Study uncovers details about cells' "self-destruction" mechanism
 Researchers spot first polar cyclone on Uranus
NASA's new mission to study high-altitude ice clouds
'Saturn's rings are young and short-lived', confirms NASA scientists
Climate adaption by microorganisms can help slow down global warming: Study
Stunning explosion in the sky, closest supernova to Earth in 5 yrs offers new celestial treat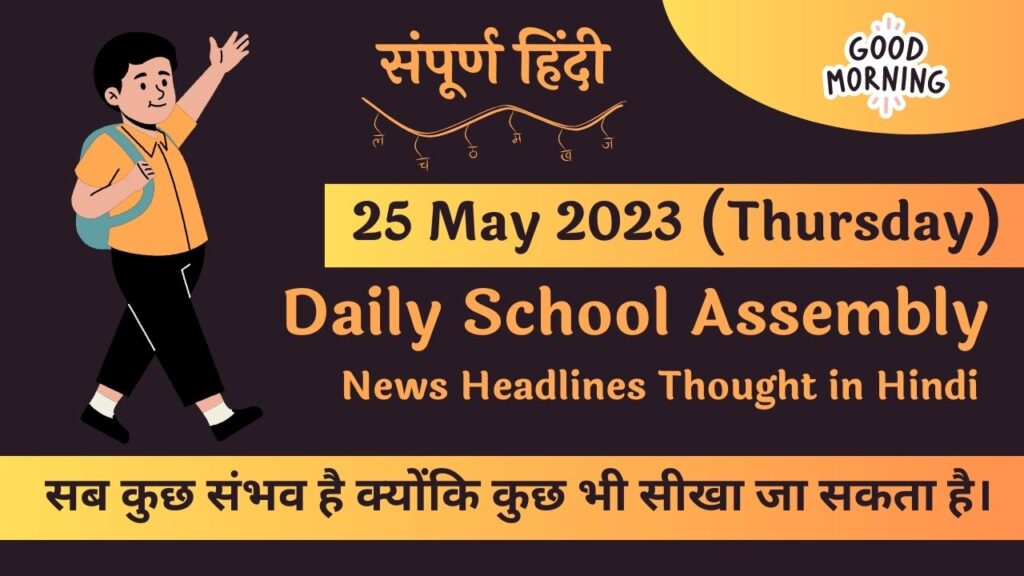 Thought of the Day – 25 May 2023
All things are possible because anything can be learned.