Are you searching for – Daily School Assembly Today News Headlines for 13 April 2023
Then you are at Right Place.
The Complete and Official Information of Daily School Assembly Today News Headlines for 13 April 2023
Daily School Assembly Today News Headlines for 13 April 2023
To inform all pupils of what will be happening in the Nation and the world today, the top headlines of the day are read during the school assembly after the call to prayer. Now let's read the most recent news of the day. Read the most recent news from India and outside while keeping up with Indian political movements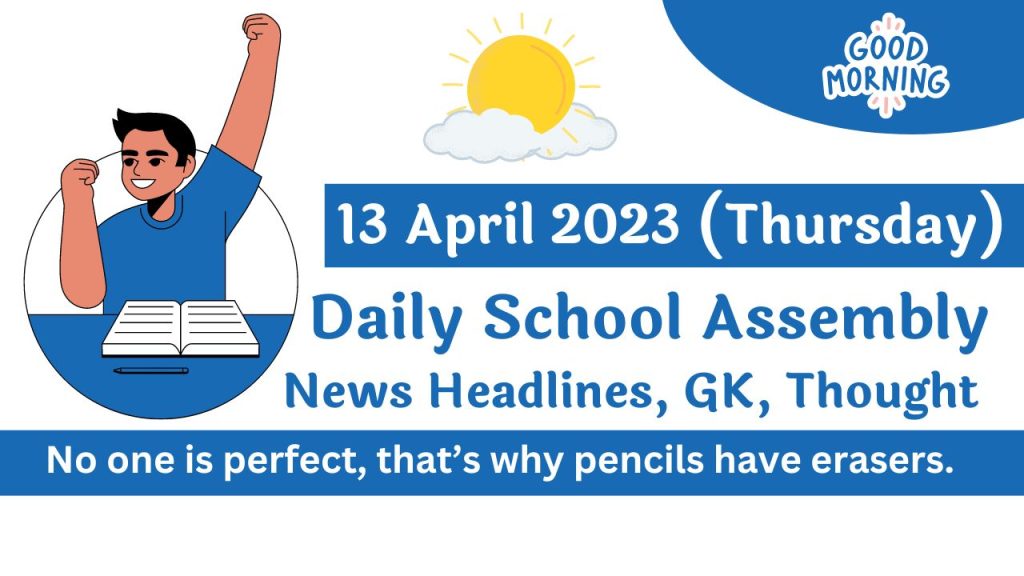 We are giving information News of National News, International News, Educational News, Sports News, Business News and science & Technology News.
Today's Important Day on 13 April 2023
Jallianwala Bagh Massacre – April 13, 2023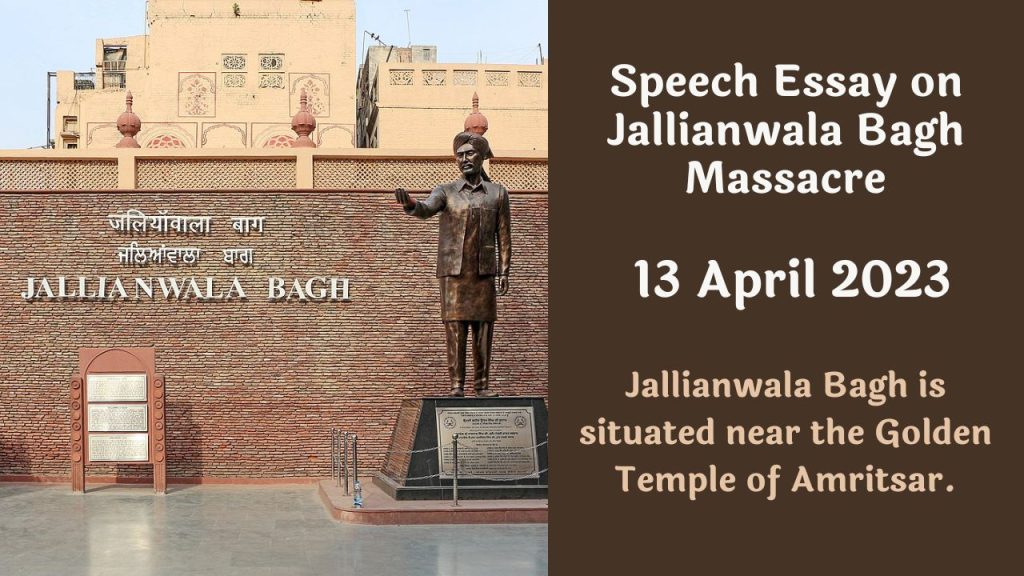 National News Headlines – 13 April 2023 (Thursday)
"Historic Step To Unite Opposition": Rahul Gandhi, Nitish Kumar Meet – JDU president Rajiv Ranjan Singh, RJD's Rajya Sabha MP Manoj Kumar Jha and Congress leader Salman Khursheed were present at the meeting too.
4 soldiers killed in Bathinda Military Station firing; Punjab Police say incident 'not a terror attack'
Vasundhara Raje has not reacted but BJP leader Rajendra Rathore said Sachin Pilot should seek an impartial investigation into the corruption in the Congress government. Gehlot is yet to comment on Pilot's claims.
'Gehlot ji, Aapke Dono Haath Mein Laddoo': PM Modi Laughs During Rajasthan Vande Bharat Launch
The AIMIM MP called the FM's 'incentives to minorities' comment a 'cruel joke' when the centre stopped the Maulana Azad Fellowship and restricted pre and post matric scholarships for poor minorities.
Gangster-politician Atiq Ahmed, who is an accused in the Umesh Pal murder case, thanked the media on Wednesday for "keeping him safe" and said that he is alive because of them.
Unfazed India to hold G-20 event in Leh
Karnataka assembly poll: BJP supporters protest over leaders being denied ticket
Over 7,000 Fresh Covid Cases In India, Sharp Jump From Yesterday
Karnataka polls: Denied ticket, ex-Dy CM Laxman Savadi announces decision to quit BJP
Twitter owner Elon Musk told the BBC on April 11 morning that he would rather comply with the Indian government's blocking orders than risk sending Twitter employees to jail. Mr. Musk made the remarks in a Twitter Spaces interview.
International World News Headlines – 13 April 2023
Ukraine Facing Shortfalls, Egypt Arming Russia, British Forces in Kyiv: Key Revelations of Leaked US Docs
Sturgeon had used an assault rifle to gun down his colleagues at the Old National Bank in Louisville on Monday as he livestreamed the rampage on Instagram.
Chinese Boy Cycles 130 km To Reach Grandmother's House To Complain About Mother
Chinese military releases simulation clip of how it will attack Taiwan if war breaks out.
The former US president sat down with Fox News anchor Tucker Carlson for his first mainstream media appearance being indicted in New York
Biden in Belfast to mark 25 years of Good Friday Agreement: The deal that ended 3 decades of bloodshed
Sikh man sentenced to jail in UK for targeting Dalits in offensive post
A 68-year-old Indian-origin Sikh in the UK has been prosecuted and sentenced to 18 weeks in jail for posting hate speech on social media targeting Dalit communities.
Vladimir Putin's health worsening? Doctors report 'blurred vision, numb tongue'
Subscribe Our YouTube Channel For Education Updates – Daily School Assembly News
Sports News Headlines – 13 April 2023
First Time Ever In IPL History! MS Dhoni On Verge Of Mega Milestone For Chennai Super Kings
Pakistan Would Like To Play Most Of Its World Cup Games In Two Indian Cities, Says Report
Vicky Kaushal to lead in Indian Hockey legend Major Dhyan Chand's biopic?
Monte Carlo Flashback: Rafael Nadal tops Alexander Zverev and earns milestone
Andrey Rublev survived a second-round scare on Tuesday at the Rolex Monte-Carlo Masters to earn his 250th tour-level win.
Alexander Zverev branded 'arrogant' for Rafael Nadal Roland Garros claims
Three observations from Bayern's Munich defeat to Manchester City in the Champions League
Liverpool 'priority' signing revealed in six-man 'shortlist' after Klopp abandons Bellingham pursuit
Badminton Asia C'ships: Sindhu in same quarter as An Se Young, Lakshya to start against Loh Kean Yew
Pro Kabaddi 2023: Patna Pirates sign Anil Chaprana as assistant coach ahead of PKL 10
India Women's Cricket Team for Blind to compete in T20 Bilateral Series in Nepal
Business News Headlines – 13 April 2023
Harrier / Safari facelift will have updated styling, based on Harrier EV that was unveiled at 2023 Auto Expo
Closing Bell: Nifty ends above 17,800, Sensex up 235 pts led by pharma, IT, auto
Adani stocks: Mutual funds reduce stake in 6 companies, FIIs in 5
Indian crude basket yet to factor in discounted Russian buys
Elon Musk 'not aware' about Twitter taking down content on BBC documentary
TCS Q4 Results Live: TCS shares up 1% ahead of earnings, rival Infosys gains 2%
BHEL-led consortium bags order to supply 80 sleeper class Vande Bharat trains worth over Rs 9,600 crore
Fruit seller picks up trash discarded by her customers, Anand Mahindra reacts
As Apple opens India stores, a creeping fear among its own dealers and retailers
Science Technology News Headlines – 13 April 2023
An ancient sunken ocean floor seems to lie above Earth's core, under the mantle
Novel Phosphorus Material Discovered Following Lightning Strike
NASA Is Now Tracking Air Pollution From Space
New detailed map of dark matter agrees with Einstein's theory of gravity: Study
Exotic cosmic object caught stealing material from neighboring star
David Keith joins University of Chicago to lead Climate Systems Engineering initiative
Dell launches new Alienware, Inspiron laptops in India
Google starts rolling out auto-archive feature to Android users: Here's how it works
WhatsApp brings 'companion mode' to Android beta app for public tester
WhatsApp users will soon be able to edit, save contacts directly: Report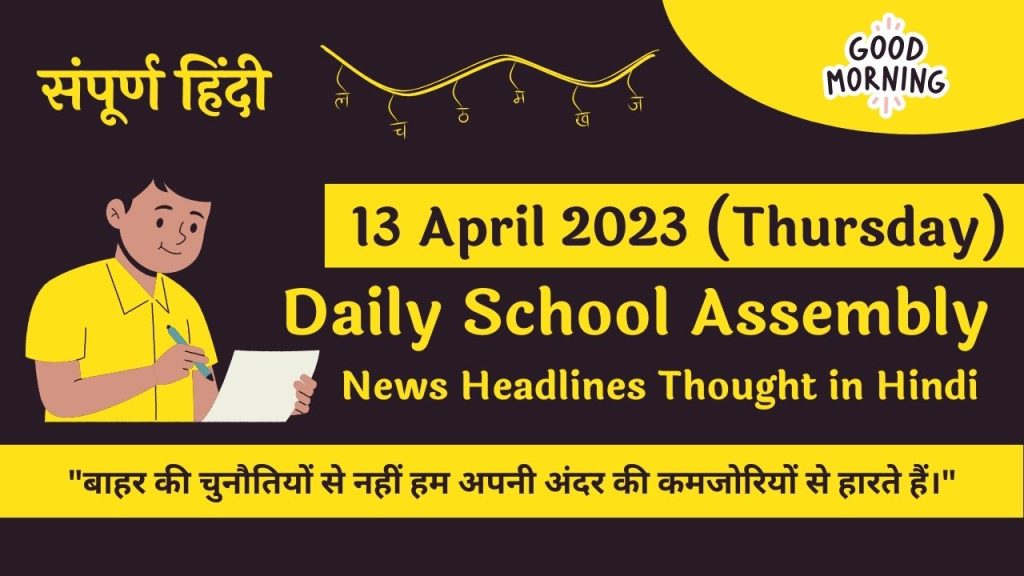 Thought of the Day – 13 April 2023
No one is perfect, that's why pencils have erasers.