Are you searching for – Daily School Assembly News Headlines for 30 January 2023
Then you are at Right Place.
The Complete and Official Information of Daily School Assembly News Headlines for 30 January 2023
Daily School Assembly News Headlines for 30 January 2023
To inform all pupils of what will be happening in the nation and the world today, the top headlines of the day are read during the school assembly after the call to prayer. Now let's read the most recent news of the day. Read the most recent news from India and outside while keeping up with Indian political movements.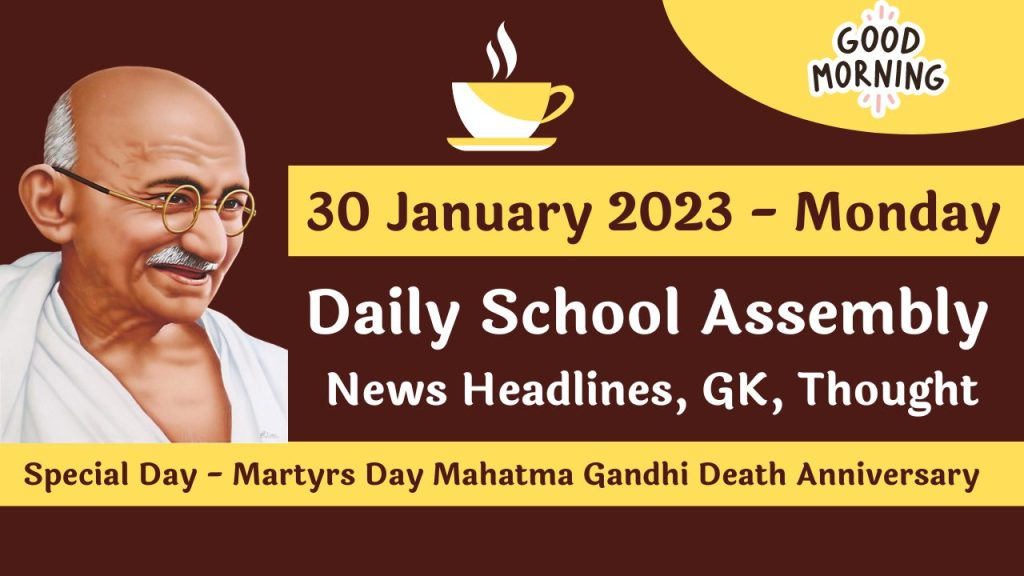 We are giving information News of National News, International News, Sports News, Business News and science & Technology News.
What is Today's Special ?
Special Day – Martyrs Day Mahatma Gandhi Death Anniversary
National News Headlines – 30 January 2023 (Monday)
US H – 1B Visa Applications, For Skilled Workers, To Begin From March 1
Adani Confident of New issue sailing through, stock sell – off under probe
AirAsia flight aborts take – off after suspected bird hit at Lucknow airport
"India's Dream of 'Techade' Will be fulfilled by its innovators" : PM Modi
Leopard died of Shock after being trapped in Chicken coop in Kerala
President Inaugurated Udyan Utsav 2023, open to pubic from Tuesday
PM Modi chaired council of Ministers Meet ahead of Budget 2023
IndiGo passenger tried to remove Emergency Exit cover Mid – Air, Case Filed
Rahul Gandhi raised Indian flag in Srinagar on Last Day of March
Rs1,000 to poor women : Shivraj chouhan's New Scheme in Election year
Citing Padma Awards, PM Hailed tribal communities in First Mann ki Baat of 2023
International World News Headlines – 30 January 2023
Joe Biden faced Backlash from Fact-Checkers over 'Misleading statements' about the Economy
UK PM Dismissed conservative party chairman after Tax probe
6.3 Magnitude Earthquake hit Pakistan, Tremors Felt in Several Cities
"Assets will be used for our Defence" : Ukraine Sanctions Russian Firms
"My Gut says we'll fight in 2025" : US General on War with China
India "Strongly Condemns" Terror attack in Israel's Jerusalem
Russia accused Ukraine of "Deliberate" Strike on Hospital, 14 Killed
Sports News Headlines – 30 January 2023
Men's Hockey WC : Netherlands down Australia 3-1, Clinches Bronze MEdal
Asian Games will be Hockey Qualifying Event for 2024 Olympics : International Hockey Federation (FIH) President Confirms
Novak Djokovic won Australian open to Equal Rafael Nadal's 22 Grand Slam Titles
India Script History, Became First Ever Champions of U19 Women's T20 World Cup
Business News Headlines – 30 January 2023
Adani Group ruled out changes in Price, Dates of Sale of New Shares
Semiconductor shortage continues to impact production : Maruti Suzuki DFO
FPIs adopt cautious stance ahead of Budget; take out Rs17,000 crore from equities in January
Netherlands emerging as key export destination for India amid jump in shipments of petroleum products
Domestic institutions bought stocks worth Rs4,252 crore when market crashed on Friday
Science Technology News Headlines – 30 January 2023
Asteroid 2023 BU just passed a few thousand kilometers from earth.
Mass Extinction traced to ozone depletion : Fossil pollen "Sunscreen" Evidence emerges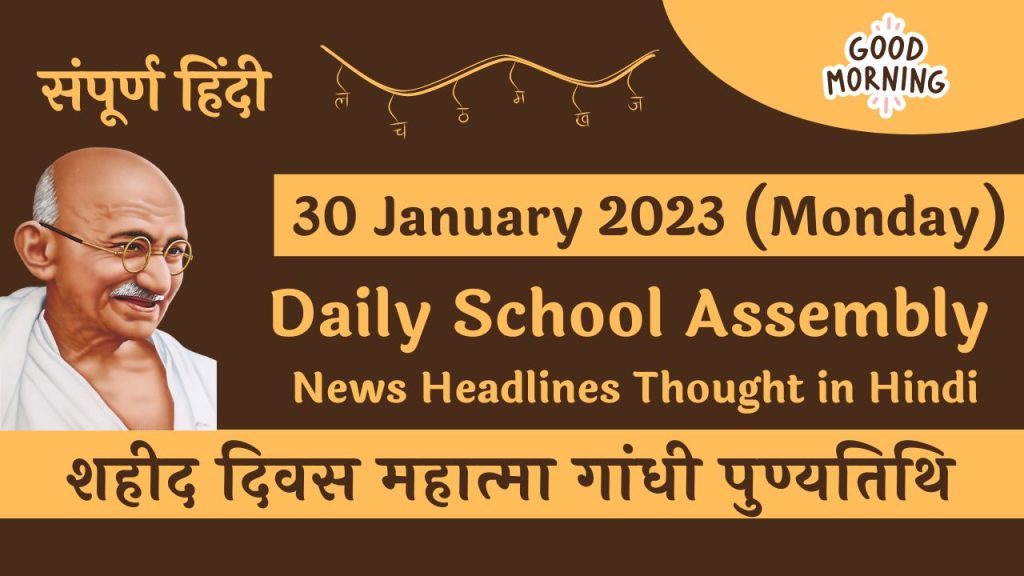 Thought of the Day – 30 January 2023
"Education is one thing no one can take away from you."
Positive Word of the Day For Daily School Assembly – 30 January 2023
Illustrious – This means celebrated and well-known.