Are you searching for – Daily School Assembly News Headlines for 20 January 2023
Then you are at Right Place.
The Complete and Official Information of Daily School Assembly News Headlines for 20 January 2023
Daily School Assembly News Headlines for 20 January 2023
To inform all pupils of what will be happening in the nation and the world today, the top headlines of the day are read during the school assembly after the call to prayer. Now let's read the most recent news of the day. Read the most recent news from India and outside while keeping up with Indian political movements.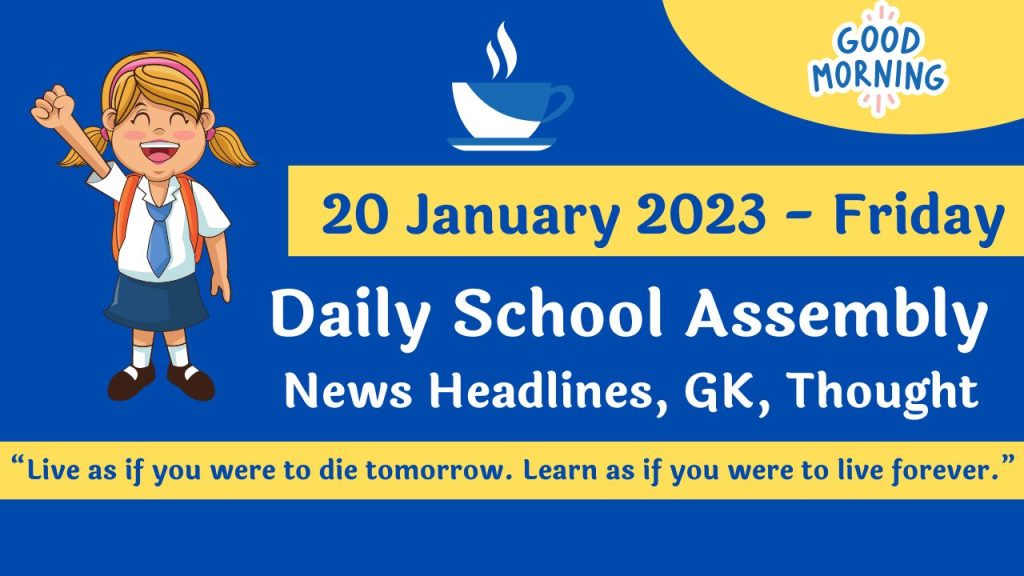 We are giving information News of National News, International News, Sports News, Business News and science & Technology News.
National News Headlines – 20 January 2023 (Friday)
Our priority is only development, not vote bank, says PM Modi in poll-bound Karnataka
Cold wave unlikely in northwest India for next 5 days, says IMD
Collegium system for appointment of judges will continue : Union Law Minister
PM Modi inaugurated two new Mumbai Metro lines, launches other development projects
S Jaishankar arrived in Sri Lanka to Finalise Debt Restructuring Talks
Android Dominance : Supreme Court Rejected Google's Request against Rs 1,337 crore penalty
Always want unneighborly ties but in Terror free atmosphere : India to Pak
Wrestling federation of India's Executive Committee meeting on Sunday, President Brijbhushan Singh to take part
Domestic passenger traffic grew to 127.35 lakh in December : Regulator
International World News Headlines – 20 January 2023
Russia warned west over Supply of Long – Range weapons to Ukraine
Greta Thunberg accused people in Davos of Fueling "Destruction of Planet"
Rishi Sunak Unveiled Funding of GBP 2.1 Billion for 100 proejcts in UK
Twitter Blue launched for Android devices, Subscription at $11 A Month
Woman Became 1st Indian-American Lt Governor of US's Maryland State
"Several Theories under probe" : Volodymyr Zelensky on Ukraine Chopper Crash
Ukraine's Zelensky Criticized German Hesitation on Supplying Tanks
"It's Time" : New Zealand's Jackinda Ardern announced Shock Resignation
8 Killed in Tibet Avalanche, China sends team for Rescue
Germany sets Condition for US on Exports of German tanks to Ukraine
Brazil's Lula said Intelligence Services failed ahead of Brasilia Riots
As Russia Intensifies Attack, NATO to Send New "Heavier Weapons" to Ukraine
Sports News Headlines – 20 January 2023
Men's Hockey WC : Netherlands advance to QFs After Record – Breaking 14-0 Win Over Chile
Struggling Alexander Zverev dumped out of Australian open in Round Two
Sania Mirza – Anna Danilina sail into Australian open second round
Caroline Garcia relieved to Battle into Australian Open Third Round
Rafael Nadal said He will be out of Action for Six to Eight weeks due to Injury
Ukraine Tribute as Qualifier downs Russia's Veronika Kudermetova at Australian open
Women's U-19 WC : India Storm into Super Six with 83 run win over Scotland
Business News Headlines – 20 January 2023
Nifty Sensex close on Lower note after Volatile session
Rupee closed 12 paise lower at 81.36 per US Dollar
Davos 2023 : UAE, India hold talks on settling non – oil trade in Rupees
Centre considering measures to bring High Wheat prices under control : Official
Science Technology News Headlines – 20 January 2023
NASA's Perseverance Rover Collects Martian regolith samples
Breakthrough discovery brought billion-qubit Quantum computing chips closer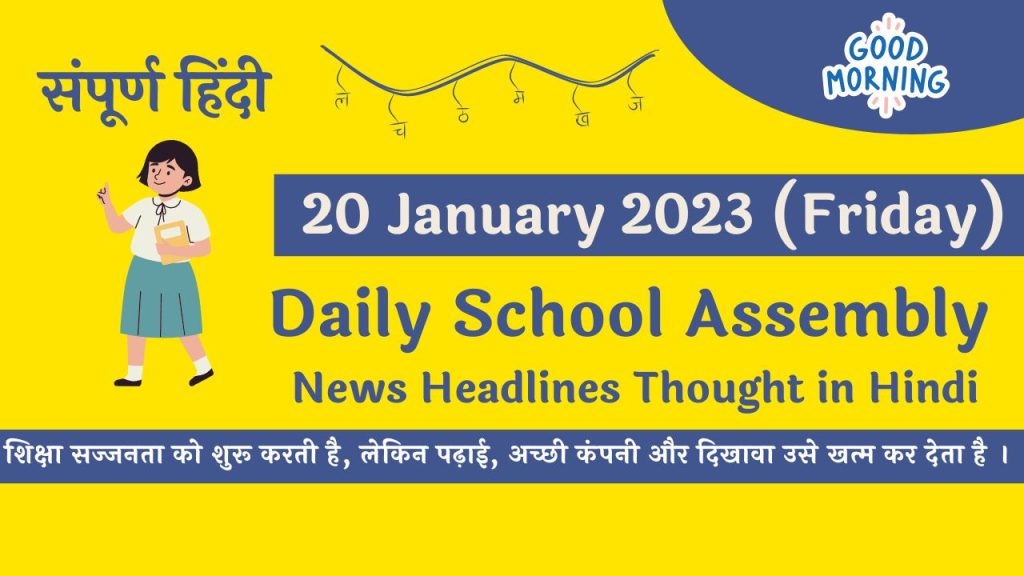 Thought of the Day – 20 January 2023
"Live as if you were to die tomorrow. Learn as if you were to live forever."
Positive Word of the Day For Daily School Assembly – 20 January 2023
Beauteous – This positive word means Something that is aesthetically pleasing or beautiful.
I Hope you like the article of the Daily School Assembly News Headlines, Speech, Thought for