Are you searching for – Daily School Assembly News Headlines for 20 December 2022
Then you are at Right Place.
The Complete and Official Information of Daily School Assembly News Headlines for 20 December 2022
Daily School Assembly News Headlines for 20 December 2022
To inform all pupils of what will be happening in the nation and the world today, the top headlines of the day are read during the school assembly after the call to prayer. Now let's read the most recent news of the day. Read the most recent news from India and outside while keeping up with Indian political movements.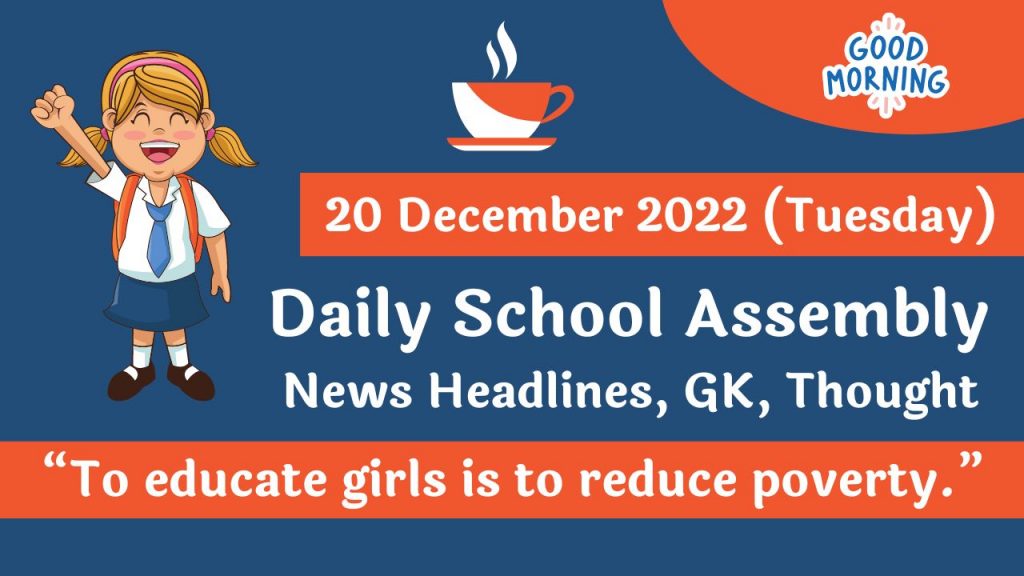 We are giving information News of National News, International News, Sports News, Business News and science & Technology News.
National News Headlines – 20 December 2022 (Tuesday)
India's Expectation From Pakistanis Never Very high : Jaishankar on Pak FM's Personal Attack Against Modi.
NCP MLA arrived with Newborn Son to attend Winter Session
SC Directs Centre, IITs to Follow Quota Law in Recruitment of Faculty
Parliament Winter Session 2022 : Lok Sabha Passes Bill to Deal with Maritime Piracy ; Appropriation Bills Moved in Rajya Sabha
Election Commission : 54.32 CR Aadhar Collected None Linked With Voter ID Yet
Indians, Greeks to Trace Common Roots in Himachal 'Village of Alexander's Soldiers'
Rajya Sabha Chairman Dhankhar Says Disruptions in Parliament not Sending Good Signals
Engineering Aspirants Demand January Edition of JEE-Main Be Postponed As Dates Clash with Board Exams
VISA Fraud : Files of 64 Peple with High Risk of Migration 'Disappear' From French Embassy
Indian Army will not Let China Change Status Quo Along LAC 'Unliterally' : Jaishankar
Union Agriculture Minister Narendra Singh Tomar to Host 'Millet – Only' Lunch for MPS on December 20
SC Asks Jharkhand to Respond to UPSC over Delay in DGP Appointment
International World News Headlines – 20 December 2022
Russian Warships to Participate in Joint Naval Drills with China this Week
Facebook Parent Meta Likely Breaching Antitrust Laws : European Commission
Russia Says shot Down 4 US – Made Missiles ast Such Claim Since Ukraine War
Countries Adopt Historic Deal to Protect Nature At UN Biodiversity Summit
Tiktok Denies Allegations of Setting up "Illegal Operations" in Taiwan
Ukraine Struggles to Restore Power Amid Fresh Drone Attacks
Thailand's Warship Sinks, Navy Searches for 33 Missing Marines
Australian top diplomat's First China Trip in Years in Signs of Improving Ties
Sports News Headlines – 20 December 2022
"We will Return" : Kylian Mbappe's Post after world cup final Heroics for France is Viral
Ronaldo Nazario Congratulates Lionel Messi after Winning the World Cup
World Cup Hockey in Odisha : Offline Ticket Sales Start
After FIFA World Cup, Qatar Seeks Olympic Hosting Rights
Pakistan Captain Babar Azam Completes 1,000 Runs in a Year
BCCI Apex Council Meeting to be Held on Wednesday; Central Contracts, Selection Committee on Agenda
Injured Rohit Sharma Ruled out of Second Test Against Bangladesh : Report
Business News Headlines – 20 December 2022
Sensex Surges over 460 Points, Stalling a Two Session Losing Streak
Rupee Rises 17 Paise to 82.70 Per Dollar
India will be big Export Economy, Indian Start – Ups Getting Noticed : Sundar Pichai
Ahead of Budget, PM Modi to Chair Chief Secretaries' Meet
Centre to Hold Consultations to Decide on Privatization of Banks
Note in Circulation Grew 7.9% Annually to Rs 32 lakh Crore : Finance Minister Nirmala Sitharaman
Centre expects Personal Data Bill to Be Passed in Monsoon Session : Union Minister
Loans Worth Rs 10.09 Lakh Crore Written Off by Banks : Finance Minister
Google Working to Make Internet Search Available in over 100 Indian Languages : Sundar Pichai
Science Technology News Headlines – 20 December 2022
Changes in Earth's Orbit may have Triggered Ancient Warming event
Scientists Freexe Great Barrier Reef Coral in World First Trial
NASA Image Shows Hubble's Sparking New View of Carina Nebula
Robotics Arm to Inspect Leaky Soyuz Spacecraft, Russia Says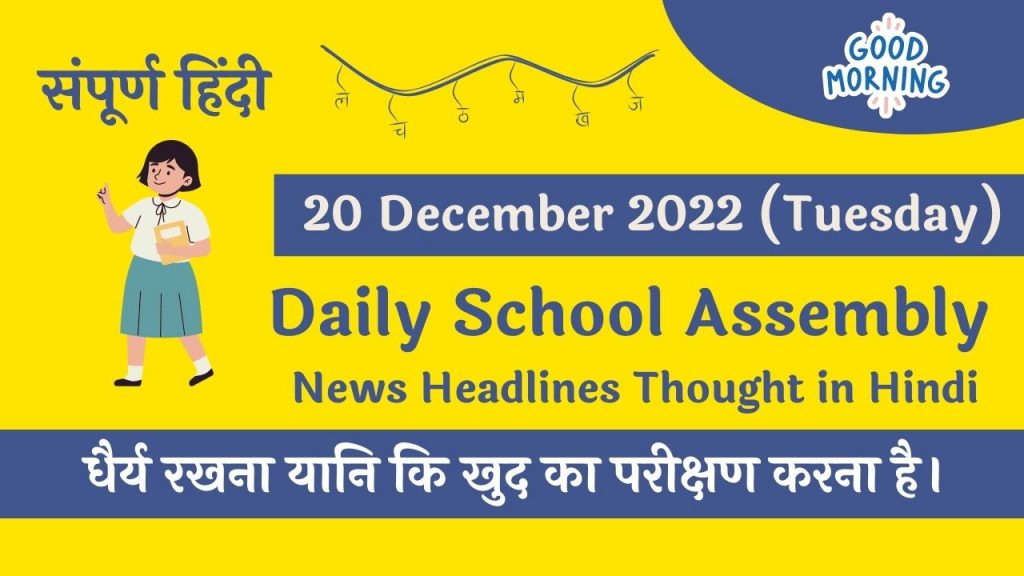 Thought of the Day – 20 December 2022
"To educate girls is to reduce poverty."
Positive Word of the Day For Daily School Assembly – 20 December 2022
Refined – This means well-mannered and cultured.
General Knowledge Questions for Daily School Assembly – 20 December 2022
Covered Topics in Today Morning School Assembly Post – 20 December 2022
National News Headlines – 20 December 2022 (Tuesday)
International World News Headlines – 20 December 2022
Sports News Headlines – 20 December 2022
Business News Headlines –