Are you searching for – Daily School Assembly News Headlines for 04 February 2023
Then you are at Right Place.
The Complete and Official Information of Daily School Assembly News Headlines for 04 February 2023
Daily School Assembly News Headlines for 04 February 2023
To inform all pupils of what will be happening in the Nation and the world today, the top headlines of the day are read during the school assembly after the call to prayer. Now let's read the most recent news of the day. Read the most recent news from India and outside while keeping up with Indian political movements.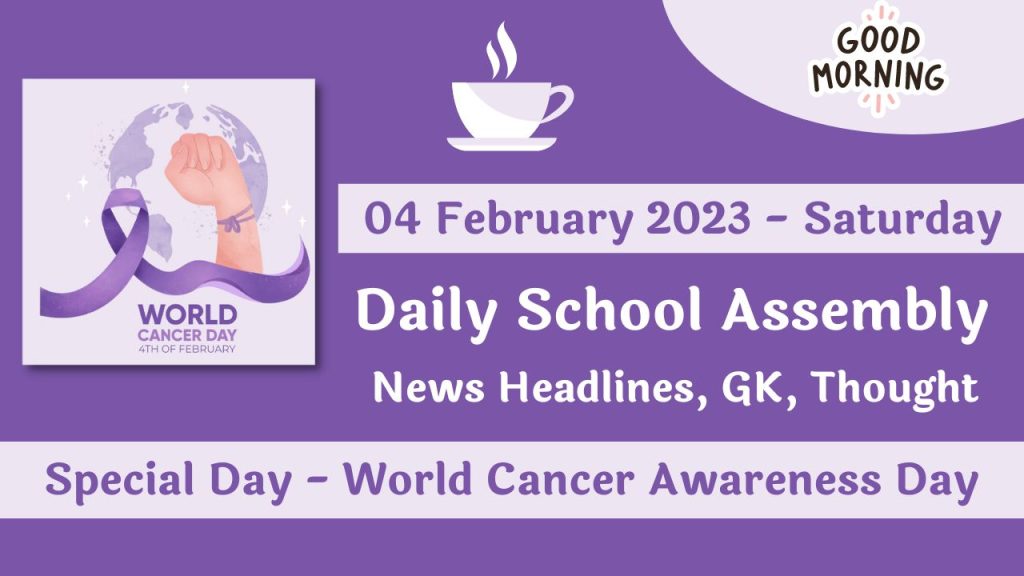 We are giving information News of National News, International News, Sports News, Business News and science & Technology News.
What is Today's Special ?
Special Day – World Cancer Awareness Day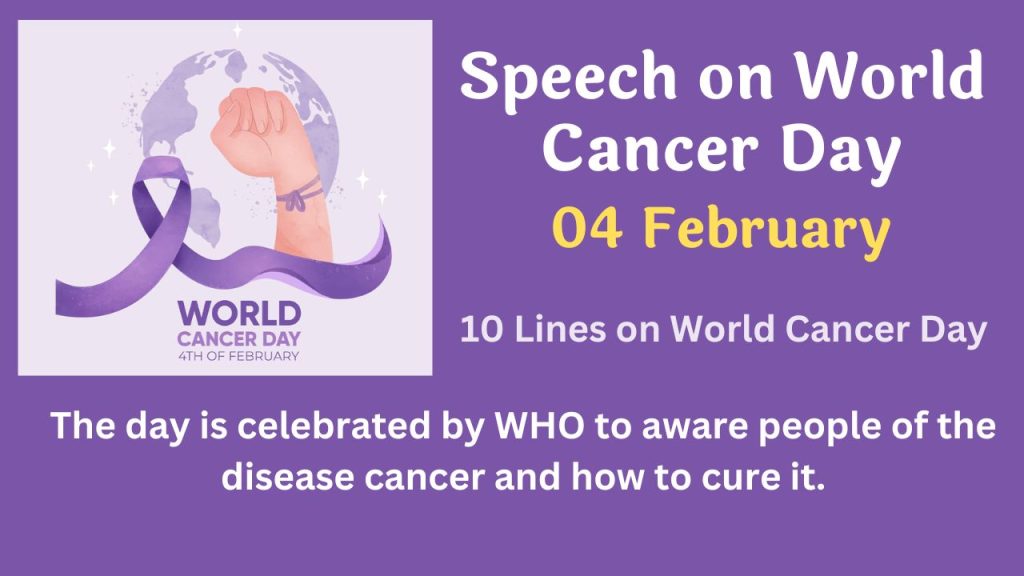 National News Headlines – 04 February 2023 (Saturday)
Pakistani drone shot down by BSF along Punjab border
Parliament is the north star of democracy: Vice President
CDS Anil Chauhan chaired high-level security meeting in Jammu
Home Minister Amit shah set to Attend 'Vijay Sankalp' Rally in Jharkhand
Appointment of 5 judges recommended by Collegium likely in Two Days, Centre to Supreme Court
PACS to offer services of Common Service Centres; Cooperation ministry signed MoU
Opposition leaders gave adjournment notices in Parliament seeking discussion on Adani stock rout issue
Singapore Chief Justice Sudaresh Menon shared bench with CJI Chadrachud in Supreme Court
Rural and archeological tourism to be showcased at Kutch G-20 tourism working group meet
Railways to ramp up booking capacity from 25,000 to 2.25 lakh tickets a minute
Overall Exposure to Adani Group at Rs.27,000 Crore : SBI Chairman
8,343 Indian Prisoners Lodged in Foreign Jails : Minister Informs Lok Sabha
International World News Headlines – 04 February 2023
Qatar Banned Insect Food after EU Expands Menu for Protein
"Blew Off Course" : China "Expressed Regret" Over Balloon in US Airspace
Germany authorized sending Leopard 1 Tanks to Ukraine
UK Man Found Guilty in 2021 Attempted Crossbow Attack on Queen Elizabeth
EU Banned on Russian Oil Will "Further Imbalance" Markets : Kremlin
US, Philippines to Resume Joint Patrols in South China Sea
Europe looked to Geothermal Energy as Carbon – Free Gas Alternative
IMF Bailout conditions "Beyond Imagination", will have to Agree: Pak PM
Putin Compared Russia's Invasion of Ukraine to War against Nazi Germany
Sports News Headlines – 04 February 2023
ISL final to be held on March 18
You ae my new hero : Gavaskar told to Lakshya Sen
Aussie legend Rachel Haynes appointed head coach of Adani owned WPL team, Nooshin AI Khadeer also roped in
Arsenal's partey an injury doubt as Arteta relies on Jorginho's 'Leadership'
I want to play tests for India – Ayesh Khan eyes India comeback after 35 wickets this season
Australia will miss Zampa's ability to zip ball against India : Sriram
Buttler frustrated but understands why players opting franchise cricket over national duty
World Twenty20 2007 hero Joginder Sharma announced retirement from all forms of Cricket
Ra.75 Lakh for a ticket : As LeBron James nears NBA all-time scoring record, ticket prices skyrocket
Business News Headlines – 04 February 2023
RBI said "Banking Sector Resilient and Stable" Amid Adani Stocks Rout
SEBI Tweaks its operational Circular on Credit Rating Agencies
S&P Global Ratings revised Outlook on Adani Ports, Electricity to Negative
Two – Thirds Taxpayers May Shift to New Regime in 2023-24 : Tax Body
No Concern with Adani Group's Asset Quality : Bank of Baroda Chief
Foreign Exchange Reserves Rise to 6 Month High of $576.7 Billion
India's Services Sector Growth Dipped Slightly in January
S&P Dow Jones said will drop Adani Enterprises from Sustainability Indices
Amul Hiked Milk Prices by Rs 2, New Rates effective from Today
Science Technology News Headlines – 04 February 2023
Planting trees could cut deaths from Higher Temperatures : Lancet Study
Quad Countries to Focus on tackling China Threat in Telecom, 6G Technology
Massive Antarctic Iceberg – Twice the Size of New York City – on the move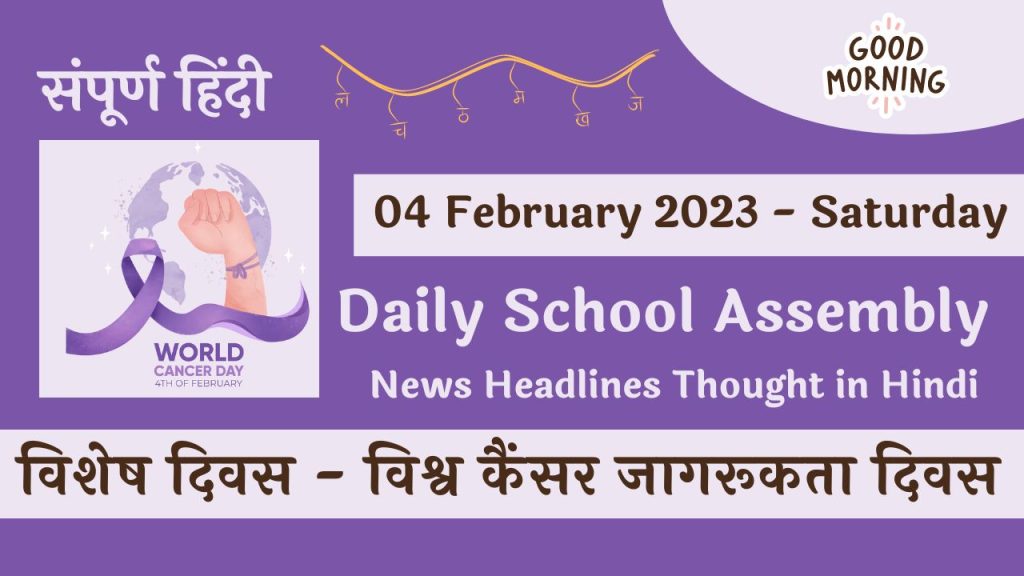 Thought of the Day – 04 February 2023
"He who opens a school door, closes a prison."
Positive Word of the Day For Daily School Assembly – 04 February 2023
Joyful – This means in a happy state.