Are you searching for – Daily School Assembly News Headlines for 03 February 2023
Then you are at Right Place.
The Complete and Official Information of Daily School Assembly News Headlines for 03 February 2023
Daily School Assembly News Headlines for 03 February 2023
To inform all pupils of what will be happening in the Nation and the world today, the top headlines of the day are read during the school assembly after the call to prayer. Now let's read the most recent news of the day. Read the most recent news from India and outside while keeping up with Indian political movements.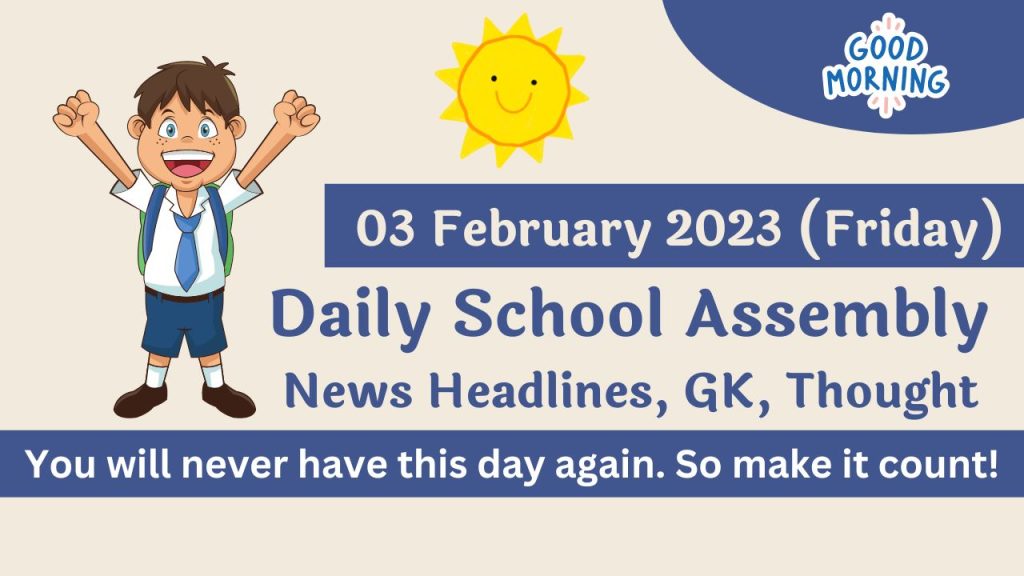 We are giving information News of National News, International News, Sports News, Business News and science & Technology News.
National News Headlines – 03 February 2023 (Friday)
"Will announce at appropriate Time" : India on PM Modi Visit to US
No Decision to implement Uniform Civil Code Yet : Minister in Rajya Sabha
Supreme Court to Celebrate Its Anniversary for First Time on Feb 4
Supreme Court Made Recommendations to Fill All Vacancies : Law Minister
After Joshimath Sinking, Green Tribunal Panel Directed Study for Mussorie
Old Tax Regime and New Tax Regime explained in 3 Scenarios
Rs.22 Crore spent on PM's Trips abroad since 2019 : Center in Rajya Sabha
BJP to Hold Mega Budget Reach out on Feb 4 and 5 : Report
Express train's engine got detached, Runs without coaches in Bihar
People involved in Child Marriages will be arrested : Assam Chief Minister
Finance Minister to Brief BJP MPs on Budget 2023 on Feb 3
BJP to contest all 60 Meghalaya Election
BJP to contest 20 seats in Nagaland Election
US – India Business council Meet discussed steps to strengthen defense ties
Over 340 Mobile phones recovered in 2.5 Months from Delhi Jails
International World News Headlines – 03 February 2023
China to Build Ground stations in Antarctica to Enhance Ocean Monitoring
"World's Biggest Welcome" : Hong Kong offered 500,000 Free flights after COVID Isolation
"My Eyes Burn" : Thailand Said Stay Indoors As Air Pollution Spikes
"We stand by Ukraine As Firmly as Ever" : European Union Chief in Kyiv
US Reopens Solomon Islands Embassy, Vying with China for Influence
Austria expels 4 Russian Diplomats for Breaching International Agreements
US and South Korea's Joint Military Drills Infuriate North Korea
"Unacceptable" : US Senators on China's Aggression' against India, Taiwan
New US Visa Curbs against Taliban for education, Jobs Bans on Women
2 Drones for Just $1 : US Firm's offer for Ukraine Amid War
Sports News Headlines – 03 February 2023
Stefanie Taylor returns as west Indies announced squad for women's T20 World Cup
"Future is Here" Virat Kohli impressed as Shubham Gill breaks his record
Davis Cup : India to Face Holger Rune – Led Denmark in Group I Play off Tie
Jonny Bairstow's Recovery from freak injury on 'right track' ; Indicates Ashes Return
Business News Headlines – 03 February 2023
Monthly GST Revenue of Rs 1.50 Lakh Crore to be New Normal : Indirect Taxes Board
Indian Indices Close on Mixed Note, Nifty Down by 6 Points
FedEx Corp to Lay off 10% of Management Ranks : Report
HDFC Sees 13% Hike in Q3 Profit, But Misses Profit View
New Tax Regime "Sweetened" to Benefit Maximum People : Tax Body Chairman
Science Technology News Headlines – 03 February 2023
New Research Revealed Dangerous Consequences of stopping Opioid Treatment for Chronic Pain
Researchers have uncovered New Functions of the "Ancient Brain"
A One in Ten Billion Binary Star System – First Kilonova Progenitor System Identified
Thought of the Day – 03 February 2023
You will never have this day again. So make it count!