Are you searching for – Daily School Assembly News Headlines for 02 February 2023
Then you are at Right Place.
The Complete and Official Information of Daily School Assembly News Headlines for 02 February 2023
Daily School Assembly News Headlines for 02 February 2023
To inform all pupils of what will be happening in the Nation and the world today, the top headlines of the day are read during the school assembly after the call to prayer. Now let's read the most recent news of the day. Read the most recent news from India and outside while keeping up with Indian political movements.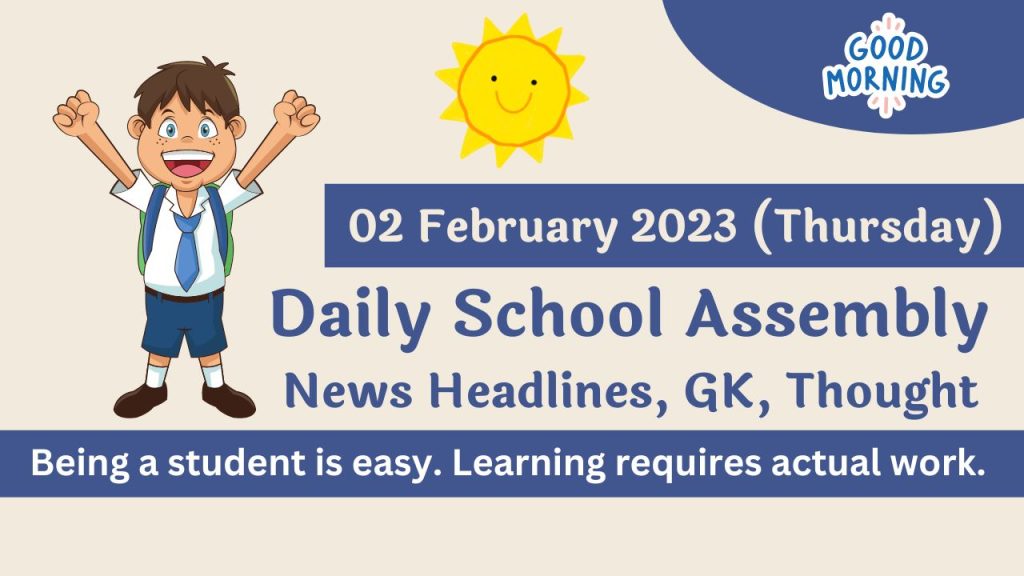 We are giving information News of National News, International News, Sports News, Business News and science & Technology News.
National News Headlines – 02 February 2023 (Thursday)
Finance Minister Announced PM – Vikas Package for artisans and craftspeople
Depression over bay of Bengal 'Very likely' to move away : India metrorological Department (IMD)
Budget 2023 | KYC process to be simplified, Digilocker will be 'one stop shop' for updating details : Finance Minister Sitharaman
No tax on Income up to 7 lakhs, centre says new tax regime "Attractive"
Budget 2023 : Centre allocated Rs.19,518 crore for all metro projects in India
Union Budget has vision for "New India" : Yogi Adityanath
India, U.S. Step UP strategic partnership with technology initiative
Army Conducted Joint Exercise in North Bengal Near Siliguri Corridor
Air Marshal AP Singh took charge as vice chief of Indian Air Force
Building alliances and Partnerships top priority : U.S. Deputy defense secy tells NSA Ajit Doval
"Middle Class a Big Force.. Steps taken to Empower it" : PM On Budget
International World News Headlines – 02 February 2023
Long – Range Weapons from west for Ukraine will not deter Russia : Kremlin
Russian journalist sentenced to 8 years in prison over Ukraine comments
Brazil's Jair bolosonaro vowed to "Remain Active" in politics
NATO chief "More than Ready" to Boost Indo – Pacific Partnerships
Blinken to discuss Russia's War on Ukraine with Chinese officials
EU – Ukraine summit to take place in KYIV on Friday
US Justice Department Investigating Tesla Delf – Driving Features
Sports News Headlines – 02 February 2023
India Seek Tri-Series title going into T20 world Cup
Sri Lanka name 15 Member squad for 2023 ICC women's T20 World Cup
"There's nothing left" : Lionel Messi drops retirement hint, Admits he has "achieved everything"
"It's about people telling Me." : Sania Mirza explained retirement decision
Sports Ministry gets Rs 700 Crore Plus boost in Union Budget
Business News Headlines – 02 February 2023
Centre allocated Rs.35,581.44 crore Budget to Jammu and Kashmir
Budget 2023 : Rs1.23 Lakh Crore allocated for Postal, Telecom Projects
Budget 2023 puts India on Path to Become World Champion : Industry Body
Amit Shah welcomed "All – Inclusive and Visionary" Budget
Budget 2023 : Nearly rs.1,900 crore allocated for Buying EVMS
Dividend from RBI, Public banks likely to go up to Rs.48,000 Crore in FY24
Defense Budget Raised 13% to 5.93 Lakh Crore
Sensex pares gains Amid fluctuations after Budget Announcements
Science Technology News Headlines – 02 February 2023
Researchers disprove 30 year old Climate Paradigm
Promising New Method could replace Injections with Pills
Ten Fold Enhancement of Photoluminescence – Nanoantenna's directing a bright future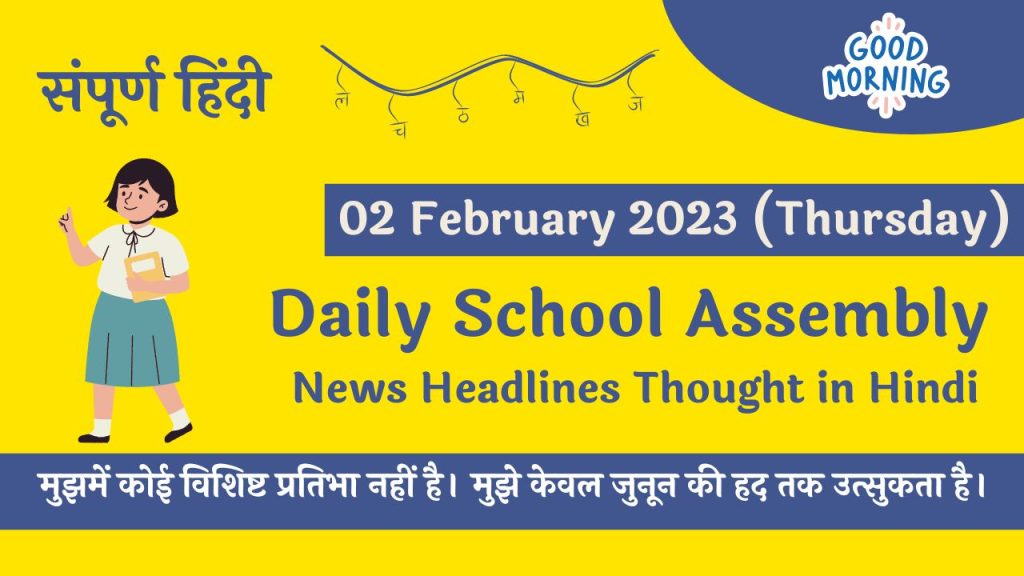 Thought of the Day – 02 February 2023
Being a student is easy. Learning requires actual work.
Positive Word of the Day For Daily School Assembly – 02 February 2023
Jewell – This means of great worth