Modalities for the Conduct of Term 2 Examination
You are aware that because of Covid, in past, examinations were not completed and the results were declared based on Tabulation Policies. Accordingly, we all were not fully involved with the process of examination and thus may not be aware of many important issues. This has necessitated that all functionaries be assisted by the board by informing important information so that examination could be conducted smoothly.
CBSE Board has thus decided to hold a Live Webcast to explain about the preparations for examinations and the Role and responsibilities of functionaries as per the following schedule:
CBSE Live Webcast Link for the Conduct of Term 2 Examination
YouTube Live Link – https://www.youtube.com/watch?v=IC5AwyM1cyE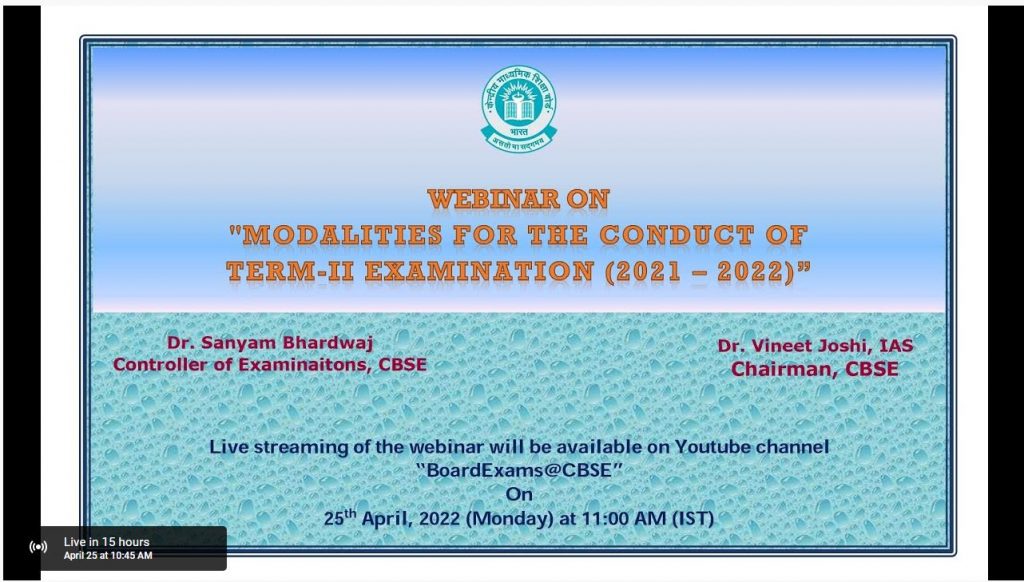 Schools will take the following action to CBSE live stream the webcast
Log on the link – https://www.youtube.com/watch?v=IC5AwyM1cyE or Go to YouTube and search BoardExams@CBSE
You would be requiring a screen, sound system and Internet Connection
All schools will compulsorily make arrangements to watch Live Webcast under the supervision of the Principal.
All teachers teaching Classes IX to Classes – XII and other staff involved in the conduct of examination and evaluation should watch the webcast and note down important instructions pertaining to their role in the examination.
As Guidelines for CS have already been sent to all the examination centres, hence, query, if any, may please be sent to the CBSE on mail id

[email protected]

so that queries could be replied to during the webcast.
Even, if there is any doubt after the webcast, the same may also be sent on the above email id so that these queries be replied to in the form of FAQ to all examination centres.
Each school is required to upload the following ASAR app which could be downloaded from the google play store:-

A geotagged photograph covering the participants
Total number of participants in the program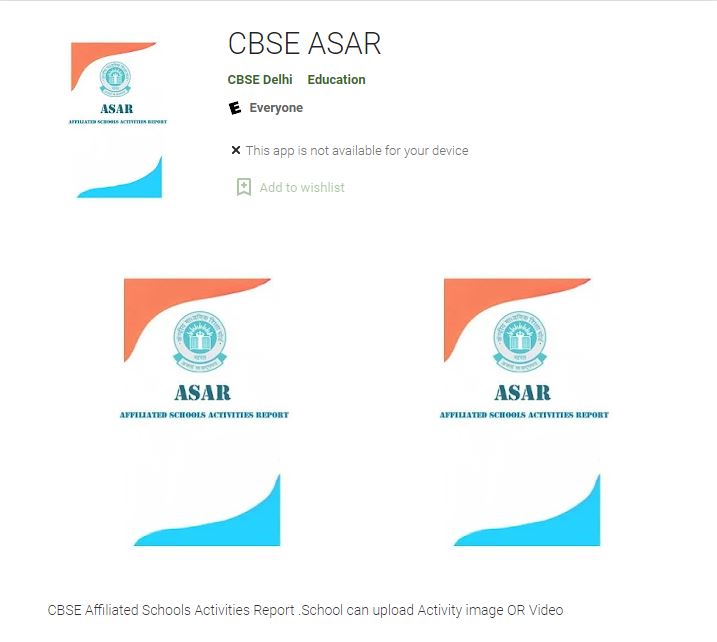 https://play.google.com/store/apps/details?id=pktk.it.ram.com.asar&hl=en_IN&gl=US
It is compulsory for all the schools to attend this webinar. Non-compliance of instructions for watching this webinar by any school will be viewed seriously.
With the Best Wishes