Why Celebrating 'Matribhasha Diwas' (Mother Language day)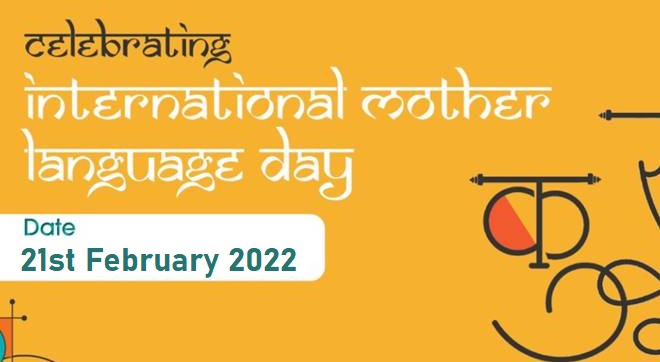 UNESCO has declared 21st February of every year to be celebrated as International Mother Language day to promote dissemination of Mother Language of all, create awareness of linguistic and cultural traditions and diversity across the world and to inspire solidarity amongst the people of different cultures, speaking different languages. Accordingly, Matribhasha Diwas is celebrated every year on this date.

Highlight the linguistic diversity and unity of our country.
Encourage usage of not only the respective mother language, but other Indian languages as well.
To understand and appreciate diverse cultures in India and various forums of literature, craft, performing arts, scripts and other forms of creative expression.
School Heads are encouraged to celebrate the Matribhasha Diwas by organizing various activities like elocution, debates, singing/ essay writing/ painting competitions, musical and dramatic performances, exhibitions etc. Schools can also organise other activities befitting the occasion, complying with necessary Covid protocol.
Official Submission Link from CBSE – Participation or Registration of "Matribhasha Diwas"
https://forms.gle/uSRy2gmQ57yENUJ3A
FAQ – Frequently asked Questions About the Matribhasha Diwas
1. Why is Mother Language Day celebrated?
Answer : – UNESCO has declared it on 17 November 1999. And is celebrated on 21st February every year since 2000. This day is celebrated in the memory of Bangladesh's long-standing effort to protect its mother tongue, Bangla.
2. When is mother tongue celebrated?
Answer :- Mother Language Day is celebrated on 21 February. It was approved by UNESCO on November 17, 1999. The purpose of celebrating this day is to promote linguistic and cultural diversity and multilingualism in the world..
3. What is celebrated on 21st February?
Answer :- Slap Day is celebrated on the first day of the week i.e. 15th February, then Kick Day on 16th February, Perfume Day on 17th February, Flirting Day on 18th February, Confession Day on 19th February, Missing Day on 20th February and finally i.e. 21st February. Breakup day is celebrated.
4. When was the first International Mother Language Day celebrated?
Answer :- In 1999, UNESCO declared 21 February as International Mother Language Day every year.