What is School Innovation Councils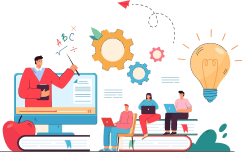 'School Innovation Council' is a novel initiative to systematically handhold schools in establishing ideation, innovation, and entrepreneurial ecosystem in a sustainable manner. This initiative will be launched on 1 st July 2022 at 2:30 P.M. by the Hon'ble Secretary, Department of School Education, MoE, the Chairperson, Central Board of Secondary Education, and the Chairman, All India Council for Technical Education.
The launch can be joined using the following YouTube Channel of the MoE Innovation Cell
How to Watch Launch of School Innovation Councils
Direct YouTube Link to Watch Online the Launch of School Innovation Council
Launch of School innovation Council & recognition of 12000+school teachers as Innovation Ambassadors
All CBSE schools are advised to establish School Innovation Councils as per the guidelines given on the SIC website (https://sic.mic.gov.in) and the CBSE website cbseacademic.nic.in. Schools that have already registered for the School Innovation Ambassador Training Program (SIATP) are automatically registered on the SIC portal.
These schools have to log in to the SIC portal using the same credentials and fill in all additional details to request approval from its council.
Contact Us or Helpline of School Innovation Council
For any query related to SIC registration and approval, the schools may contact Dr. Elangovan Kariappan, Asst. Innovation Director, MoE at [email protected]. The contact details for the regional coordinators designated by MoE's Innovation Cell are also available at https://sia.mic.gov.in/contact-us.