Are you searching for –  CBSE Circular – How to Register in CBSE Science Challenge 2023-24
Then you are at Right Place.
The Complete and Official Information of CBSE Circular – How to Register in CBSE Science Challenge 2023-24
CBSE Circular – How to Register in CBSE Science Challenge 2023-24
Science is inexplicably linked with our lives and helps us to understand the world around us better. By engaging with this subject, students learn to think, solve problems and make informed decisions. As an initiative to generate curiosity, enquiry and higher order thinking amongst the learners, the Board is organizing the CBSE Science Challenge for students of classes 8th to 10th.
This challenge shall be available on CBSE platform in the months of April – May, 2023.

Details of the CBSE Science Challenge
The challenge would be conducted through two rounds – within school, and inter school.
There is no fee for participating students at either of the two stages of this enrichment activity.
All students of classes 8 to 10 in CBSE affiliated schools are eligible to participate in Round One (first stage). School would be required to register students for this round. For Round Two (second stage), each affiliated school registered in the first stage can nominate earlier registered 6 students (best 02 students from each participating class).
The Science challenge paper would comprise a variety of stimulants followed by MCQs. The task for participating students would focus both on speed and accuracy.
All the participants of Round Two would be issued an online participation certificate by the Board. Appreciation Certificate would be given to best performing students.
Details for schools to register are at Annexure I
All schools may encourage students to participate in the CBSE Science Challenge as it would provide learners an opportunity to practice and demonstrate skills.
Annexure-I – CBSE Science Challenge 2023-24
The Science Challenge – 2023-24 shall be conducted in two stages:
A. Round One (First stage): CBSE Science Challenge 2023-24
An affiliated school can register its students (Classes 8 to 10) for the Challenge by login on the Science Challenge Portal at https://cbseit.in/cbse/2023/scichg/login.aspx using the LOC credentials for Round One (First stage) from 03rd April 2023 to 14th April 2023. To avoid last moment rush, schools are advised to register well before the last date.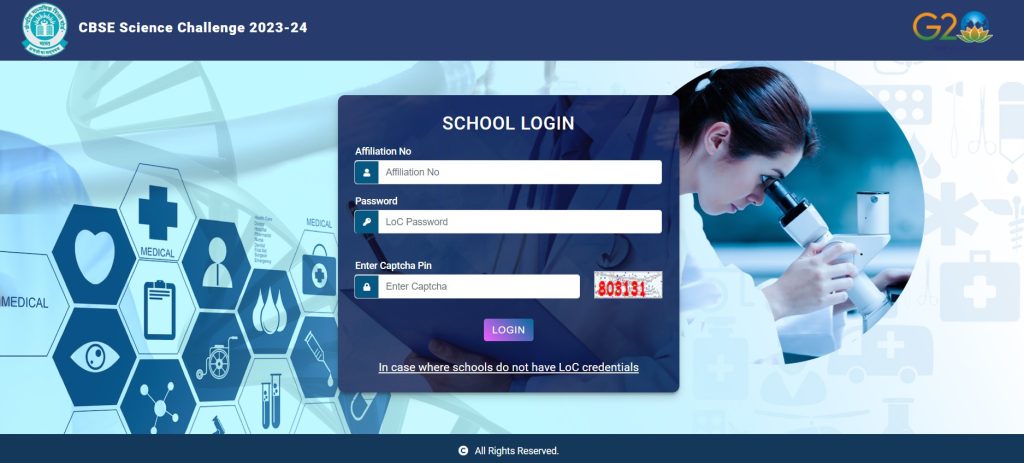 On 17th April 2023, a Science Challenge paper with MCQs would be made available to the registered schools along with the scoring criteria on the same portal.
The school shall organize the Challenge for the registered students between 17th April, 2023 to 21st April, 2023 and identify 06 students (02 each from Classes 8 to 10) on the basis of their performance on the assigned tasks for Round-1.
The school shall subsequently register the identified students for Round 2 on the CBSE Science Challenge portal between 24th April 2023 to 04th May, 2023.
B. Round Two (Second stage) : CBSE Science Challenge 2023-24
A computer-based Science Challenge would be conducted by the Board for the registered students between 08th May 2023 to 12th May 2023. Only the schools that have completed the first stage and subsequently registered students for Round Two shall be eligible for the second stage.
The detailed modalities of conduct of this test shall be communicated to the schools that register students for the second round of the challenge.
Helpline for CBSE Science Challenge 2023-24
For any clarifications, you may send an email to [email protected] or call on 011-23211575.