CBSE Circular – CBSE Inter School Band Competition 2022
Are you searching for – CBSE Circular – CBSE Inter School Band Competition 2022
Then you are at Right Place.
The Complete and Official Information of CBSE Circular – CBSE Inter School Band Competition 2022.
Your kind attention is invited to the communication from Ministry of Education, Govt of India regarding
conduct of National School Band Competition as part of the Republic day program in connection with the
Azadi Ka Amrit Mahotsav celebrations.
You would appreciate that a school band evokes a feeling of oneness and belonging and a deep sense of pride in school children. The rhythm of a band instills passion, action, courage and motivation in young and old alike. A national level competition of this kind will help rejuvenate and rekindle the spirit of patriotism and unity in school children across the country.
The Inter School Band Competition is to be organized at three levels, at State/CBSE, National (Semi-final) and National (Final). The competition will be open for all categories of schools. Both boys and girls bands can take part in the competition.
Finalists will be invited to New Delhi to perform at the National War Memorial (NWM) during the Republic Day Celebrations 2023.
Guidelines for Inter School Band Competition 2022-23
Levels of Inter-School Band Competition:
Level 1: Schools willing to participate will forward the School Band's Performance Video recording.
Level 2: National Level Semi-final – The Jury will select the finalists
Level 3: National Level Final – Performance at NWM
Separate competitions will be held for Boys and Girls Band Groups. Band Group means one Boys Band and one
Girls Band.
Maximum one Band Group, Boys and Girls separately, from every School can participate in the following
categories of Bands; however, schools may enter only one girls' or only one boys' band as per availability:-
Pipe Band Group ('Cymbal' should not be included) and
Brass Band Group
Schools will Video record the performance of their Bands and shall forward the video recording at Board's Academic website latest by 22 Dec 2022.
The link at which these videos have to be forwarded will be shared shortly.
All the entries of recorded performances (States/UT/KVS/NVS/ICSE/CBSE) so received will be judged by a Jury appointed by the Ministry of Education, with experts from Defense Services, at Ministry level. Out of the total entries received, the Two Best Bands in each category will be selected, separately for Boys and Girls Bands (Total 08 Bands).
Various Items to be seen during the performance:
Band Master / Major and Contingent (Band Group Members)
Body Language, Costume, Uniform, Hair style/Head gear, Decoration of BandInstruments
Playing Rhythm, Music & Movements
March Past by Stamping Heels & Hand Swing
Entry past by Stamping Heels & Hand Swing
Accuracy of Stamping in the Display Area
Formation
Presentation
Time limit
Criteria for Evaluation/Marking: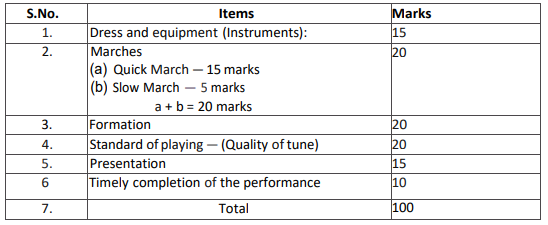 Apply Online for CBSE Inter School Band Competition 2022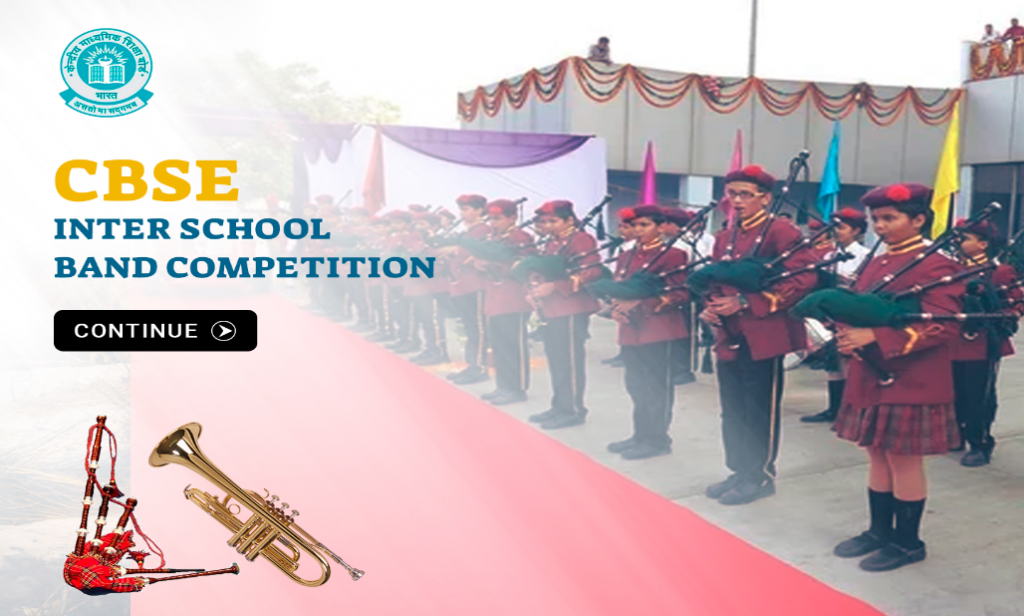 Tentative Time Schedule.
• Video recordings be forwarded from 1st December 2022 onwards and latest by 22″ December 2022.
• Selection of Top Eight Bands in semi-final round by Jury at Ministry level by 29*December 2022.
• Notification to be issued about the Top Eight (Finalist Bands on 30'h December2022).
• Reporting of Top Eight finalist Bands selected to participate at National Level Competition at New Delhi on 20'h January 2023.
• Performance at National War Memorial and National Level Band Competition(Finals) from 21st to 30th January 2023.
• Departure of Bands on 31st January 2023 to their respective destinations.