The Central Board of Secondary Education invites 'Online applications' from eligible students who have passed Class X Examination 2020 from the CBSE affiliated Schools for the following Scholarship Schemes: –
The objective of CBSE merit scholarship scheme is to provide scholarships to the meritorious Single Girl Students, who are the only child of their parents; and have passed the CBSE Class X Examination with 60% or more marks and are continuing their further school education of Class XI and XII. The scheme is aimed to recognize the efforts of the parents in promoting education among girls and to provide encouragement to meritorious students.
1. CBSE Merit Scholarship Scheme for Single Girl Child for + 2 studies – 2020.
2. Renewal of Online applications of CBSE Merit Scholarship Scheme for Single Girl Child X Pass awarded in 2019.
The details and eligibility conditions along with the application form are available on Board's website i.e. www.cbse.nic.in at Scholarship Link.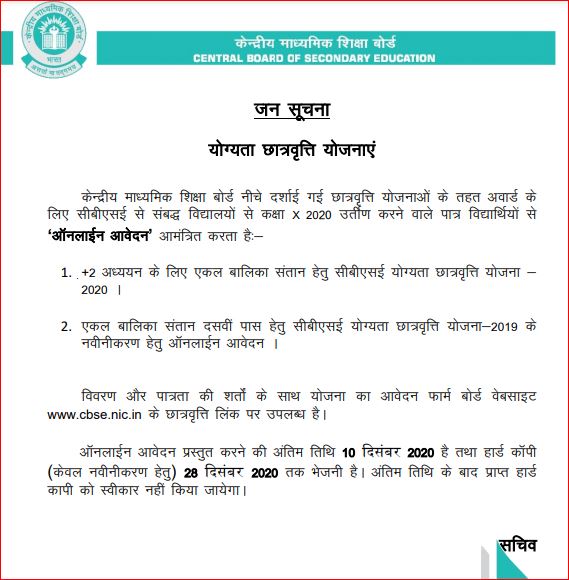 How to Apply for the CBSE Merit Scholarship for Single Girl Child (Class X – 2020)
1. Candidate need to enter her roll number and Date of Birth (as printed on the class X grade sheet) in order to submit the online application form.
2. Enter all your particulars carefully and submit the form.
3. Note down the Registration Number shown on the page. This will be used while uploading documents and also for all other future communications.
4. Print the undertaking as provided in the "Guidelines Document" (this document), fill it, paste the photograph and get it attested from school.
5. Prepare affidavit, as per format provided in the "Guidelines Document".
6. Scan the above two documents, ie Affidavit and Undertaking so as to create PDF file of up to 1MB size. The PDF should contain all the pages (in case of multiple pages)
7. Go to "Upload Document" option and upload both the above documents.
8. Go to print "Confirmation Page" option and generate the confirmation page.
9. Fresh applicant need not to send the confirmation page to CBSE, however they should keep it for their reference as a proof of successful applying. Applicants successfully applied and completed the application will only be able to generate confirmation page. Applicants who could not generate confirmation page are not successfull, and their application will not be processed.
10. In case of application for Renewal Please send duly filled and signed confirmation page to "Scholarship Unit", CBSE, Shiksha Kendra, 2 Community Centre, Delhi – 110092.11.
In case of any query you may write to [email protected]
Direct Link for Fresh Candidates –
The last date for submission of online applications is 10th December, 2020 and hard copy of application form (renewal only) has to be submitted on or before 28th December, 2020. Hard copies received after the last date shall not be entertained.
Eligibility criteria
The scholarship shall be given on the basis of merit list as stated in Para 2 above, from the result of CBSE Class X Examination.
The eligibility criteria shall be as under:
i) All Single Girl Students, who have secured 60% or more marks in CBSE Class X Examination and are studying Class XI & XII in School (affiliated with CBSE) whose tuition fee is not more than Rs. 1,500/- p.m. during the academic year, shall be considered for the purpose. In the next two years, the total enhancement in tuition fee in such school shall not be more than 10% of the tuition fee charged.
NOTE: NRI applicants of the Board are also eligible for the award. The tuition fee for the NRIs has been decided maximum of Rs. 6,000/- per month.
ii) The scholarship shall be awarded to Indian Nationals only.
iii) The student must continue her school studies in Class XI and XII in school as stated above in para 3(i).
iv) Candidate who have passed CBSE Class X Examination in 2020 will be considered.
v) A Scholar under the scheme while availing scholarship can enjoy other concession(s) given by the school in which she is studying other organization(s).
Last Date for Application 10th December, 2020