Are you searching for – What is Bharatiya Bhasha Utsav Diwas – 11 December 2022
Then you are at Right Place.
The Complete and Official Information of What is Bharatiya Bhasha Utsav Diwas – 11 December 2022
Bharatiya Bhasha Diwas – 11 December 2022
As suggested by the National Education Policy-2020, students in the country will be encouraged to participate in a fun project/activity on 'The Languages of India', sometime in Grades 6-8, under the 'Ek Bharat Shrestha Bharat' initiative. This kind of project/activity will facilitate students learn about the unity of most of the major Indian languages, starting with their common phonetics and scripts, their common grammatical structures, their origins and sources of vocabularies from Sanskrit and other classical languages, as well as their rich inter-influences and differences. They will also learn about the languages spoken in different areas, the nature and structure of tribal languages, to say commonly spoken phrases and sentences in every major language of India, and also learn a bit about the rich literature of these languages. Such an activity would give them both a sense of the unity and the beautiful cultural heritage and diversity of India as they meet people from other parts of India.
There is a need to create 'language harmony', to develop conducive environment for learning more and more Indian languages apart from mastering one's own mother tongue, and an attitude and aptitude to love and enjoy the 'neighboring language'. Learning/speaking another Indian language should be made a fashion/matter of prestige, a matter of joy and cherishing experience!
11th December, the Subramania Bharati Jayanti will be observed as Bharatiya Bhasha Diwas. A Language Festival in the name of 'Bharatiya Bhasha Utsav' will be celebrated on that day with the following objectives
To provide students with information about Indian languages.
To encourage people to learn a few more Indian languages.
To celebrate diversity in culture, arts, etc. and to make people experience the unity, harmony and integrity of the nation through languages.
To show how language learning can be a fun and an enjoyable experience.
To highlight the need to focus on Indian languages for the development of the nation and "Ek Bharat Shreshtha Bharat".
Where and Who:
The Bharatiya Bhasha Utsav will be held at Universities and Colleges.
The Institutions may also invite students and their parents from different institutions/colleges/ schools in their neighbourhood.
Different language associations, language clubs, cultural/art/literary institutions may also be involved.
People/institutions from neighboring towns/districts/states may also be invited to help provide different kinds of language experiences.
What:
Competitions like speech, singing, writing, etc. in different languages.
Felicitation of students who know more number of languages or who can read the scripts of major Indian languages.
Language games, and music, drama, art performances etc. in different languages.
Different counters/stalls providing taste of speaking different languages with conversational sentences.
Food corners belonging to different language areas.
People wearing dresses that represent cultural expressions of different linguistic communities.
Exhibition depicting language diversity/wealth of India and the importance of Indian languages for the "Future India"/"Ek Bharat Shreshtha Bharat".
Providing information about Online resources and activities, and events exploring the cognitive, economic, social and cultural benefits of a multilingual society.
A technology zone exhibiting how people learn languages with new technologies.
Expected Outcome of the Festival:
It will help build a growing momentum behind learning more Indian languages other than mastering one's own mother tongue.
It would promote greater cultural awareness and inclusivity among individuals and wider society.
It would give fillip to adaptation of technology to Indian languages.
It would engender a debate and explore academic, cultural and economic benefits of using more and more Indian languages in all walks of life.
Why Bharatiya Bhasha Utsav on Subramania Bharati Jayanti?
Mahakavi Subramania Bharati in his time was considered to be the bridge between the North and the South. Observing his Jayanti as Bharatiya Bhasha Utsav day would once again strengthen the national unity.
Who was Subramania Bharati?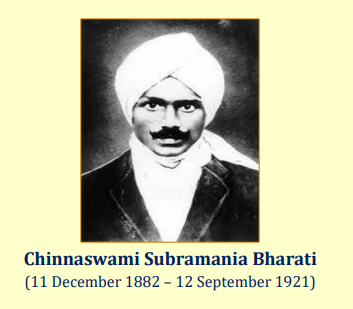 Chinnaswami Subramania Bharati was an Indian writer, poet and journalist, Indian independence activist and social reformer from Tamil Nadu. Popularly known as "Mahakavi Bharati", he was a pioneer of modern Tamil poetry and is considered one of the greatest Tamil literary figures of all time. His numerous works were fiery songs kindling patriotism and nationalism during the Indian Independence movement. Born in Ettayapuram of Tirunelveli district (present day Thoothukudi) in 1882, Bharati had his early education in Tirunelveli and Varanasi and worked as a journalist with many newspapers, notable among them being the Swadesamitran and India. Bharati was also an active member of the Indian National Congress. In 1908, an arrest warrant was issued against Bharati by the government of British India for his revolutionary activities, forcing him to go to Puducherry, where he lived until 1918. Bharati's works were on varied themes covering religious, political and social aspects. Songs penned by Bharati are widely used in Tamil films and music concerts.