In this Article we give information regarding What is Jan Shikshan Sansthan Scheme Role, Benefits, How to Apply Online For NEW JSS.
What is Jan Shikshan Sansthan Scheme ?
The Scheme of Jan Shikshan Sansthan (JSS) formerly known as Shramik Vidyapeeth was a unique creation of Government of India is being implemented through NGOs in the country since 1967. The scheme was renamed as Jan Shikshan Sansthan in 2000. JSS scheme was transferred from Ministry of Education (erstwhile Ministry of Human Resource Development) to Ministry of Skill Development & Entrepreneurship in July, 2018.
At present, 304 JSSs in 26 States and 7 Union Territories are functional. The annual coverage of the beneficiaries is around 4 lakh, out of which 85% are women.
Jan Shikshan Sansthan (JSS) scheme is implemented through NGOs with 100% grants from the Government of India. Jan Shikshan Sansthans are registered under the Societies Registration Act, 1860. The affairs of Jan Shikshan Sansthan are managed by respective Board of Management approved by the Government of India.
The mandate of the scheme is to provide vocational skills in non-formal mode to non-literate, neo-literates, persons with rudimentary level of education upto 8th and school drop-outs upto 12th standard in the age group of 15-45 years. The priority groups are women, SC, ST, minorities and other backward sections of the society. JSSs are reaching to the unreached areas to cater the needs of the poorest of the poor. They work at the door step of the beneficiaries with a minimum infrastructure and resources.
Flow Chart of JSS Scheme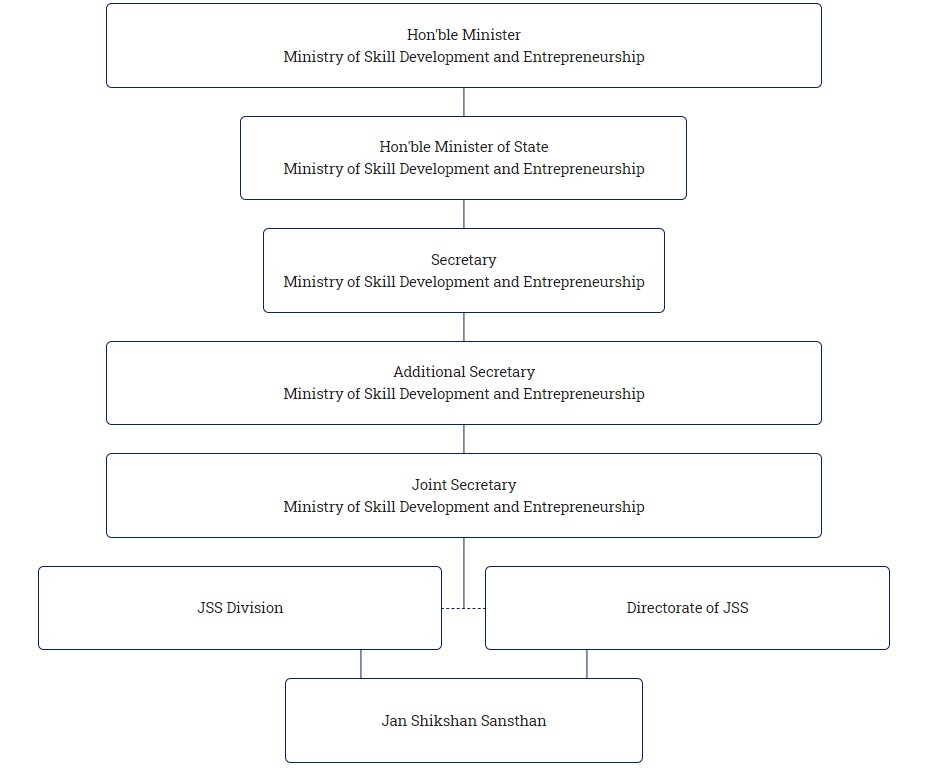 Courses of Jan Shikshan Sansthan
Food Processing
Apparel
IT-ITES
Handicrafts & Carpets
Electronics & Hardware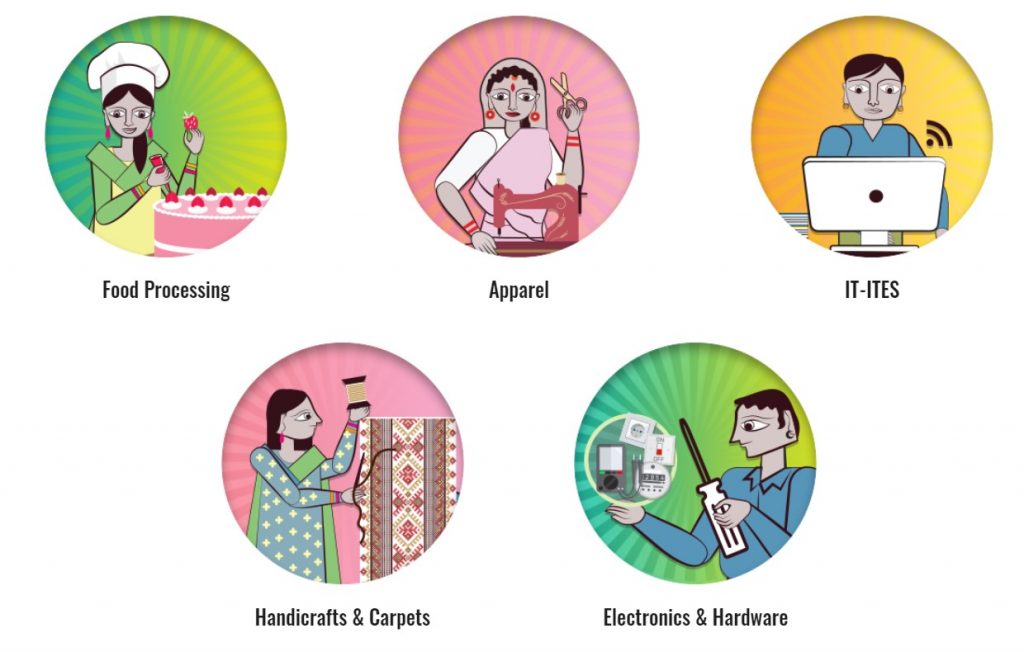 Check or Find JSS in your Location
Location Wise
Course Wise
https://jss.gov.in/getJSSCenterDetails
Role of Jan Shikshan Sansthan
Identify appropriate target areas and groups by developing socio-economic profiles
Identify and ascertain educational and vocational needs of different categories of clientele group
Explore, innovate, work out alternatives and try new methodologies to meet the need of different groups through programmes of vocational education and trainings
Cooperate with educational, cultural and social organizations involved in organizing programmes and activities to meet educational, vocational, social, cultural and welfare needs of target groups
Act as a coordinator, facilitator and catalytic agent by developing a system of net-working in collaboration with other vocational and technical institutions, development departments, welfare agencies, employers and workers' organizations, voluntary agencies, economic enterprises etc
Undertake training and orientation of resource persons/instructors involved in planning and implementation of various programmes
Provide consultancy services to agencies and enterprises planning to organize programmes for training and vocational education of similar target groups
Organise vocational training programmes with special concern for deprived sections, women/girls and unemployed youth to provide new skills, refine/sharpen/upgrade the existing livelihood skills for employment, self employment and income generation
Promote organisation of forums such as co-operative societies, mandals and associations of women, youth and workers with a view to undertake collective activity for socio-economic development
Provide follow-up services to beneficiaries of the JSS
Create Livelihood Cell for employment/ self and wage employment opportunities. Livelihood Cell will be linked with appropriate national / state level portal for promotion of livelihood opportunities
Identify and develop curriculum on local traditional skills
How to Apply Online For JSS Scheme ?
For Apply online in Jan Shikshan Sansthan you have to go to the official website of the JSS.
You can directly click and apply for new jss.

Helpline of Jan Shikshan Sansthan (JSS)
Name: Dr. Ramakrishna SuraPhone No : 011-23070197