Are you searching for – What is Bharatiya Bhasha Utsav ? How to Submit Activities in Online 2023
Then you are at Right Place.
The Complete and Official Information of What is Bharatiya Bhasha Utsav ? How to Submit Activities in Online 2023
What is Bharatiya Bhasha Utsav ?
Department of School Education & Literacy, Ministry of Education, Government of India, Bharatiya Bhasha Utsav with the theme, 'भाषाएँ अनेक, भाव एक' will be conducted for 75 days from 28th September to 11th December, 2023 to promote language learning through the use of regional languages and technology.
During this program, the activities are to be conducted at all levels, i.e., the schools, BRCs/CRCs/Panchayats, districts (including at the DIETs), state, and national level to build up the momentum for the grand finale Bharatiya Bhasha Utsav on 11th December, the Janma Jayanti of the great nationalist Tamil poet Subramania Bharati, who was popularly known as "Mahakavi Bharati," a freedom fighter and a social reformer in Tamil Nadu.
In this regard, it is informed that the inaugural programme of the Bharatiya Bhasha Utsav will be held at national level in New Delhi on 30.09.2023. In continuation of this, a two Days Summit regarding the,"Technology and Bhartiya Bhasha" will also be held during 30th September – 1st October, 2023. The final culmination program of Bharatiya Bhasha Utsav will be organised in Delhi on 11th December, 2023.
The detailed suggestive list of activities, for each level, to be conducted during the Utsav is enclosed at Annexure 1. Additionally, it is advised to all CBSE affiliated schools, to follow the week wise themes for 75 days (11 weeks) as per suggestive themes below:
| | |
| --- | --- |
| Week | Timeline and Topic |
| Week 1 | 28th Sep to 4th October : Environment/ Nature |
| Week 2 | 5th to 11th October: Literature |
| Week 3 | 12th to 18th October: Cuisine |
| Week 4 | 19th to 25th October: Knowing your surroundings |
| Week 5 | 26th October to 1st November: My School |
| Week 6 | 2nd to 8th November: Values |
| Week 7 | 9th to 15th November: Numeracy & Mathematics |
| Week 8 | 16th to 22nd November: Show your talent |
| Week 9 | 23rd to 29th November: My thoughts, My ideas |
| Week 10 | 30th November to 6th December: Reading & Expression |
| Week 111 | 7th to 11th December: Dedicated to Shri Subramania Bharathi |
How to Submit Activities in Bharatiya Bhasha Utsav Online 2023
It must be ensured that the activities in the last week i.e., from 7th to 11th December is dedicated to the readings, writings, and poetries of Shri Subramania Bharati. It is also requested to fill the following google form weekly for the activities conducted on the above themes: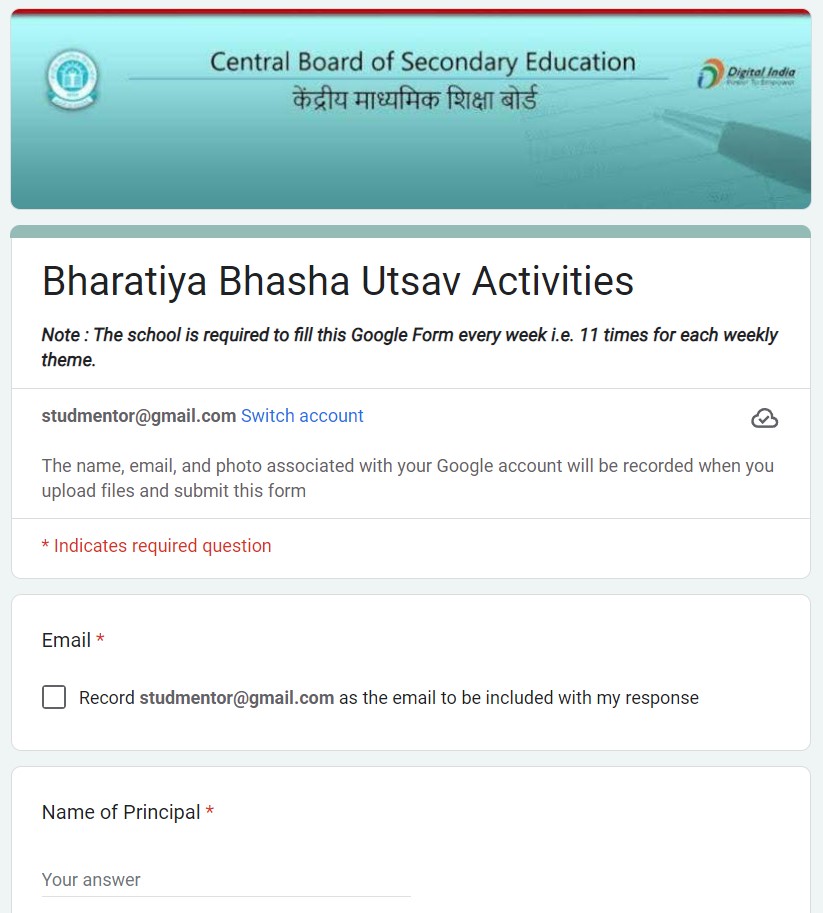 All the School Heads are requested to disseminate the above information amongst all the students, teachers and stakeholders to encourage them to participate in this 75 Days Bhartiya Bhasha Utsav from 28th September to 11th December, 2023. In order to monitor, the effective conduct of activities through these 75 days Bharatiya Bhasha Utsav, a page is being developed on NCERT Portal.
The link of portal will be shared shortly.